Modern workforces need technology that suits their unique workflows, whether they are out in the field, sitting behind a desk or doing a bit of both. For too long, IT departments have had to choose from mobile computing devices that satisfy some — but not all — of their business requirements.
In the past several years, however, tech hardware manufacturers have introduced a range of new "hybrid" mobile computing options. These 2-in-1 devices typically fall into two categories: detachable tablets and convertible laptops.
Both types of 2-in-1 aim to deliver desktop-grade computing power in a mobile package, but there are important differences between the detachable and convertible form-factors when it comes to real-world use.
IT managers looking to equip their businesses have many options to choose from, with varying degrees of power and flexibility. Hybrid 2-in-1 devices now come with more diverse screen sizes and configurations, and the operating system is also an important part of the decision-making matrix.
Convertible or detachable?
At first glance, these two families of devices may seem quite similar to a casual observer, but they have different strengths and weaknesses — and can support your work in different ways.
Convertible devices are essentially laptops that can fold back their keyboards into "tent" mode or rotate a full 360 degrees so that they're tablet-like in form, if not weight. This versatility makes convertibles a good balance between tablet and traditional laptop form-factors. With the keyboard's added weight and bulk, they aren't suitable for all on-the-go applications. But if you find yourself occasionally needing to switch to tablet mode, a convertible device can be a lifesaver.
Enable your mobile workforce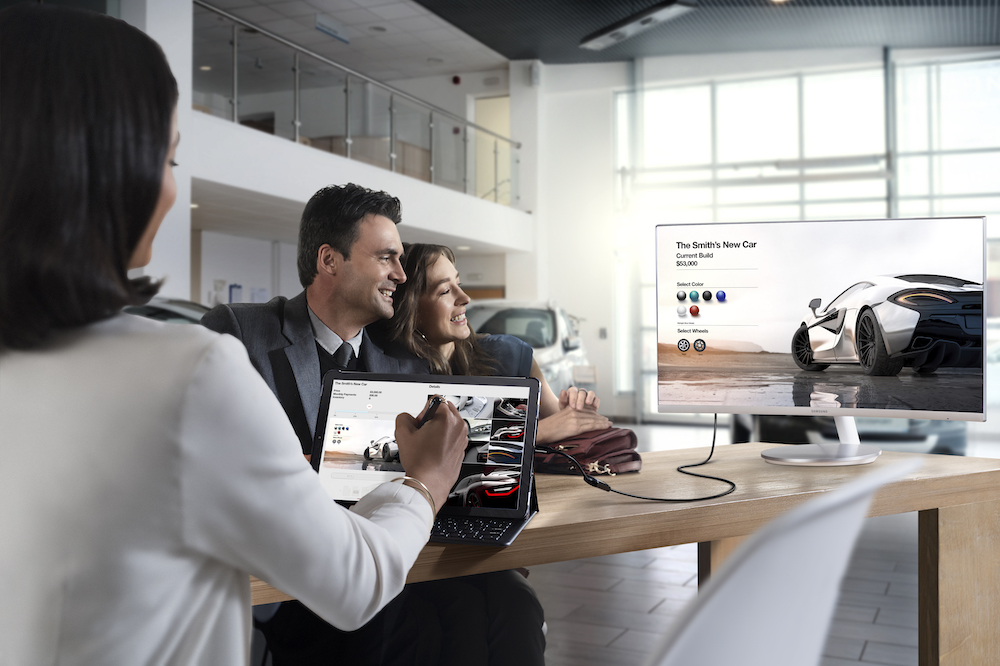 Get your free guide to equipping mobile workers with Samsung's Galaxy Tab S4 and DeX. Download Now
Detachables, on the other hand, can operate in true tablet mode. Small, light and entirely free of its keyboard, a detachable tablet lets you easily complete tasks like accessing patient files while making rounds in a clinical setting or checking and managing inventory in a warehouse. One tradeoff with detachables is that the keyboard is often sold as an optional accessory and in some cases doesn't give you the same ergonomics for typing as a laptop would.
The choice of convertible versus detachable comes down to the type of workers being equipped and the tasks they handle every day. Generally, the more mobile and collaborative their work, the more likely they'll benefit from a detachable tablet they can hold comfortably in one hand.
To illustrate the choices available in the hybrid computing space, here's a look at some of the detachables and convertibles available from Samsung:
Android 2-in-1s
Android tablets like the Galaxy Tab S7 are sleek and light, but introduce some unique features that provide a more laptop-like experience. You can go mobile with an Android 2-in-1, taking advantage of the lightweight design and extended battery life, then return to your desk and connect to an attachable keyboard (purchased separately) for catching up on email and document work.
Samsung takes Android 2-in-1s a step further with DeX. This desktop-like interface can be experienced directly on the tablet's screen or on an external monitor — wired or wirelessly — to give your core business applications a true desktop feel. You can also utilize virtual desktop infrastructure (VDI) within DeX to access Windows apps. This VDI option allows businesses to extend legacy applications so they can be used in a mobile environment.
The Galaxy Tab S7 is available in two sizes, with either an 11-inch display (Tab S7) or a 12.4-inch display (Tab S7+). Both models also offer the option of 5G connectivity, which accelerates data transfer with significantly less latency. The Galaxy Tab S7 also comes with an S Pen that lets you take notes and mark up documents on screen.
Windows convertibles
For businesses looking for Windows 10 computing options for mobile workers, there's more choice than ever before. Windows convertibles like Samsung's Galaxy Book Ion and Galaxy Book Flex give you desktop productivity machines in a sleek 2-in-1 form-factor.
The Galaxy Book Flex comes in a choice of screen sizes: 13.3 or 15.6 inches. With a 10th generation Intel Core i7 processor, up to 12GB of memory and a 512GB SSD, it delivers top-notch performance, even for heavy duty multitasking.
When you are on the go, you can quickly fold back the QLED touchscreen to convert to tablet mode, popping out the included S Pen. The Galaxy Book Flex brings across other innovations from Samsung's mobile offerings too, including a fingerprint reader, wireless powersharing, and impressive multiday battery life.
If your business is running on Windows, convertibles like these will give your mobile workers the flexibility they need, while ensuring they can continue to access business-critical systems.
Chromebook convertibles
The new arrival in the 2-in-1 fleet is the Chromebook convertible. Once pigeonholed as affordable laptops for student computing, Chromebooks have evolved considerably in recent years, and higher-end convertibles featuring touchscreens and 360-degree hinges are gaining popularity with SMBs and enterprises alike.
Samsung's new Galaxy Chromebook delivers the speed and simplicity of the Chrome OS in a lightweight and highly mobile package — it sits less than 10mm high and weighs less than 2.3 pounds. The 4K AMOLED display is exceptionally clear and bright too.
The Galaxy Chromebook also comes with a built-in pen that allows you to take notes and mark up documents on screen. The pen recognizes more than 4,000 levels of pressure and tilt, providing an experience that almost feels like writing on real paper. And the fingerprint sensor combines fast, easy authentication with enhanced security.
While Chromebook convertibles like the Galaxy Chromebook are definitely built with desktop productivity in mind, they do give extra flexibility to workers who spend part of the day on their feet. With the keyboard folded back and the pen in hand, you can roam the shop floor, the manufacturing facility or hospital corridors much like you would with a tablet.
The evolving workforce
To make your technology acquisition as effective as possible, make sure you've accurately assessed your employees' different work styles and needs.
For workers who spend the majority of their day behind a desk, convertibles may be the better option. Mobile workers who switch locations during the workday, or roam within a facility, will benefit from the flexibility of the detachable form factor.
As business mobility evolves and people spend more time away from the office, there's more and more need for hybrid computing solutions. In today's shifting workforce, these convertible and detachable mobile devices fill that growing niche.
Learn more about what makes Samsung's new Galaxy Chromebook such an effective remote productivity tool. If you're leaning more toward tablets, take this quick assessment to see which of Samsung's offerings is best for you.