Switching to a new smartphone can be exciting, but switching to an entirely different mobile ecosystem? For many people, that's just plain terrifying.
In fact, one survey showed that roughly nine in 10 Americans are intent on staying with the same brand when they choose their next smartphone. Mobile devices have become such an important part of our work and social lives that there's a reluctance to change, and a perception that transitioning all those apps, subscriptions, contacts, files and photos will cause havoc.
In reality, switching phones today isn't so hard. Free services like Samsung Smart Switch handle all the leg work, and virtually all of the top business and consumer apps support both major platforms. As a result, replacing an iPhone with a Samsung Galaxy device is just as seamless as upgrading from an older Galaxy to the new S21, S21+ or S21 Ultra 5G.
Shop special offers
Find out about offers on the latest Samsung technology.
see deals
Speak to a solutions expert
Get expert advice from a solutions consultant.
Talk to an expert
If you're an iPhone user who may be due for an upgrade, here's a list of 20 reasons to make the switch to Samsung this time around. And before you buy, check if you qualify for Samsung's Save@Work program to take advantage of special discounts and offers.
Click on the links below to read more about each feature:
1. Multitasking
Samsung loyalists have long placed multitasking capabilities at the top of the list when it comes to reasons they prefer Galaxy devices.
Galaxy devices leverage crisp, expansive screens to give users a variety of options for working across multiple apps. Samsung smartphones have featured Multi Window mode as far back as 2012's Galaxy Note II, and each subsequent generation has further refined the multitasking experience.
On the latest Galaxy phones, launching two apps in split screen is as easy as swiping left to open the Edge menu and selecting an App Pair. App Pairs are combos of apps you frequently use in tandem, like email and Office, or Spotify and Samsung Health. They're your shortcuts to multitasking.
Another multitasking option is Pop-Up View, which lets you position a second app as a floating window over a primary app. This is great, for example, when you want to continue a video call while viewing content or gaming in full screen.
2. The Android app ecosystem
Speaking of apps, you'll have plenty to choose from. In terms of pure number of apps, Google's Play Store outstripped the Apple App Store sometime in 2013 and has continued its growth trajectory as the world's largest app store ever since. Its breadth and depth of options feel almost infinite.
The typical counterargument here is that it's about quality, not quantity of apps — and that couldn't be more true. But, with more than 2.5 billion Android devices actively in use and representing an 85-percent market share, very few quality app developers today are leaving Android off their road map. Aside from a few proprietary apps, you'll find that virtually all of your favorite business and entertainment apps are just a download away on your new Galaxy phone.
3. Office productivity
You should be able to get to work the moment you power up your smartphone. In most cases, that means having quick, easy access to Microsoft Office and Google Workspace (formerly known as G Suite) — apps that most business professionals turn to early and often.
Microsoft and Samsung have collaborated closely to integrate Office on the latest Galaxy devices. That means when you need to review a Word, Excel or PowerPoint file, you can jump right in, make your edits, save and share. It also means all your files are instantly accessible in OneDrive.
Link to Windows, another product of the Microsoft-Samsung partnership, lets you access your Galaxy smartphone right from your Windows PC. You can view and send messages, take calls, view photos and access your apps, all without picking up your phone.
4. Samsung DeX
If you are looking for one big reason to switch, Samsung DeX is probably it. DeX allows your Galaxy smartphone to power a full desktop experience — just by connecting it to a monitor or smart TV and pairing a keyboard and mouse.
Available on flagship Samsung mobile devices from the Galaxy S8 onwards, DeX lets you take full advantage of the processing power of the phone. You can launch and resize multiple apps, use keyboard shortcuts and right mouse button clicks just like you would on a traditional PC. For people who are always on the go, DeX lets you ditch the laptop bag and go mobile-only.
Go mobile-only with Samsung DeX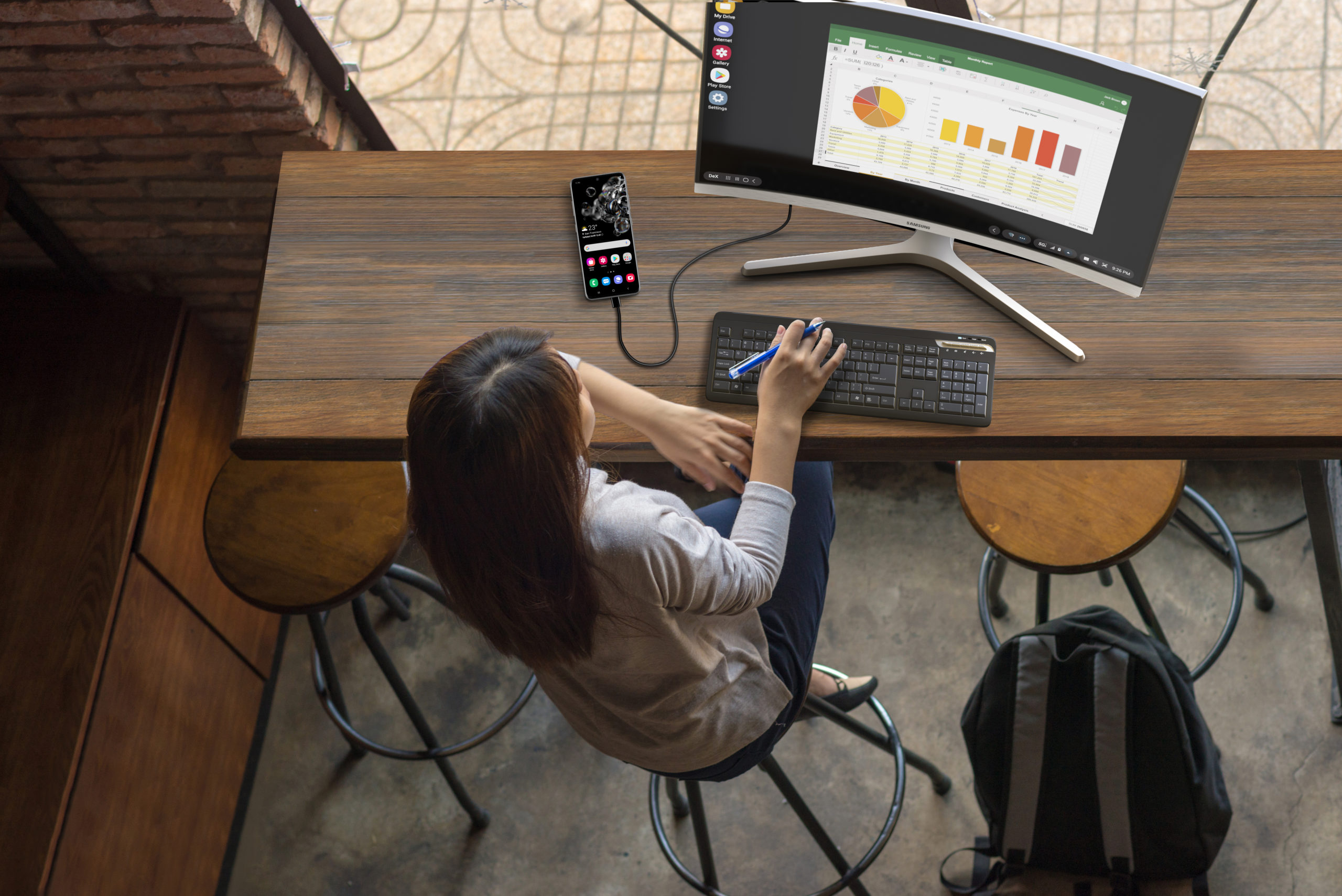 Your comprehensive guide to rolling out a mobile-only solution for your workers. Download Now
With 2020's Galaxy Note20 and the new S21 series, DeX now works wirelessly on any Miracast-enabled display, including Samsung's latest Smart TVs and the new Smart Monitor. DeX for PC also allows you to connect your phone directly to your computer to access mobile and desktop applications on one device.
5. Long-lasting battery and power sharing
Your mobile device should be reliable all day — without you worrying about running out of battery.
Devices like the Galaxy Note20 or Note20 Ultra alleviate those concerns with Super Fast Charging, which pulls 25 watts of power when plugged in — giving you hours of power in a matter of minutes. And an adaptive power-saving mode offers several days of battery life without recharging by minimizing the apps and features you don't often need.
Best of all, Wireless PowerShare (available on select devices) allows you to offer a coworker — or even a customer — some extra battery life for their phone when they need it. You can also give your Galaxy Buds a boost by placing them on your phone.
6. Knox security
The work files you manage and access from your mobile device need to be protected. So do your personal content and apps. In most cases, you just hope you won't be among those affected by increasingly sophisticated cyberthreats.
Samsung Knox — a comprehensive set of security features at both the hardware and software level — is trusted by governments and large enterprises alike. But they aren't the only customers who benefit. All Samsung Galaxy users get real-time mobile protection and encryption from the moment they turn on their device. We'll cover several of the key security-related features that build on Knox in the next four reasons to switch.
7. Advanced biometric protection
When you're not using your mobile device, no one else should be able to pick it up and get past the lock screen. Nothing will provide as effective a balance of security and user convenience as biometric authentication.
Samsung Galaxy devices have led the way in introducing advanced biometric authentication options. Ultrasonic fingerprint ID, first introduced on the Samsung Galaxy S10 and S10+, uses an innovative in-display sensor to create a 3D image of your fingertip, delivering superior accuracy to traditional capacitive sensors. Most Galaxy smartphones also offer facial recognition, so you can unlock with a look.
8. Samsung Pass
From social media accounts to business apps, you're likely managing a larger number of logins and passwords. If you forget even one, productivity can suddenly grind to a halt.
That's why the first thing many Samsung Galaxy customers do when they first get their device is activate Samsung Pass, a free service that acts like a vault for login credentials. And you can use Samsung Pass in tandem with your biometrics, so you can sign into the majority of your most-used apps and websites with just two taps.
9. Secure Folder
Even in the worst-case scenario, if your smartphone has somehow been compromised, there's another way you can protect your most important data and apps. Secure Folder allows you to separate your most sensitive personal apps and content — and keeps all of it secure.
Think of Secure Folder as a private, locked container on your device that requires additional authentication to open. You can move apps and files into the Secure Folder, and even have two instances of apps — one in the Secure Folder and one on your main home screen. You decide how you want to unlock your Secure Folder, whether via password, PIN or biometric authentication.
10. Find My Mobile service
Mobile devices' small form factor is purposeful and convenient, but it's only human nature to occasionally misplace them. Even if you're sure your phone is nearby, searching for it can cause unnecessary anxiety.
Samsung's free Find My Mobile service tracks your lost phone using location information collected by Google and data passing through wireless networks. Once you've activated Find My Mobile, you can find your Samsung device from any web browser. If you ask Find My Mobile to "Send last location," you'll be able to spot your device on a map, and if its location is moving, you'll get updates every 15 minutes. There's other great features like the ability to have your phone ring on maximum volume even if it's set to vibrate, or to have a contact number appear on the screen so someone who finds the device can contact you.
11. My Files app
The longer you use your mobile device, the more content you'll likely want to store on it, including files as diverse as PDFs, presentations, movies and podcasts.
Samsung's My Files app ensures the content you collect stays organized, whether it's stored on the device or in the cloud. Just sync your OneDrive or Google Drive accounts to access all your files from the single app. On the latest Galaxy devices, you can even access network storage via FTP.
12. Task automation
Most people are creatures of habit, and habits are easier to maintain when they don't involve a lot of extra effort. Bixby Routines allows Samsung Galaxy users to take a set-it-and-forget-it approach to their everyday tasks. If you usually wake up around the same time to your favorite music, for example, you can customize the "Good morning" routine to your desired wake-up time and your preferred Spotify playlist.
Think about how you operate at work, at the gym or anywhere else. Chances are there's a Bixby Routine you could use to automate something immediately.
13. Smart home controls
As more of us work from home, it's easy to get distracted and wonder if the laundry's done or if you left a light on upstairs. The Samsung SmartThings platform allows Galaxy users to consult a single device for all their notifications and directly control everything from the thermostat to the TV, so you can focus during the workday and relax after hours.
SmartThings works with a wide range of connected devices, including Ring Video Doorbells, Google Home and Amazon Echo, Philips Hue lightbulbs, Yale and Schlage connected locks, Honeywell thermostats and Bose speakers.
14. Samsung Health
The COVID-19 pandemic has highlighted the importance of self-care, and mobile devices can help. The Samsung Health app allows you to monitor your nutrition, track your fitness goals and even practice meditating. You can use the app to learn how to work out at home with everyday items, watch videos hosted by expert coaches and set challenges for competing with friends and family. Samsung Health is particularly useful when paired with a Galaxy smartwatch.
15. A wearable ecosystem
Samsung has an impressive array of smartwatches and wireless earbuds to choose from.
Consider the latest Galaxy Watch3, which allows you to answer a call with a hand gesture, respond to emails automatically and get real-time feedback while you're on the go. Or take a look at the Galaxy Buds Live, which feature a 12-millimeter speaker and bass duct — offering an immersive audio experience — and which can act as a wireless microphone while you're recording video on a Galaxy smartphone.
16. Best-in-class cameras
You don't usually anticipate the experiences you want to remember forever, so the camera you carry around on your phone matters a lot.
Samsung Galaxy devices have a range of camera configurations, all of which are designed to help even the most amateur photographer take amazing shots. The camera app includes a powerful editor, so you can edit photos and videos directly on the device. The Live Focus feature allows you to adjust background blur, and large sensors mean you can take great photos in dim lighting.
The new Galaxy S21 even allows you to capture video on both the front and back cameras simultaneously — a feature called Director's View. This is great for recording demos or doing a virtual tour.
17. Greater customization
Every time you unlock your phone, you look at the home screen's app icons, wallpaper and widgets. Samsung Galaxy devices let you customize your home screen with your own look and feel. Besides grouping apps into folders, adjusting themes and adding background images, you can use the Quick Panel to find frequently accessed settings such as brightness, Wi-Fi and sound.
18. Device choice
Mobile devices come in many shapes, sizes and feature sets. You shouldn't feel limited when you're choosing one, especially as a business professional.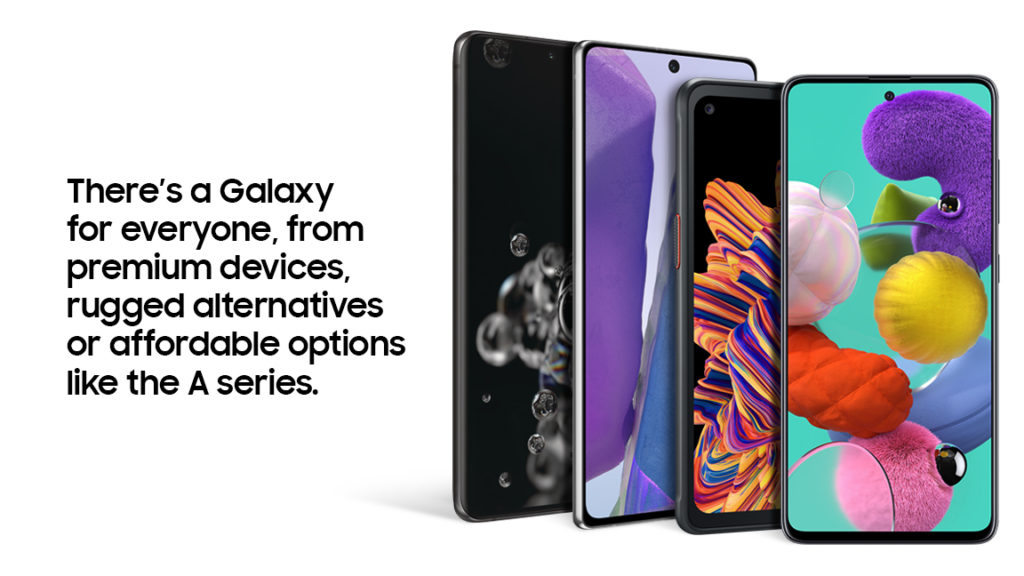 Fortunately, there's a Samsung Galaxy device to suit everyone — including flagship devices like the S21 series, as well as rugged devices like the Galaxy XCover Pro and more affordable options like the Galaxy A Series.
19. 5G readiness
Advancements in network technologies like 5G are enabling mobile apps to run faster and with less latency. Samsung has quickly become a leader in 5G, introducing the technology across its flagship Galaxy devices as well as to mid-tier phones like the Galaxy A71 and tablets like the Galaxy Tab S7.
Even if your mobile carrier isn't offering 5G today in your neighborhood, having a hyperfast 5G-enabled Galaxy device means you'll be all set to download larger files, stream content without lag and reap many more benefits in the future.
20. Easy switching
The decision to upgrade your mobile device shouldn't come with any trade-offs, like losing the content and apps you rely on. Samsung Smart Switch transfers, backs up and restores everything you want on your new Samsung Galaxy quickly and easily — so quickly you'll probably wonder why you didn't do it sooner.
Explore more of the benefits you'll gain when you switch to Samsung's newest mobile offerings: Galaxy S21, S21+ and S21 Ultra 5G. And discover how to create a more connected remote workplace.