Firstline workers, by definition, represent their companies at the most critical point of service or customer interaction. Every business leader knows that it's essential that these employees have the right technology to do their jobs effectively.
But too often, a phase lag cripples communication between firstline workers and the home office. Employees have to pause their work to relay updates or receive information about their next assignments. A manufacturing worker without ready access to the company's inventory management software loses time trying to track down critical inventory. Many industries — including manufacturing, healthcare, field services and retail — are plagued by such inefficiencies, and their productivity suffers.
This was the challenge that Microsoft and Samsung set out to tackle through the integration of Microsoft Teams Walkie Talkie on the rugged Samsung Galaxy XCover Pro. They aimed to give frontline workers a one-device, work-anywhere solution that would combine the instant push-to-talk communications of a two-way radio, together with a flexible array of cloud-based workflow apps.
Shop special offers
Find out about offers on the latest Samsung technology.
see deals
Speak to a solutions expert
Get expert advice from a solutions consultant.
Talk to an expert
"Teams provides a single hub that allows frontline workers to get their job done," says Scott Morrison, the principal program manager leading Microsoft 365's efforts for retail and manufacturing. "With the integration of Teams Walkie Talkie on the XCover Pro, we wanted to deliver a form factor that matches the working style of frontline workers who are already familiar with two-way radio communications. It's about simplifying what workers need to learn in order to be effective at their job."
Microsoft Teams Walkie Talkie on the Galaxy XCover Pro
Microsoft Teams enables seamless collaboration among team members, regardless of location or role. Employees can use Teams to chat, share documents and video, as well as access other business apps they integrate into the platform.
Specially designed for frontline workers, the Microsoft Teams Walkie Talkie app integration on the Galaxy XCover Pro goes one step further. Leveraging the XCover Pro's programmable button, frontline workers using Teams can instantly access the push-to-talk (PTT) functionality.

How to use it
To use the Walkie Talkie feature, workers just squeeze a button on the side of the XCover Pro. No need to unlock the device and dial up a number. Here's how it works:
Open the Walkie Talkie app and select a channel.
Press Connect to tune into that channel.
Once in that channel you can use the XCover key on the side of the phone to activate voice communications.
Walkie Talkie voice communications can be received and sent (via the XCover key), even when the device is locked. This lets you save battery life and use the device just as you would a two-way radio.
Seamless enterprise deployment
Businesses can set up the Walkie Talkie feature on multiple XCover Pro devices, by using their Enterprise Mobility Management (EMM) system as follows:
Configure a device-wide policy for XCover Pro devices.
Enable the mapping of hardware keys to specific actions.
Enable the mapping of the push-to-talk (PTT) key to Microsoft Teams.
Save to deploy the policy over-the-air to devices.
The exact, end-to-end configuration varies depending on the EMM system. For more detailed examples, see how to configure the Walkie Talkie feature on Microsoft Intune and Samsung Knox Manage.
Fast, secure and rugged
Unlike traditional land mobile radio (LMR), which has a limited connection range, the Teams Walkie Talkie feature on the XCover Pro works no matter where team members may be around the globe. You lose the drawbacks of traditional two-way radio and gain real-time communication with a much wider group of team members. The Walkie Talkie feature also offers improved voice clarity and eliminates cross-talking on channels.
Frontline communications need to be more than fast; they also need to be secure. Teams Walkie Talkie features enterprise-grade security that's secure from eavesdropping outsiders. The platform is compliant with HIPAA and SOC 1 and 2, with multifactor authentication for enhanced identity protection. At the device level, the XCover Pro boasts Samsung Knox defense-grade security and biometric authentication options for fast, secure access.
The Galaxy XCover Pro is designed for the rough-and-tumble of frontline working conditions, having been tested against 22 environmental criteria under the MIL-STD-810 standard to prove its durability. The tests included repeated drops, vibration, exposure to water and dust, high and low temperatures and more. The device also features enhanced touch sensitivity for use while wearing gloves, and a long-lasting replaceable battery that makes it ideal as a shared device.
Where to use it
Firstline workers are everywhere — including in government emergency response, healthcare, retail, logistics and supply chain, manufacturing, field service, mining, air travel and hospitality.
Microsoft Teams can be tailored to each worker's specific needs and job functions through the integration of third-party business apps, which can also be accessed via the programmable buttons on the XCover Pro.
Here are a few industry use cases for the Microsoft Teams, Walkie Talkie and the Galaxy XCover Pro:
Warehousing
A manager needs to check if zone pickers assigned to a particular area have completed their tasks, so they can be reassigned. Or she needs to reroute labor to assign to a batch picker who is more efficient. The manager presses the XCover key to quickly access Walkie Talkie and selects the channel for the appropriate zone. This allows her to instantly see who is online or to ping multiple team members and assign the right person to a job.
Healthcare
A nurse in a patient room is looking for an X-ray machine that can't be readily found. Time is of the essence. With the push of a button, the nurse can activate the Teams Walkie Talkie feature to immediately call the hospital's stockroom to see if it's possible to expedite the equipment delivery. What's more, on the same device, the nurse can also access the Teams Patients app, a care coordination solution that integrates with electronic health record (EHR) systems using a Fast Healthcare Interoperability Resources interface.
Field repair
A field service worker is out on a repair call to attend to malfunctioning equipment in an industrial plant. The field service technician needs to relay an important update to the home office. They use the Microsoft Teams Walkie Talkie feature on their XCover Pro to instantly communicate with the home office about the status of the job. They can also quickly capture video of the issue on their XCover Pro and share this over Teams to help diagnose the problem. Using the integrated task management apps, they quickly schedule a follow up visit to replace the faulty part.
Microsoft Teams Walkie Talkie helps bring together all channels of communication — voice, chat, document sharing and other business workflows.
What's the best phone for your business?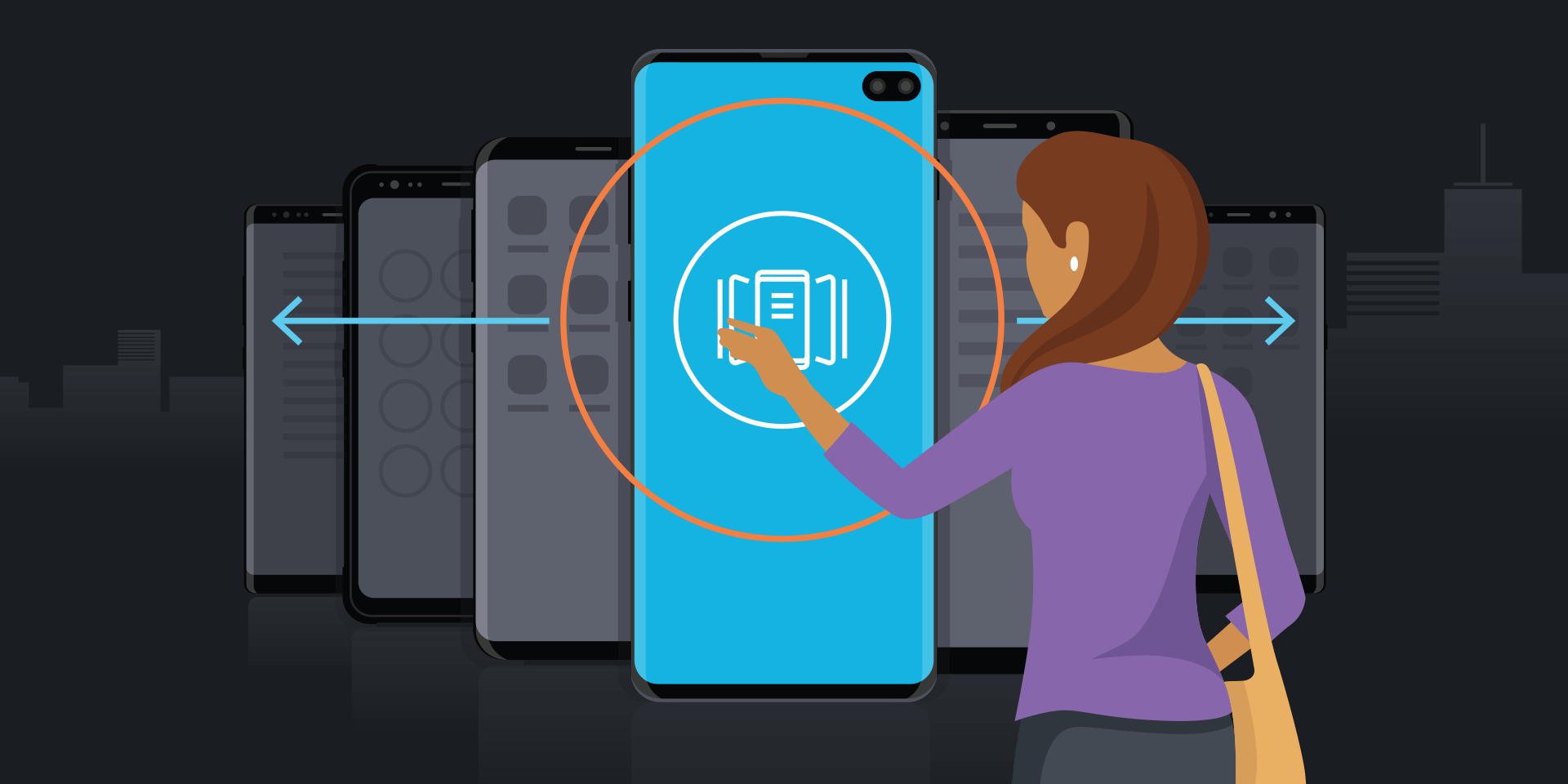 Take this quick assessment to discover the smartphone most tailored to your business needs. Download Now
"The great thing about the Walkie Talkie capability is that it leverages the exact same set of users, teams and channels that you've already set up to communicate with in Teams. There's no additional setup," Morrison says.
The cases illustrated here might be industry-specific, but the takeaway holds true more broadly: Convenient, instant communication allows firstline workers to connect to other parts of an operation, from anywhere. "Organizations have a problem communicating with their large frontline workforce. And tools like Teams provide them the ability to make sure their workforce knows what they want them to know and are able to see what they need to do, so that they can be most effective at their job," Morrison adds.
This seamless integration of Microsoft Teams Walkie Talkie on the Samsung Galaxy XCover Pro is a game changer for firstline workers in any industry.
Discover just how tough the Galaxy XCover Pro really is, or find the smartphone best suited for your business needs with this short assessment.