Workstation displays sometimes get called dumb terminals because they have single, simple business purposes, but when lifestyles and careers converge in work-from-home (WFH) environments, monitors that are genuinely smart make sense.
People now work, learn and play in different ways — a trend that was already evident in recent years but accelerated in 2020. Consumers are looking for technology that meets flexible, shifting needs throughout the day and also suit the physical space.
Samsung recognized that shift to work from home and learn from home, and launched what it calls the world's first do-it-all screen. The Samsung M7 and M5 are sleek, ergonomics-focused monitors with embedded computing, set up well for round-the-clock use, including work, studying and entertaining.
Why be smart?
Broadband, data security and cloud services have been enabling more and more people to work and earn from home, and the health safety measures invoked through much of 2020 caused a big spike in home-based work, learn and play.
Upgrade your monitor fleet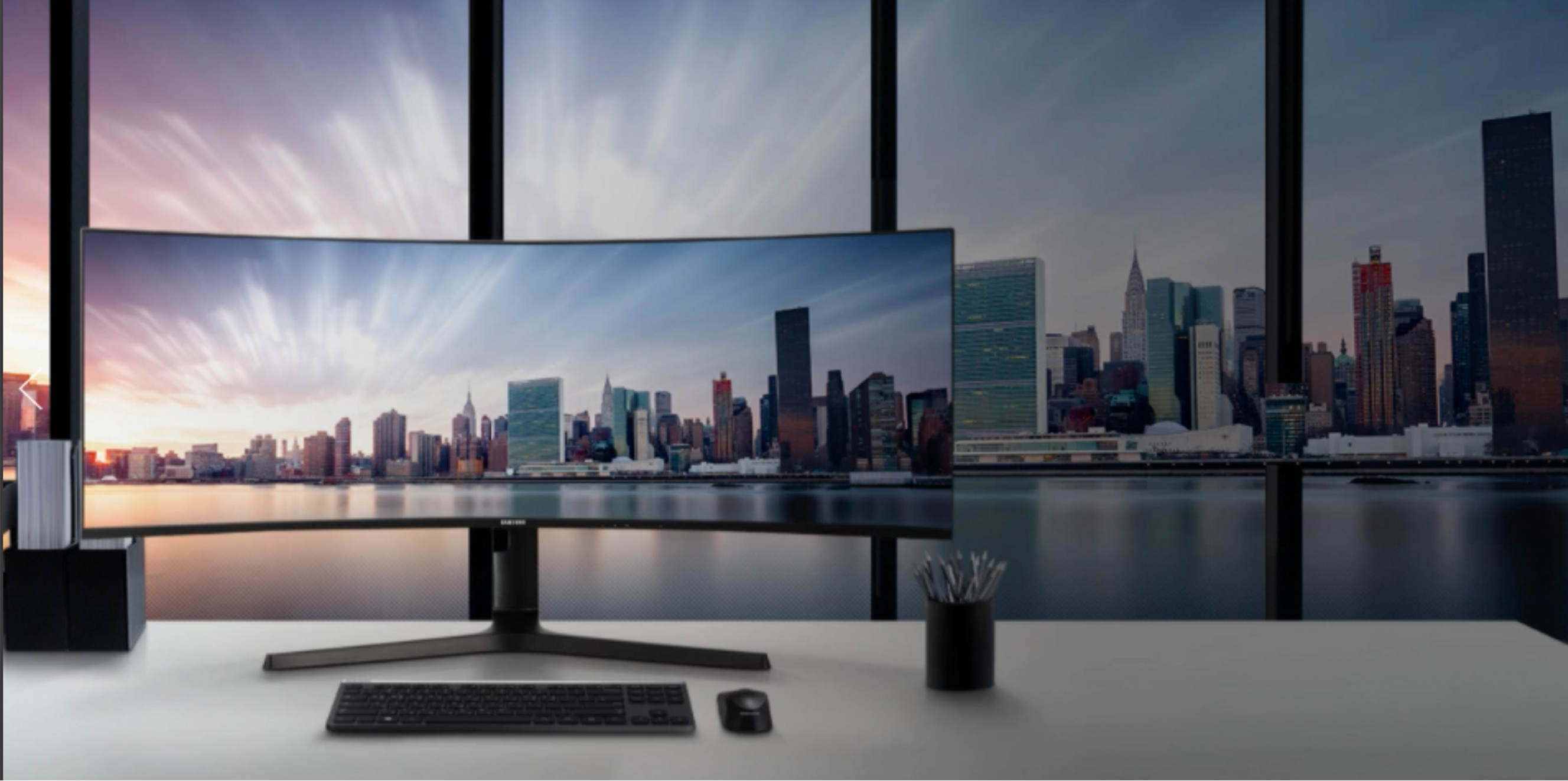 Calculate the total cost of ownership of upgrading your business's monitors with five easy questions. Download Now
For example, OpenVault's Broadband Insights Report suggests average data usage, month to month, has leveled out to 40 percent higher than pre-pandemic. People are working from home, watching movies from home and taking video-centric lessons from home.
For people who fell abruptly into a WFH arrangement, that meant the small laptop screen that was fine for sporadic remote work was now the full-time work surface. It meant the one space set aside in the house or apartment for computing had to serve multiple users. And it meant students in residence halls or young professionals living back at home, riding out the pandemic, were spending much of their time in small spaces, where fitting both a TV and a computer monitor into a designated area was a big challenge.
Needless to say, there's been a universal need for a monitor that can tap into a wide range of uses but feel appropriate around the home.
Do-it-all displays
Enter Samsung's new M7 and M5 Smart Monitors. They are notable both for what you see and what's inside.
First, there's a TV-like remote control. The 21:9 widescreen monitor also doubles as a smart TV, with pre-loaded apps that support popular streaming services like Amazon Prime, Netflix and YouTube. The remote has a microphone — enabling voice commands — a built-in web browser and support for handy smartphone-to-display capabilities with Tap View, a fast screen-mirroring and app casting technology.
The Smart Monitor series runs on Samsung's Tizen operating system, which enables online connectivity and HDR10 technology, so anything that is viewed on your favorite streaming platforms comes through as it would on a high-definition television.
Desk jockeys and binge watchers alike require a change in how they get their blood moving and making sure fitness routines don't fall off during busy days. Access to Samsung's Health app through the Smart Monitor is as simple as downloading programs on any other device through the display's embedded app store.
Each Smart Monitor is also height adjustable, with a vertical range of four inches to go with its 20 degrees of tilt for maximum flexibility. This helps users optimize the display when they're in sitting or standing positions.
Owners with Samsung smartphones like the Galaxy series can use Samsung DeX, a feature that enables users to extend their device to the M7 or M5 monitor, as well as a keyboard and mouse. The monitor's built-in smarts also support Remote Access, so users can connect wirelessly with a PC in another location, mirroring that PC's display on the monitor. It means WFH is possible, even if there's no PC at home. Support for Microsoft's cloud-based Office 365 productivity platform is also built in.
WFH-friendly
While some families have the luxury of extra space around their homes to dedicate to home offices, many others are making do and fitting things in.
The M7 and M5 monitors have slim profiles and paper-thin stands, and the M7 supports USB Type-C, a connector standard that thins out the tangle of cables required to connect a PC to its accessories. Monitors with full USB Type-C enable power, data and display signals to move between devices on just one cable, and can double as a USB hub or docking station. The displays also support Bluetooth.
Screen needs have changed at home. It's time for a smarter monitor.
Discover how today's desktop monitors are more than screens, but fully capable production hubs. Then find the right monitor to suit your job and budget.