As fire chiefs grapple with complex problems around resources, staffing and safety, they can look to mobile technology as an important piece of the solution. Leveraged effectively, smartphones, tablets and smartwatches can transform fire service communications, improve safety and enable agencies to do more with less.
Mobile technology represents much more than just new communications tools; it is an advanced, flexible computing platform that can replace specialized, limited-use devices with readily available handheld computers offering nearly limitless capabilities. Fire chiefs who invest time in developing a mobile strategy and getting it right can save their department time, money and potentially lives down the road. With a proactive approach, they can begin identifying best-in-class applications that can address resource and budget issues by streamlining their processes and improving communications at every stage.
Here are some of the ways fire services can use mobile technology to operate more effectively and efficiently.
1. Deliver better information
When fire services unify communications on a single platform, they can accelerate response times while improving service delivery. Mobile computer-aided dispatch (CAD) apps have improved service delivery by providing valuable data to first responders. First responders receive the dispatcher's notes, which can contain critical information, such as a patient's location or specific information about hazards at the scene. CAD can also deliver vital preincident planning information, such as building schematics, critical infrastructure information and hydrant layers. When CAD is extended to mobile devices, fire services can send more complete, timely information to firefighters on their phones and even on smartwatches.
Transform fire and EMS with mobility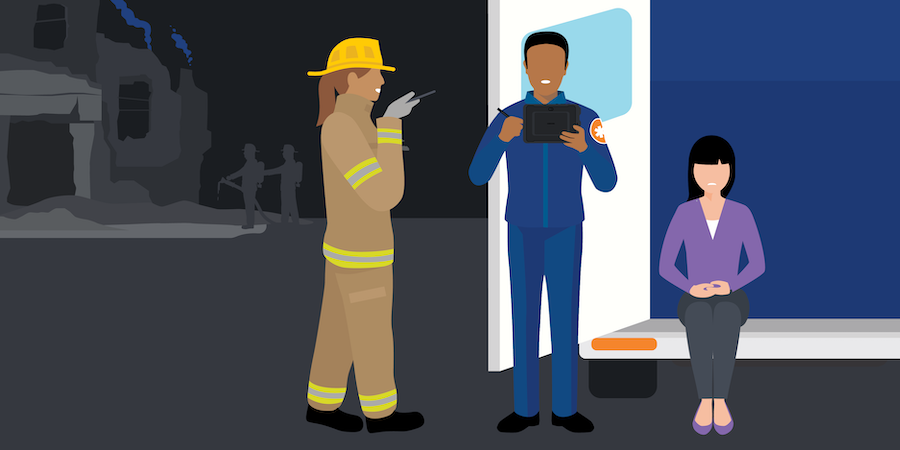 Take advantage of mobile devices to improve first-responder capabilities with this free guide. Download Now
Mobile devices can also enable firefighters and rescue workers to read QR codes that deliver information about a patient or a vehicle and can provide access to valuable online resources, such as emergency response guides that help them identify and handle hazardous materials. They also support the use of routing applications, such as Waze, that can provide up-to-date information about road closures and detours, which can help firefighters reach a scene without unnecessary delays.
Fire chiefs can accelerate their agencies' mobile transformation by learning about mobile-friendly CAD and talking with their CAD vendors about their mobile roadmaps.
2. Create more accurate reports
In the emergency services world, if something isn't documented, it didn't happen. Fire chiefs understand the value of data when it comes to performance metrics, budgeting and response delivery. Incident data is often convoluted, spread across numerous locations, and must be reentered when reports are built.
Agencies that commit to mobile technology can generate more complete and accurate reports in less time by using reporting software that extends to mobile devices. A well-designed mobile strategy can help a fire chief provide more comprehensive data to the taxpayers to demonstrate their tax dollars are being spent wisely.
3. Improve situational awareness
As fire services are drawn into a wider range of incidents types, including active shooter responses, the need for fast, accurate communications technology is greater than ever. Fire chiefs should explore the potential of mobile technology for improved safety and situational awareness. For example, Corona Fire Department in California leverages mobile devices combined with the Android Team Awareness Kit (ATAK) to coordinate wildfire responses, as well as search and rescue missions.
Many mobile devices are built with GPS, accelerometers and other sensors that can help commanders see where every firefighter is. A smartwatch worn under the turnout gear can detect a change in heart rate or a fall and alert a commander to send help. Mobile devices can also help promote fitness and health when firefighters are off duty.
4. Reduce costs
Through the use of mobile technology, a fire chief can achieve significant budget reductions by consolidating communications and computing on one mobile device that can function as a mobile desktop. Productivity advancements, such as Samsung DeX, which is built into newer Samsung smartphones and tablets, can enable a mobile device to power a full desktop experience when paired with a monitor and keyboard. A commander can gather data on their phone or tablet and then use the same device and data in the firehouse to prepare a report. With a strong mobile strategy, a fire service can consolidate computing and communications on mobile devices and over time eliminate the need to support laptops and desktops altogether.
A recent study by Public Safety Network found a transition to Samsung DeX could save more than 15 percent in annual expenditures in the first 12 months and 30 percent thereafter, compared to current in-vehicle and in-office computing solutions.
5. Improve recruitment and retention
Chiefs in volunteer departments can attract and retain firefighting talent by increasing the use of mobile technology and even providing department-owned phones to volunteers. Most volunteers and would-be volunteers already use smartphones, and they will be more inclined to work for a fire service that incorporates mobility effectively. Showcasing how you use mobile technology in your fire service operations is a great way to attract digital-native millennials as new volunteers.
6. Enhance firefighter training
Fire chiefs are required to provide, track and quantify training for their members. Mobile devices with the right software can enable firefighters to complete training from anywhere, even when the training incorporates videos and PowerPoint presentations. The same devices can also make the documentation of training sessions fast and easy.
Establish a mobile policy
While the value of mobile technology in fire services is self-evident, the path forward can be unclear. Many firefighters already own smartphones, and budgetary considerations might suggest that a bring-your-own-device (BYOD) policy is the logical course. As you plan for a more mobilized future, however, it makes sense to study your options carefully and consider whether your department will be better served by buying and managing its own mobile devices.
Issuing smartphones to firefighters has many benefits: It provides a standard platform upon which you can introduce new applications and allows the department to secure and manage devices through the use of mobile device management (MDM) solutions, such as Knox Manage. It is also a significant perk for attracting and retaining volunteers.
Going forward, chiefs should look at mobile as a potential replacement for other computing endpoints. With solutions such as Samsung DeX, the smartphone can serve as a firefighter's primary computing device. Longer term, smartphones with push-to-talk capabilities may ultimately replace land mobile radio (LMR).
Take a deeper dive into the ways smartwatches can benefit first responders in our free white paper, or find out how much your agency can save with our mobile-first savings calculator.