Electric vehicles, new innovative approaches to mobile computing and the internet of things (IoT) are just three of the emerging technologies that could transform fire and rescue operations in 2021. Not only will these trends affect the ways first responders do their jobs, but they also have the potential to reduce operational costs, improve situational awareness and save lives.
Here's a deeper dive into how these technologies will empower fire and rescue in 2021 and beyond.
Electric fire trucks and ambulances are coming
Compared to units based in far-flung rural and remote jurisdictions, fire trucks and ambulances in urban areas tend to do multiple short trips. These kinds of trips are ideally suited to electric vehicles, whose ability to recharge back at the station eliminates regular visits to the nearest gas station.
Transform fire and EMS with mobility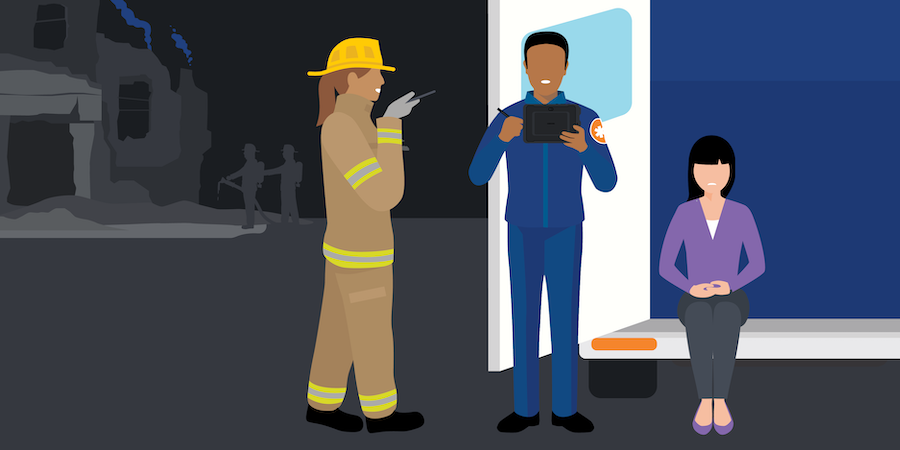 Take advantage of mobile devices to improve first-responder capabilities with this free guide. Download Now
Sound far-fetched? It isn't. Prototype electric fire engines and ambulances are already being tested today. In fact, an electric fire engine has been built for the fire brigade in Linz, Austria. Granted, this Mercedes Sprinter-based tactical vehicle is a far cry from a full-sized ladder truck, but it is a step in the right direction. On a larger scale, Rosenbauer's Concept Fire Truck (CFT) is already showing firefighters that electric vehicles can not only be as good as diesel trucks, but potentially offer more benefits and capabilities.
Meanwhile, the Danish ambulance builder Falck has converted a Tesla Model X electric car into a prototype electric ambulance to demonstrate the possibilities of the platform for EMS. Like the electric fire trucks cited above, this electric ambulance recharges back at the station until the next call comes in. The Danish city of Copenhagen plans to add Falck electric ambulances to its fleet in the near future.
Mobile will take off
Many first responders are already using ruggedized mobile phones and tablets for smarter team communications, accessing building plans and medical records during emergency calls. They are also beginning to leverage mobile-powered solutions, like Samsung DeX, for flexible computer-aided dispatch (CAD) access in-vehicle, in the field or in the station.
As smartphone and tablet technology continues to improve in 2021 — and as emerging 5G mobile networks deliver broadband data up to 100 times faster than today's 4G/LTE transmission systems — mobile technology will become the backbone of communications for fire and rescue teams.
A case in point: In California, the Corona Fire Department (CFD) is using the U.S. military's Android Team Awareness Kit (ATAK) to improve situational awareness at incident scenes by overlaying data from various sources onto an editable 3D map displayed on smartphones and tablets. The CFD's EMTs are also employing ImageTrend Elite, an electronic patient care reporting (ePCR) solution, to record data about patients (pulling data from dispatch where available), transfer it to hospitals or other assisting agencies, and file accurate reports. On average, CFD paramedics save 10 minutes on every report they file by using this system.
IoT will add mission-critical data
IoT refers to the increasing number of devices that are being connected to the web for data-sharing. These range from CCTV cameras and fire detection systems to environmental monitoring sensors (that can detect poisonous gases) and traffic management systems (that can dynamically control traffic lights to ease the passage of fire trucks and ambulances).
What matters is not that more devices are becoming web-connected under IoT but that the data from these devices will be available to first responders — even allowing remote control of these devices if needed.
Imagine if the air composition and temperatures in a burning factory could be reported in real time to incoming first responders, along with the locations of everyone in the building. Imagine if EMTs could arrive at a car accident scene more quickly after being alerted by the car itself. Imagine if they could receive data on the number, weight and locations of the occupants before the crash, as well as footage of the accident as it occurred. They could also be sent dynamic impact force data from the accident as recorded by the vehicle. Detectable life signs could be relayed from the occupants' smartwatches through the car's mobile network connection so EMTs could begin triage before they even arrived.
This is the vision of what IoT could offer fire and rescue teams in the decade ahead. While this won't all come together in 2021, you can be sure that technological advances during this year will cause significant shifts in how fire and rescue agencies do their work and ultimately, help them save more lives.
Get your free guide to transforming fire and EMS with mobile technology. Not sure if it's in your budget? Use our calculator to see how much your agency could save by leveraging Samsung DeX.