A little more than a year ago, law enforcement personnel attending a major trade conference got their first look at Samsung's DeX in-vehicle solution, a radical departure from traditional in-vehicle computing. Although DeX was originally intended to provide a desktop experience in a home or office, Samsung's public safety team quickly realized the potential for adopting the mobile-powered computing platform to a patrol vehicle environment.
By pairing a Galaxy smartphone with a mounted display and dedicated keyboard, DeX can replicate the functionality of an in-vehicle computer while providing two significant benefits:
The smartphone makes it possible for an officer to retain full connectivity when away from the vehicle.
Leveraging a commercially supported smartphone platform can yield substantial cost savings and streamlined device management.
Regardless of potential, there's a big difference between initial concept and a refined product ready for widespread adoption. Accordingly, Samsung has been working closely with both partner companies and practitioners to make DeX-based in-vehicle computing a readily available and viable option for law enforcement. The DeX-in-vehicle solution is also being piloted by the Chicago Police Department.
Refining the DeX Mount
Terry Poulias is the Samsung solution engineer who is heading up the DeX-to-patrol-vehicle efforts. "We started by providing DeX Stations to several of the leading in-vehicle hardware companies and told them they had complete flexibility in the initial prototype designs, including repurposing the DeX motherboard," he explained. "There was a lot of feedback, and the approaches varied, primarily on the positioning of the DeX component."

Poulias noted that the compactness of the DeX solution is proving popular and the smaller footprint provides mounting options. "Ergonomics is key and the positioning of the dock, keyboard and touchscreen is important to the officer's comfort and productivity," he said. "It's also critical that the installation doesn't interfere with proper airbag deployment."
In addition to in-vehicle hardware manufacturers, Samsung has partnered closely with major public safety software providers. "Agencies depend on computer-aided dispatch [CAD] and records management systems, so we're working with the top CAD and RMS providers to achieve full DeX functionality and optimization," Poulias said. "We're also working with VDI [virtual desktop infrastructure] vendors so that a Windows-based agency can take full advantage of DeX."
Processes Go Paperless
Eric Augusto is a public safety account manager for Samsung and is currently collaborating closely with multiple agencies that are rolling out the DeX solution. Augusto says there are several factors driving the level of interest in this new approach to in-vehicle computing. "One is the reduction in costs by consolidating your IT investment around one device — the smartphone. You can eliminate the cost of in-vehicle laptops, but more importantly the smartphones require less management and updates can be pushed over the air," he explained.
How Much Can Your Agency Save by Going Mobile-First?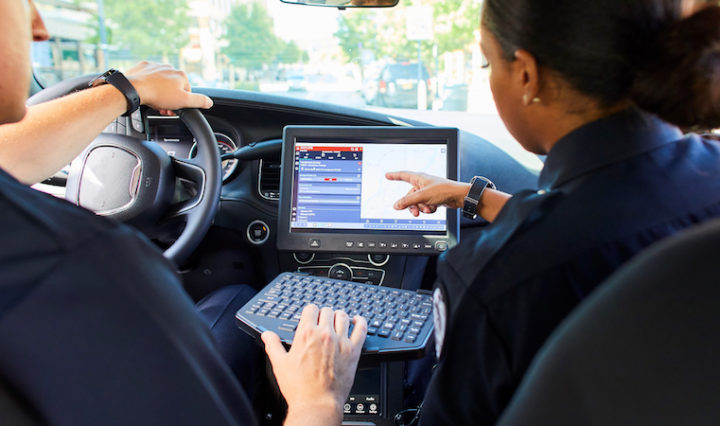 Use our calculator to see how much you could save by leveraging Samsung DeX. Download Now
"Many agencies are now considering what they will be able to do when every officer has a smartphone, and DeX is now a key part of that consideration. You see them light up when they realize the potential."
Beyond law enforcement agencies, Augusto noted there has been a lot of interest from those working in corrections, both in parole and probation. "This is a major digital transformation for them because they're so information driven and, until recently, it's been paper-intensive," he said. "The utility of the smartphone really benefits field personnel."
Corrections Departments Gain Efficiency
One of the agencies that Augusto is working closely with is the California Department of Corrections and Rehabilitation (CDCR), which has one of the largest protective-custody population in the country. CDCR recently deployed smartphones to field personnel, and the benefits have been significant according to Jeff Funk, CDCR's chief of mobile application development. Agents have been able to access online information instead of carrying large casebooks with handwritten notes. When logging information themselves, agents can now use voice-to-text recording, which can reduce the time spent recording notes by 80 percent. The improved workflow efficiency also accelerates program referrals for parolees, which in turn improves program participation.
CDCR has initiated a DeX pilot and is evaluating different mounting and hardware options. "The DeX system will give our agents the ability to do anything they need in the field without having to come back to the office," Funk said. "With DeX, we can reduce our costs, increase officer safety and provide a really effective tool."
Today's smartphones can support a wide range of police operations, and the more an officer can do on a single device, the more skilled the officer will become in using that tool. Fewer devices to manage means IT resources are not as taxed, and fewer devices to purchase means public safety funding can be dedicated to other priorities. DeX brings a whole new layer of opportunity to agencies that want to make the most of today's technology and provide a powerful force multiplier to their field personnel.
How much can your agency benefit from going mobile-first? Use our calculator to see how much you could save by leveraging Samsung DeX. Visit Samsung's Mobile First Responder page to learn more about empowering officers in the field and improving situational awareness.