Workforces in manufacturing, healthcare, real estate and public safety may face very different day-to-day challenges, but all these sectors share at a least two needs: easy, secure access to data from anywhere, and innovative ways to enhance employee and customer experiences.
Mobile devices with hyperfast 5G connectivity can help, but first organizations need to envision how they'll adopt the technology to achieve their most important goals. That's why Samsung and Verizon are partnering to build not just 5G networks and devices, but also business use cases to provide inspiration for transforming the status quo.
At Verizon + Samsung: Work Reimagined, a virtual symposium held on May 20, the two companies showcased a variety of businesses and industries where Verizon 5G networks and Samsung mobile devices are already making an impact. The event also offered a preview of some of the exciting future innovations still to come.
Business adoption of 5G
According to Jude Buckley, executive vice president of the mobile business at Samsung Electronics America, 60 percent of enterprises report that smartphones are the number-one piece of technology they've had to supply to employees to contend with the challenges of the global health crisis.
Choose the right phone for your growing business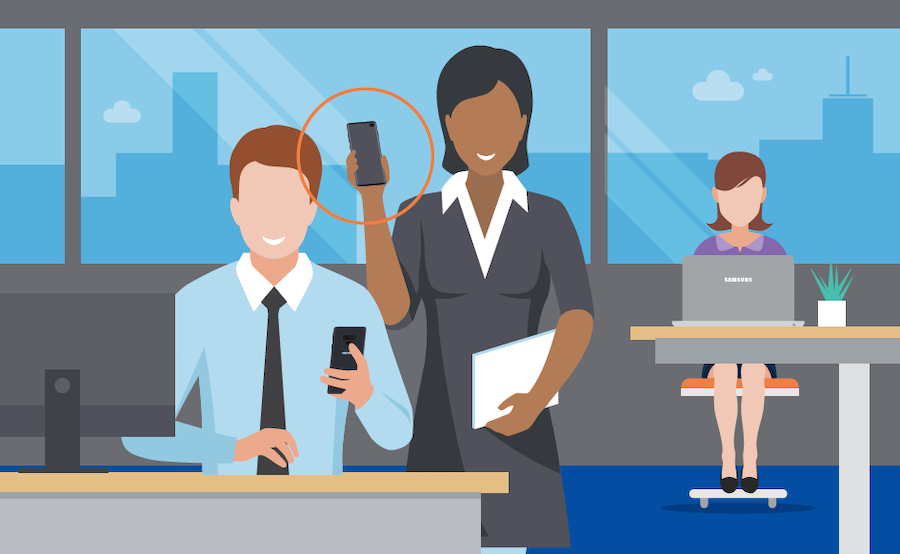 Get your free guide to matching the right smartphone with your business and employee needs. Download Now
Moving forward, says Buckley, 40 percent of businesses plan to increase their spending on 5G in 2021, exploring its potential to deliver massive data speeds and incredibly low latency.
But enterprises need the right strategic partners to explore the possibilities of 5G, says Buckley. "As they look to build 5G as part of their IT solution, they want devices and a network that they can count on. We truly believe in the potential of 5G and we're developing a thriving end-to-end 5G ecosystem capable of supporting the needs of businesses and consumers."
Jeff Dietel, Verizon's senior vice president of marketing, pointed to companies like Joe's Auto Parks as a perfect example of unexpected areas where 5G could come to life. Headquartered in Los Angeles with locations across Southern California and Florida, Joe's Auto Parks has a mission of ensuring parking is accessible, secure and hassle-free.
"But their only option for broadband was from the local cable company," says Deitel. Joe's Auto Parks has since moved to 5G Business Internet from Verizon, which is delivered through a Samsung 5G Station outdoors. "It provides a connectivity backbone for the entire business," explains Deitel, "from their point of sale systems to employee laptops and Wi-Fi for their customers."
Another example of 5G-powered innovation is Groopview, a startup whose QuickShow application is allowing virtual real estate tours in the era of social distancing. Leveraging a Samsung Galaxy S21 5G smartphone to stream video from both rear and front cameras simultaneously, real estate agents can give viewers a complete house viewing in high definition while continuing to maintain eye contact and build rapport with buyers.
Reimagining productivity in manufacturing
Samsung has experienced the benefits of 5G firsthand, says Imran Akbar, vice president and general manager of new business at Samsung Networks. "We happen to know a little bit about manufacturing," Akbar says, "because Samsung is one of the biggest manufacturers in the world."
At one Samsung facility in Suwon, Korea, for example, 5G connectivity is enabling increased use of advanced robotics in the manufacturing process, which frees up employees to work on higher-value tasks.
5G is also allowing organizations like Hyundai Heavy Industries Co. to create augmented reality (AR) apps that transform shipbuilding processes. Workers can use a Samsung tablet to mark objects that need to be identified later by their colleagues in other parts of the company, saving time and reducing the potential for errors.
Over time, manufacturers will be able to apply new, more advanced algorithms, intelligence and machine learning to further improve productivity, says Bill Stone, Verizon's vice president of business development and sales.
The Work Reimagined event also detailed how Verizon and Samsung are enabling indoor 5G transmission to locations such as airports, train stations, schools, hospitals and offices.
Moving forward with 5G
According to Buckley, Samsung's approach to 5G is based on three principles:
Working with trusted partners like Verizon to make customized solutions where they're needed
Providing trusted security from the chip up with the Knox platform, which isolates, encrypts and secures data
Progressing 5G adoption by offering a full portfolio of mobile solutions, including the midrange Galaxy A Series, the flagship Galaxy S21, the Galaxy Z Fold 2 and Samsung's first 5G tablets, the Galaxy Tab S7 and Galaxy Tab S7+
"We don't have to look too far to see how these opportunities (around 5G) come to life," says Buckley.
What is 5G? How does it work? And how can it support your business? Get all your questions answered with our Beginner's guide to 5G. And as you plan your next business smartphone upgrade, you can narrow down the options according to your needs with Samsung's quick assessment.