Coffee shops have long been the unofficial headquarters of bootstrapped entrepreneurs, but in light of the pandemic, these unconventional venues — and many others — have become more formal workspaces.
More people are now working from nontraditional, sometimes offbeat, locations — like cafes, sit-down restaurants, converted hotel rooms and even gyms. For the owners and operators of these venues, the widespread shift toward remote and hybrid workplaces presents an opportunity to keep their spaces busy and generate incremental revenues.
Any coffee shop with Wi-Fi and seating is a theoretical office, but a venue owner can dedicate and formalize spaces that enable focused, comfortable work, then charge a fee to access the workstations and amenities. With the right technology, owners and operators can create a welcoming, productive working environment for guests, all without overloading your staff.
The service is referred to as office hoteling — a reservation-based style of office management that sees users book workspaces — from desks to meeting rooms — on a pay-as-you-go or membership basis.
Shifted norms for office spaces
Health safety restrictions have emptied thousands of office buildings. Prior to 2020, data suggested that 17 percent of U.S. workers worked remotely, such as from home offices. Last year, that number ballooned to 44 percent. This forced a real-world test: How effective is a workforce that comes into a formal office only part time, or rarely?
Impress your guests with digital signage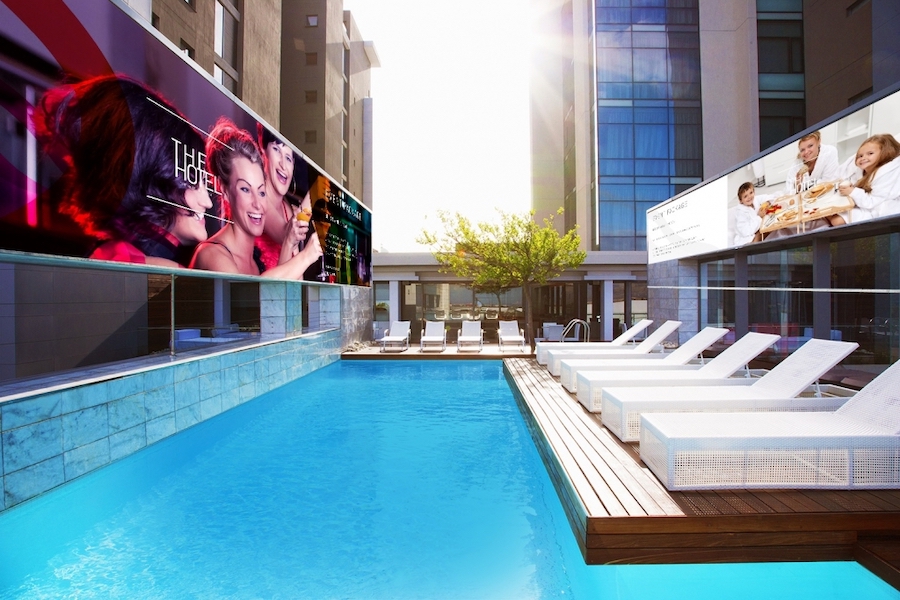 Learn how to redefine the guest experience with digital signage opportunities around every corner. Download Now
Commercial real estate giant CBRE recently surveyed property owners, finding that 86 percent of them expected flexible and hybrid work arrangements to be part of their future. Of their most desired office attributes, respondents' top choices were flexible workspace options (82 percent) and shared meeting spaces (74 percent).
A flexible or hybrid work arrangement requires workers to have a reliable workspace outside of the office. If they lack an adequate home workstation — or if they prefer to work from the road — nontraditional work areas become appealing.
The pandemic was the main catalyst for the shift to work from home (WFH), but remote work was a major trend even before COVID-19. More than 33 percent of U.S. workers are involved in the gig economy, either in a primary or supplemental job. While some of those gigs are driving rideshares or delivering online orders, many others are built around sit-down computing tasks. The growing gig workforce doesn't always have access to an established office or adequate WFH space, which means they depend on alternative working areas to maintain their lifestyle.
Getting equipped for the remote office
The first prerequisite for office hoteling is identifying and allocating available space, and the second is a good location. But business owners also need the right technologies in place in order to create a new reliable revenue stream from office hoteling.
Beyond the physical remote work setup, you need the right infrastructure and supporting technology to attract and retain customers. As you plan how to incorporate technology into your remote public office, consider these factors:
Organization: In formalized office hoteling arrangements, customers need to know what space is available and where they can find it. Numerous software platforms can help manage and visualize the availability and location of workstations. For a business offering workspace reservations, digital signage at reception and in seating areas displaying real-time, color-coded seating maps can help guide visitors to their designated space without the need to interact with your busy staff. Small devices at each workstation, paired with color-coded LED lighting, also visually indicate which stations are booked or available.
Connectivity: To build customer loyalty, you need powerful, reliable Wi-Fi matched to aggregate demand — so internet speed doesn't falter when the workspace is full. You should also factor in hardwired Ethernet connections wherever possible. Samsung's Smart Monitors have built-in Wi-Fi and Bluetooth, which allows users to work directly from the monitor without lugging around their PC or laptop.
Flexibility: People who need to bring their office tools with them to places like cafes can benefit hugely from tools like Samsung DeX — which makes it fast and simple to connect an enabled smartphone to a keyboard and monitor. Using just a USB cable, people can get to work using the browser and productivity tools on that very portable phone.
Productivity: Access to networked printers is a plus, as are friendly options like spare chargers. One of your biggest attractions may be large curved display monitors, which allow multitaskers to dig deeper into their work — in ways that aren't really possible on 13- or 15-inch laptop screens. Equipped with USB-C connectors, curved widescreen monitors offer immersive viewing and a range of streamlined connection points to meet diverse productivity needs.
Collaboration: Shared meeting spaces such as conference rooms should be equipped with interactive whiteboards, enabling users to share presentations and brainstorm more collaboratively. Samsung's Flip 2 smart board series blends broad capabilities with a user-friendly experience that minimizes training and support, so employees can get right to work.
Imagine, for example, walking into a cafe or restaurant set up for hoteling, grabbing a coffee and then heading into the prebooked collaboration pod to connect with colleagues over a video call for an idea-generation session. The ability for workers to capture and share the notes digitally is a major advantage for workers to choose your shared workspace over others.
Awareness: At reception as well as in communal work areas, break rooms, social zones and even windows facing a street or concourse, displays are powerful tools for drawing in customers and keeping them informed. Well-positioned digital signage can do so much more than advertise promotions and branding. These screens can help guide customers and inform them of workspace options and availability, as well as new services and special events. You can easily create and manage your signage content with software toolsets like Samsung's MagicINFO — or, for a smaller business, with Samsung's Pro TV solution, which can be fully managed from a smartphone app.
Analytics: Office hoteling and hotdesk booking platforms don't just manage the daily ebb and flow of drop-in customers; these platforms also generate valuable insights about desk occupancy. Armed with analytics of your workspace's occupancy rates and trends, you can make better informed decisions about the kind of desks and technologies you offer, knowing where people usually sit and how long they stay. During a public health crisis such as the COVID-19 pandemic, digital solutions that announce health guidelines or measure traffic patterns, such as crowd-sensing cameras on kiosks, can assure patrons that you are putting their health and safety first.
Adapting to the future
The pandemic has forced workplaces to evolve, as well as the businesses that support them. WFH arrangements might have thinned out the ranks of office workers coming in for coffee and snacks, but with the right plan and technologies in place, operators can pivot and generate business from people who need a more comfortable place to work remotely.
By investing in high-quality desktop monitors and interactive whiteboards, businesses can attract remote workers looking for a comfortable, productive set-up to get their work done. The upfront technology costs can quickly be offset by the membership fees or hourly rates you collect from remote workers.
While pure-play coworking facilities are one option, many other kinds of businesses can monetize their underutilized assets as a new kind of temporary workplace.
As you design your ideal rentable remote workspace, learn more about how you can elevate your guest experience with digital signage , or explore other ways offices are adjusting to the future of remote and hybrid work. Then, discover how Flip 2 interactive whiteboards can facilitate smarter meeting room collaboration.