Push-to-talk (PTT) has long been the core of first responder field communications. With the simple press of a button, police, firefighters or EMTs can instantly connect with dispatch and fellow first responders. Land mobile radio (LMR) can't deliver the wealth of rich multimedia and cloud-based applications of a smartphone, but the radio's prime position on an officer's duty belt is assured based on PTT capabilities alone.
That's why Samsung's Galaxy XCover Pro, paired with FirstNet® Push-to-Talk (PTT), is such a game changer in first responder communications.
Powered by 3GPP Mission-Critical Technology, FirstNet PTT is the fastest and highest priority service on the FirstNet network, thanks to PTT servers located across the country. FirstNet subscribers can take advantage of one-to-one and group calling and messaging, presence, supervisory override and mutual aid requests to other agencies on the service. With the Galaxy XCover Pro, meanwhile, Samsung is providing a rugged, field-ready phone that's purpose-built for public safety PTT communications.
Your guide to mission critical push-to-talk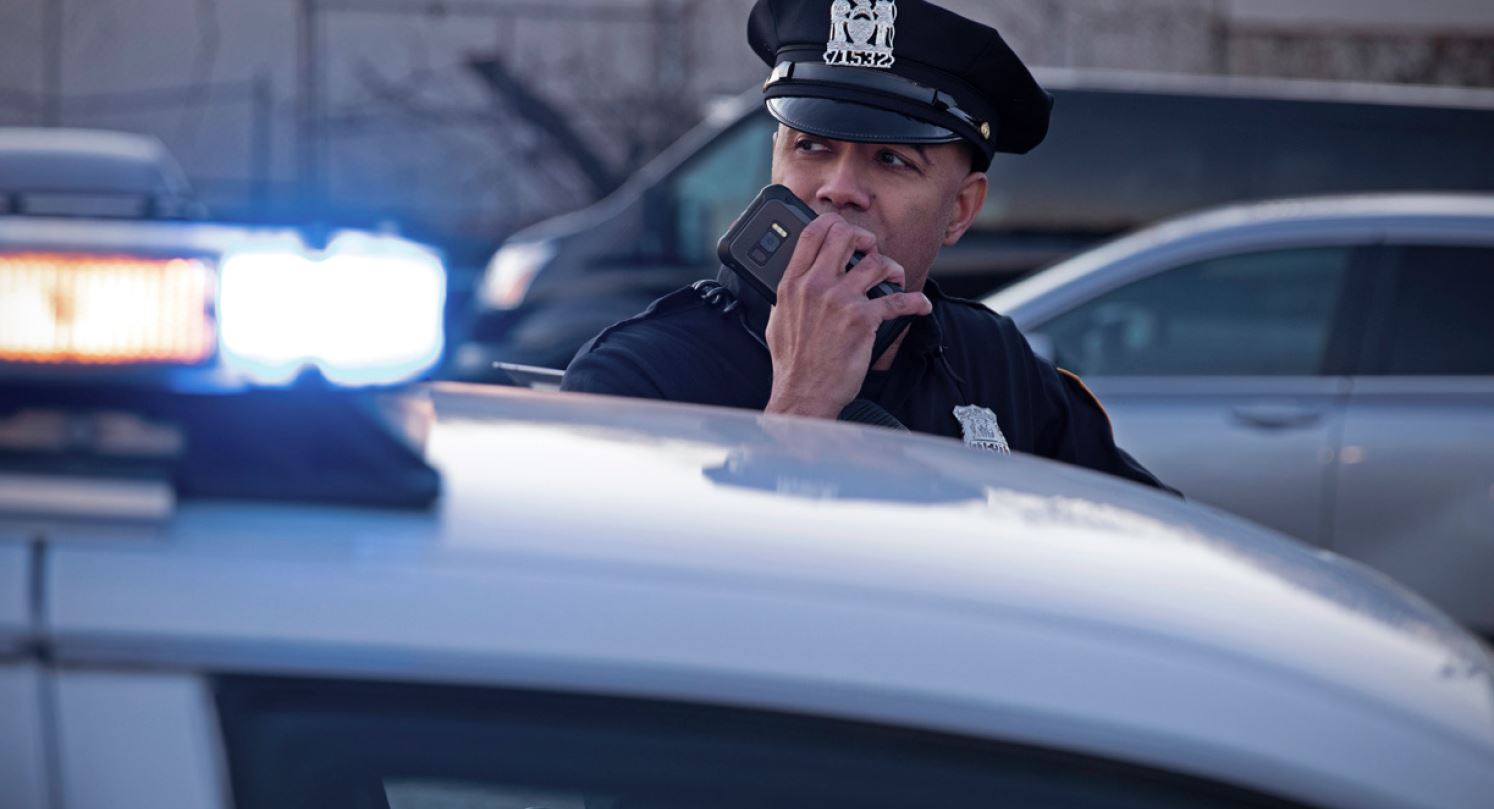 Get a practical guide to implementing Mission Critical communications via mobile devices. Download Now
This combination of network and device opens new doors. First responders can now engage in urgent communications over PTT and access rich data and collaboration platforms on a single device over a reliable, nationwide cellular network. Longer term, it presents the opportunity for device consolidation and significant cost savings.
Consider the following scenarios:
For wildland firefighters, rugged PTT-capable smartphones bring expanded crew safety and situational awareness for asset management and coordination. Device durability combined with a high-resolution smartphone display to easily review weather information and drone video showing the path of a fast-moving wildland fire make tactical operations considerably safer for personnel and enable rapid fire suppression.
For EMT personnel attending an incident, PTT-capable smartphones become the baseline communication platform that allows sharing of real-time patient vital signs, voice updates and electrocardiograms (ECGs) with emergency rooms, as well as with specialty treatment teams.
For law enforcement personnel, rugged PTT-capable smartphones enable both voice communications and viewing of real-time security camera feeds to inform critical situations as they unfold in the field. Access to computer-aided dispatch (CAD) — traditionally limited to a laptop mounted in a patrol car — can now be extended to an officer's handheld device, providing quick updates and information sharing.
Adopting smartphone-based PTT
As with any major platform transition, the adoption of smartphones for PTT will be gradual, with some early adopters and others plotting a more measured migration. Given the critical importance of public safety communications, it's absolutely essential that agencies develop a comprehensive plan for smartphone-based PTT that looks at all elements, from hardware, system integration and app compatibility to user experience, information security policy and training.
For agencies with older LMR networks that are nearing capacity, smartphone-based PTT may initially be looked at as overflow to support the growth in users. Other agencies may be spurred to adopt smartphone-based PTT to address interoperability challenges presented by traditional LMR. That's because, unlike LMR, cellular-based PPT platforms can enable the rapid creation of cross-agency talk groups with neighboring jurisdictions when a mutual aid request is made.
Samsung has worked with the Public Safety Network to develop a roadmap for successful PTT implementation, which can help guide agencies in this transition. Samsung has also listened carefully to the needs of public safety in developing the Galaxy XCover Pro as a purpose-built first responder communications tool.
Built tough for public safety
The Galaxy XCover Pro smartphone is built to withstand the tough conditions endured by police, firefighters and EMTs in the field. It underwent extensive environmental testing against the U.S. Department of Defense's MIL-STD-810G standard. In testing, it was found to function normally after being dropped 26 times from a height of 5 feet and being exposed to hours of constant vibration. It also continued working normally after being exposed to extreme hot and cold, blowing rain, sand and dust, high humidity, salt spray, compression and icing. It's also IP68 certified, having survived immersion in 5 feet of water for up to 30 minutes.
When a first responder is confronting a life-threatening emergency, simplicity matters. They don't have the time to remove gloves and navigate a touch screen interface to scroll through a contact list. That's why the XCover Pro features programmable keys that can be configured to support frequently repeated tasks, such as opening apps.
Full PTT via FirstNet
Public safety agencies who subscribe to FirstNet Push-to-Talk can configure their XCover Pro to communicate in all the ways they need. That includes one-to-one group calling with up to 1,000 users per talk group, Wi-Fi calling and texting. Agencies can declare an emergency on FirstNet and preempt other traffic, including other PTT calls, to ensure fast, reliable communication. The network also provides supervisory override, so a selected user can speak at any time. There's less latency than many users experience with LMR, and they can communicate beyond their jurisdictional boundaries.
The XCover Pro can be programmed to send the user's GPS location, SOS calls for help and other alerts with the push of a button. A user or commander can also activate ambient listening to hear what's happening in the area of a particular user.
Long-lasting, replaceable batteries
When first responders use XCover Pro smartphones, their devices are being powered by long-lasting, replaceable batteries with fast-docking pogo pin charging.
The rugged phone is also built on Samsung Knox, our multilayered security platform that keeps user data safe on the smartphone and during transmission.
The path forward
The advent of reliable smartphone-based PTT represents an important step on the path toward public safety agency modernization. The benefits of smart mobile devices in the hands of first responders are enormous. Pairing convenient PTT and cloud-based apps on a single device makes for more effective and informed decision making in the field.
Samsung is committed to helping public safety agencies take full advantage of mobile technology, and the PTT-capable Galaxy XCover Pro is designed to move more mission-critical communications to mobile devices and begin planning for a fully mobile future.
As you plan a mobile rollout for your agency, there are dozens of solutions to choose from. Samsung's range of public safety technology is purpose-built for the unusual job at hand. You can also get more tips from tech experts in Samsung's free guide to successful MCPTT implementation.