For first responders, communications are a matter of life and death — both for the responding personnel who need to stay in constant contact with dispatch and with each other, as well as for the public they're protecting. As such, their communications have to be fast, reliable and accurate.
Choosing the most fully featured communications platform is a mission-critical priority for law enforcement, firefighters and emergency medical services alike.
Building upon LMR
For decades, the burden of first responder communications has been carried by land mobile radio (LMR). LMR was cutting-edge in the 1930s, but it's engineered to be voice-first; it can't match the wealth of live video streams, interactive maps and other real-time data carried by modern 4G LTE smartphones.
Interoperability between different agencies' LMR systems remains a challenge, despite the Project 25 initiative. LMR is also dependent on dedicated networks for coverage, which limits the technology's range and operable area. Cellular networks, on the other hand, provide nationwide coverage and support communications across jurisdictional boundaries.
Your roadmap to mission-critical push-to-talk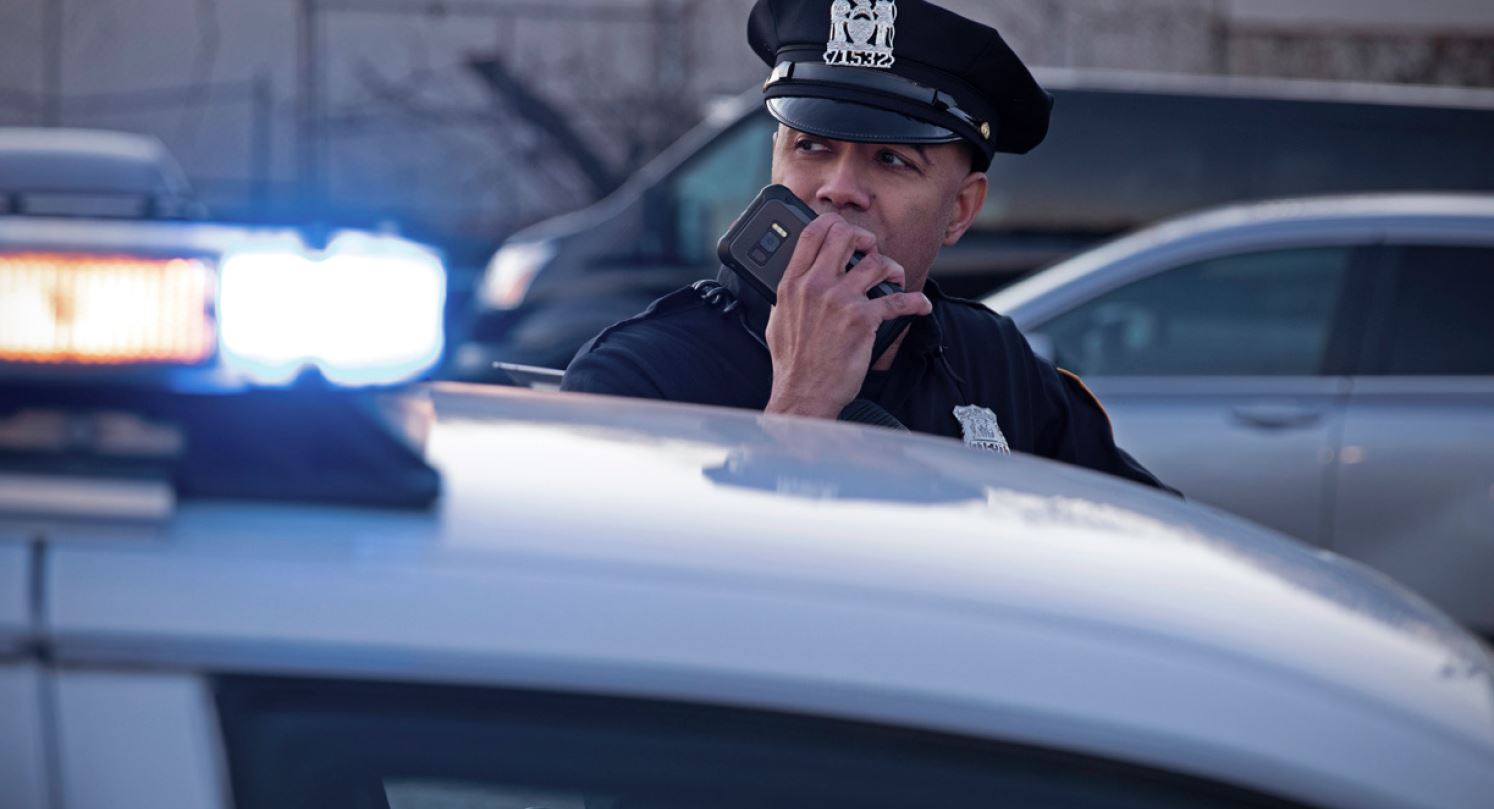 Get a practical guide to implementing mission-critical communications via mobile devices. Download Now
That said, LMR has retained two distinct advantages over most smartphones: push-to-talk (PTT) capabilities and the build strength to handle first responders' work environment, a mix of extreme weather and rough handling that would knock many consumer devices out of commission.
Samsung has stepped into this breach with a rugged smartphone that's ideal for first responders: the Galaxy XCover Pro, which combines LMR ruggedness and PTT functionality with the performance, reach and intuitive interface of 4G LTE smartphones.
The XCover Pro is also FirstNet Ready™, which means users who subscribe to FirstNet service can use their XCover Pro to access public safety's Band 14 spectrum and FirstNet Push-to-Talk service.
Tough enough for first responders
Unlike consumer smartphones, the XCover Pro is built to be military-grade. It has been tested against the Department of Defense's MIL-STD-810 standards for durability, including surviving 26 drops from 5 feet up and withstanding extreme temperatures, from −40 to 176 F. The Galaxy XCover Pro also meets the IP68 standard for dust and water resistance. To become IP68-certified, the XCover Pro kept working after being submerged in 5 feet of water for 30 minutes at a time.
Optimized for push-to-talk
First responders need seamless communications, so the Galaxy XCover Pro is designed for fast, easy PTT. It features physical buttons for PTT and emergency notifications (e.g., "Officer Down") that can be configured and reconfigured as needed. They can also be keyed while the user is wearing gloves.
FirstNet subscribers using the XCover Pro will be able to take advantage of the smartphone's PTT capabilities through the new FirstNet PTT service. Powered by 3GPP mission-critical technology, FirstNet PTT gives first responders the highest priority on the FirstNet network, with PTT servers across the country ensuring lower-latency voice communications.
FirstNet PTT delivers essential communications capabilities, including one-to-one and group calls and messaging, presence (i.e., seeing who's online), supervisory override, emergency alerts and the ability to preempt other PTT calls, as well as mutual aid requests to other agencies on the service.
Fully featured smartphones
Because the Galaxy XCover Pro is made by Samsung — a leader in first responder smartphone technology — the device has all the features you'd expect from a modern 4G LTE Android smartphone, including a high-resolution 6.3-inch touchscreen, 4GB of RAM, 64GB of internal storage, a microSD card slot for expanded storage (up to 512GB) and dual cameras (25MP outward-facing, 13MP front-facing). It offers quick-connect pogo charging pins for use in drop-in charging stations, and the battery is replaceable — especially useful for teams that share devices across shifts. As needed, you can easily remove the phone's back cover and swap in a fresh battery.
The XCover Pro is also protected by the built-in Samsung Knox mobile security platform, which provides the defense-grade protection that first responders need for sensitive public safety information.
Right for the job
Purpose-built in collaboration with public safety agencies, the XCover Pro supports mission-critical PTT (MCPTT) communications, enhances situational awareness, supports mobile computer-aided dispatch (CAD) and enables instantaneous collaboration through the sharing of photos, videos and rich data, such as maps and floor plans — all in a defense-grade package proven tough enough for first responders.
To help you strategize your agency's next mobile upgrade, consider Samsung's other innovative public safety technologies — including devices, software and accessories. And if you're looking to implement mission-critical push-to-talk, you can get a detailed roadmap from the Public Safety Network in this free guide.