The idea of replacing your laptop with a tablet is not a new one. For workers lugging heavy laptop bags and businesses seeking to provide employees with flexible technology for working remotely, sleek powerful tablets hold a lot of appeal. But for a tablet to truly replace your PC, it has to tick a lot of boxes.
Samsung's Galaxy Tab S7 and S7+ do just that, combining PC-like performance with smart multitasking features that make for a powerful productivity tool, whether you are on the go or at a desk connecting to a monitor.
Samsung has been refining its business-focused tablet line for some time. The original Galaxy Tab S, released back in 2014, was its first foray into designing an Android tablet specifically for business multitasking. Over the years, it hasn't stopped innovating, adding an advanced S Pen, compatibility with Samsung DeX, and boosting storage, memory and battery life.
With the Tab S7, Samsung has expanded the range to two models featuring larger screens — 11 inches for the Tab S7 and 12.4 inches for the S7+ — while retaining the thin, light form factor. There's also big improvements in the optional keyboard case, which provides an ergonomic typing experience and larger touchpad. And with the addition of a 5G-capable version — a first for Android tablets — the Galaxy Tab S7 and Galaxy Tab S7+ are two intriguing solutions that might finally have you ditching your laptop and lightening your load.
For a deeper dive, here are 10 reasons to replace your laptop with the Samsung Galaxy Tab S7 or S7+:
1. Accomplish more with Multi-Active Window mode
If you need to draft an email while referencing another document, the Galaxy Tab S7 doesn't hold you back. Thanks to the convenient Multi-Active Window feature, you can pin three applications side by side. And you can use the applications simultaneously — just like on your laptop — allowing you to multitask productively.
With the large, high-resolution displays on both Tab S7 models, you can work hard without straining your eyes. The displays on both devices are also 120Hz, which helps to smooth out scrolling, making it more fluid and easier on the eyes.
2. Dive into productivity with the book cover keyboard
A touchscreen is great for being productive on the go, but what happens when you want to sit down and edit a document or make a slideshow? The book cover keyboard accessory gives you access to ergonomic typing and a responsive touchpad with integrated gestures so you can tackle all your day's work. On the Tab S7+ keyboard, you also get a row of function keys to quickly access Android features and launch DeX.
Shop special offers
Find out about offers on the latest Samsung technology.
see deals
Speak to a solutions expert
Get expert advice from a solutions consultant.
Talk to an expert
3. Power full desktop experience with DeX
You don't need to forfeit the experience of a full desktop when you use a tablet. Samsung DeX allows you to use your tablet like a traditional PC — with access to multiple windows, drag and drop functionality and more. Either connect your Tab S7 to a monitor using a USB-C cable or wirelessly cast to any Miracast-enabled TV. DeX also makes working with virtual desktop infrastructure (VDI) applications more intuitive than ever, connecting to your virtual desktop PC from practically anywhere.
4. Mark up documents and take notes with S Pen
Here's something you can't do on a traditional laptop: Draw, write and take notes, all with an included S Pen. Sketching ideas and annotating PDFs is a breeze in the updated Samsung Notes app. Samsung's smart stylus stores and charges directly on the back of the Tab S7 so that you never lose it. You can even use the S Pen to navigate presentations with an in-air mouse.
5. Stay connected anywhere with 5G and Wi-Fi 6
The Samsung Galaxy Tab S7 is the first tablet in the world to feature 5G cellular connectivity, so you can stay in touch with your team while you're away from your home office — with blazing fast data rates. When you're back at base camp, you'll be able to use the latest Wi-Fi 802.11ax standard for a reliable high-speed connection. And you can conduct video calls from anywhere, thanks to the built-in 8MP front-facing camera.
6. Powerful internals challenge traditional PCs
If the Galaxy Tab S7 is going to replace your laptop, it needs powerful internals to match. Its Snapdragon 865 Plus processor and up to 8GB of memory are set to handle the most challenging jobs. If you need more storage, the Tab S7 includes up to 256GB and can be expanded by up to 1TB via the built-in micro SD card slot.
7. Drive through your day with a 15-hour battery
Whether you're using your Galaxy Tab S7 as a paperless office solution or carrying it about between work sites, you need the battery to last until the job is done. On the Galaxy Tab S7, you'll see up to 15 hours of battery life, while the S7+ is rated up to 14 hours, allowing you to work the whole day without worrying about the nearest outlet. After hours, you can kick back with your favorite movies on the Galaxy Tab S7+, featuring Super AMOLED and an HDR10+ certification for crisp, vivid video.
What's the best tablet for your business?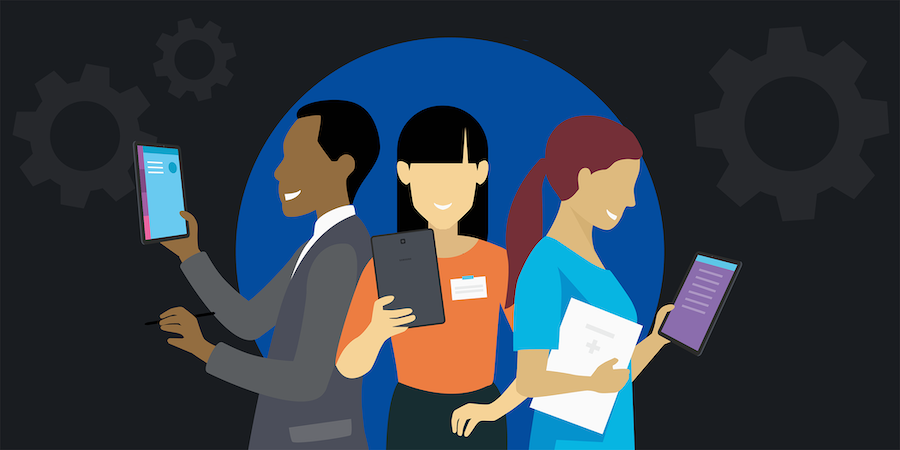 Take this quick assessment to see which Samsung tablet would best support your business needs. Download Now
8. Keep your work confidential with fingerprint unlock
Security is always a concern, and when work leaves the confines of your physical office, you need to know that your digital assets will stay secure. Both Tab S7 models feature fingerprint sensors for convenient biometric authentication, with the Tab S7+ utilizing the innovative in-display reader that comes on Samsung's latest flagship smartphones. The device integrity is also protected by Samsung Knox, a defense-grade security platform which integrates closely with leading mobile device management (MDM) solutions.
9. Access the potential of the Google Play Store
The Samsung Galaxy Tab S7 lets you tap into the Google Play Store, giving you access to nearly 3 million powerful productivity apps, including Google Workspace and Microsoft Office. If you need to access your desktop legacy apps, virtual desktop infrastructure (VDI) solutions can connect you with your company's virtualized computing solutions, such as Citrix Workspace and VMware Horizon.
10. Lightweight and ready to travel with the road warrior
When you're on the go, the Samsung Galaxy Tab S7 allows you to adapt to your surroundings by using it either as a standalone tablet or with the book cover keyboard. It also won't weigh you down, thanks to its 1.1- to 1.26-pound design.
Laptops might be the primary office companion for some, but tablets offer a new world of features for those looking to tackle productivity outside the office. The Samsung Galaxy Tab S7 allows you to replace your laptop with a tablet, so you can enjoy a lightweight, portable solution with the processing power to move you through your day. With office-friendly features like Multi-Active Window mode, Samsung DeX, S Pen and integrated 5G cellular connectivity, you can work productively from anywhere.
Ready to switch to a tablet, but not sure the Tab S7 is the right choice for you? Take this free, quick assessment to match your business needs with the ideal tool for the job. and see how you can get the most out of Samsung DeX on your Galaxy tablet.