The Samsung Galaxy Tab S7 and S7+ were designed for business productivity, enabling you to work from anywhere, whether you're in the field or back at the home office. The first 5G-enabled tablets to launch in the United States, the Galaxy Tab S7 and S7+ eliminate the need for separate desktop or laptop PCs. Add the optional keyboard and the tablet transforms into a laptop, with Samsung DeX providing a PC-like experience to access your mobile apps. You can also connect the tablet to a monitor or TV, and run DeX on that larger screen while continuing to use your tablet at the same time.
The Galaxy Tab S7 and S7+ pack plenty of other features that can help you turbocharge your work too. Here are 10 tips for getting more out of your new Samsung tablet:
1. Mark up documents and control your tablet with the S Pen
Both the Samsung Galaxy Tab S7 and S7+ include the powerful S Pen. When you detach the S Pen from the back of your tablet, the Air Command button makes itself visible, allowing you to jump into quick actions. You can take screen captures, add annotations, translate text or even use your S Pen as a magnifying glass.
Shop special offers
Find out about offers on the latest Samsung technology.
see deals
Speak to a solutions expert
Get expert advice from a solutions consultant.
Talk to an expert
Need to control a slideshow from afar? Air Actions allow you to flick your S Pen in the air to control aspects of your tablet. You can customize these commands in the Settings app under Air Actions. And when your S Pen runs low on battery, you can attach it magnetically to the back of your tablet to charge.
2. Use Samsung Notes to keep your ideas available across all your devices
Opting to use the Samsung Notes app on your Tab S7 or S7+ allows you to create detailed notes containing text, images, voice recordings and more. Take advantage of the S Pen and use Samsung Notes to sketch out your next big idea or take notes at your next meeting. Best of all, Samsung Notes syncs with your Samsung account, meaning you can access notes you capture on your Tab S7 on other devices, like your Galaxy Note20.
3. Take advantage of Multi-Active Window
Multitasking on a tablet has never been this productive, thanks to Multi-Active Window. With this feature, you can display up to three active windows on your screen at any time. On the side of your screen, drag the edge panel towards the center. Once presented with your apps, simply drag and drop where you wish your second application to open and the split-screen view will begin. You can even drag and drop between two open apps for more efficient content sharing.
4. Add the Book Cover Keyboard for laptop-like productivity
Tablets such as the Tab S7 and S7+ offer lightweight computing solutions and interactive touchscreen displays. However, if you desire a full-sized tactile keyboard and trackpad, consider the optional Book Cover Keyboard. With a magnetic snap, the Book Cover Keyboard attaches to your Tab S7, providing you with a physical keyboard to churn out emails and other documents. Do you prefer a desktop-style experience? Tap the Samsung DeX button and the Fn key to launch into DeX mode and work with windowed applications for the ultimate in multitasking productivity.
5. Use Samsung DeX, wired or wirelessly, on an external display
The power of Samsung DeX doesn't need to stay tethered to your S7 tablet; using either a USB-C to HDMI cable or a wireless Miracast-enabled display, you can put your work on the big screen. Share slideshows with others in the room or merely increase your productivity by opting for a larger monitor where you can view all of your mobile apps. It's never been easier to ditch the laptop, thanks to DeX.
6. Stay connected with Auto Hotspot and 5G connectivity
The Samsung Galaxy Tab S7 line offers optional 5G connectivity so that you can stay online, at high speeds, while in the field or away from the office. Want to share your tablet's 5G connection with your other Samsung devices? Enable Auto Hotspot to share your device's connection with other devices signed in to your Samsung account. Under Settings, search for Mobile Hotspot and Tethering. After selecting Mobile Hotspot, tap Auto Hotspot to switch it on.
7. Set up fingerprint unlock for increased security
What's a better password than your finger? Using biometrics to safeguard your tablet is convenient and secure. With the Galaxy Tab S7, you can touch your finger to the side-mounted scanner, while Galaxy Tab S7+ features a built-in under-screen ultrasonic sensor. To add your fingerprint to the system, head to the Settings app, tap Biometric Security and then Fingerprints. In addition to unlocking your tablet, you can use your fingerprint to unlock additional features, like Secure Folder.
What's the best tablet for your business?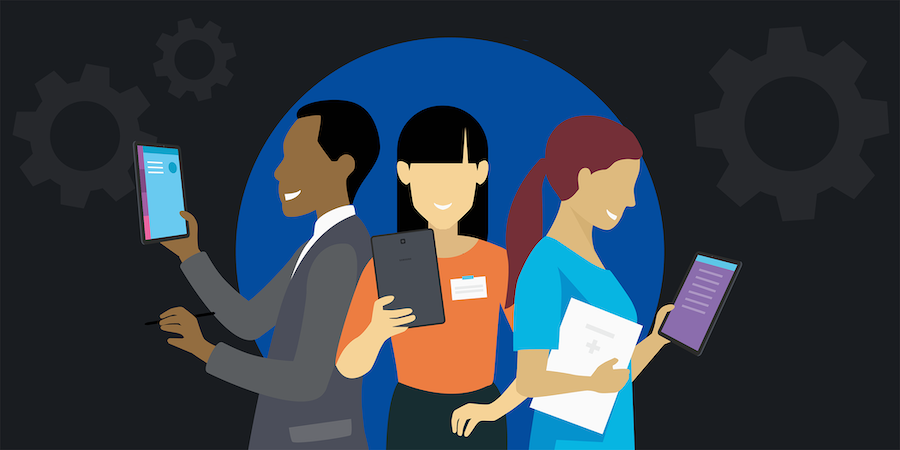 Take this quick assessment to see which Samsung tablet would best support your business needs. Download Now
8. Keep your files safe with Secure Folder
When it's time to store sensitive information, such as financial data or personal records, use the Secure Folder feature to add an extra layer of security to your Galaxy tablet. Protected by the Samsung Knox defense-grade security platform, your Secure Folder allows you to save private information with a custom pin, pattern or even your biometrics. To get started, open the Biometrics and Security section within the Settings app and select Secure Folder. Once you've chosen a secure password or added a fingerprint to your device, you can find the new Secure Folder in your Android app drawer — and store anything you wish to keep protected within.
9. Fast charge your Galaxy Tab S7 or S7+ for ongoing productivity
The Samsung Galaxy Tab S7's battery was engineered to last for up to 15 hours, with the Galaxy Tab S7+ supporting up to 14 hours. A long-lasting charge allows you to get your work done when you're away from a power outlet without worry, whether you're on a train, plane or in the car. Both devices also support Samsung Super Fast Charging, which allows a compatible USB-C charger of up to 45 watts to keep your device topped up when needed.
10. Expand your storage with a microSD card
Both Samsung Galaxy S7 tablets include up to 256GB of storage space, meaning all of your documents, photos, videos and applications have plenty of room. However, if you find yourself needing more storage, the expandable microSD card slot allows you to add 1TB of space. You can quickly pop in a microSD card whenever it's needed.
Is the Galaxy Tab S7 the right device for your business needs? Take this short assessment to find out — or do your own research with this overview of Samsung's tablet offerings.