There has never been a tougher time to be a logistics manager in charge of delivery fleet operations. With the massive growth in online sales — and the pandemic's rapid shift to contact-free shipping and delivery — more goods are being moved by delivery trucks than ever before. In fact, UPS reported delivering an average of 21.1 million packages every day in 2020, a 22.8 percent increase from 2019.
Large organizations like FedEx, UPS and the U.S. Postal Service aren't the only ones under pressure. Transport companies are also feeling the stress, in light of driver shortages, operational and customer demand for real-time tracking and delivery confirmations and the need for reliable two-way communications between dispatch centers and drivers.
Specialized handheld computers are expensive and limiting
In recent decades, delivery fleets have come to rely on specialized handheld computers that allow their drivers to record new shipments, identify packages in their vehicles that are ready for delivery and confirm receipt of delivered items with electronic customer signatures.
Shop special offers
Find out about offers on the latest Samsung technology.
see deals
Speak to a solutions expert
Get expert advice from a solutions consultant.
Talk to an expert
These specialized devices are usually toughened for daily use in the field. Unfortunately, the high costs associated with these handheld computers and their relatively limited capabilities (compared to consumer smartphones) make them a significant expense for delivery fleets. For fleet managers, paying a premium for these devices when their cross-functionality is limited is hardly a good deal. But what choice do they have?
As it turns out, fleet managers do have a choice, with the advent of a new kind of rugged push-to-talk (PTT) smartphones.
The solution: Rugged push-to-talk smartphones
Built for heavy-duty use in the field but with the features and flexibility of consumer smartphones, these rugged devices cost significantly less than the bulky handheld computers of the past.
Rugged PTT smartphones, like Samsung's Galaxy XCover Pro, are competitively priced with consumer smartphones. And because these devices function the same way, they're intuitive for delivery drivers. They also operate over the same wireless networks, ensuring that fleet managers can reach their drivers at all times.
For delivery drivers, fleet managers and warehouse workers, using a tactile PTT button to respond to incoming messages is as quick as using a land mobile radio (LMR), even while wearing gloves. Fleet managers can set up priority communication contacts and create talk groups to meet the needs of their workforce.
On some rugged smartphones, you can also configure the physical buttons to activate other key apps or functions, such as a scanning or route navigation app. These buttons could even be programmed to initiate specific actions within a logistics application, like accepting route plans and changes from dispatch or photographing damage to a parcel or vehicle. A minute saved on each delivery adds up to significant total time savings over the course of a driver's workday.
With modern logistics management apps, fleet managers can extend their supervision to every driver on the road, in real time, around the clock. As automation and AI play a growing role in fleet management, transportation and logistics companies that move to smartphones and cloud-based apps can take greater advantage of these future-looking capabilities.
Look for verified toughness
When shopping for rugged PTT smartphones, delivery fleet managers should look for two phrases: MIL-STD-810G and IP68.
MIL-STD 810 is the U.S. Department of Defense's durability standard for military-grade equipment. To meet this standard, devices have to pass 22 tests, including repeated drops from 5 feet up onto a hard surface, as well as exposure to continuous vibrations and extreme temperatures.
IP68 is an international standard for dust and water resistance. To pass this test, the device has to withstand being submerged in water for 30 minutes and continue to function normally.
A PTT smartphone that delivers
When it comes to fleet deliveries, the XCover Pro meets all the key criteria for rugged PTT smartphones. Built by a smartphone manufacturer that's dedicated to serving industry-specific business needs, this MIL-STD-810-tested and IP68-certified Android smartphone comes with two programmable buttons for direct PTT communications and access to key business apps. Its 6.3-inch touchscreen display is made of Gorilla Glass 5, and the device features dual cameras, easy-to-connect pogo pins for fast charging and a long-lasting 4,050mAh battery that can quickly be swapped out in the field.
Choose the right phone for your growing business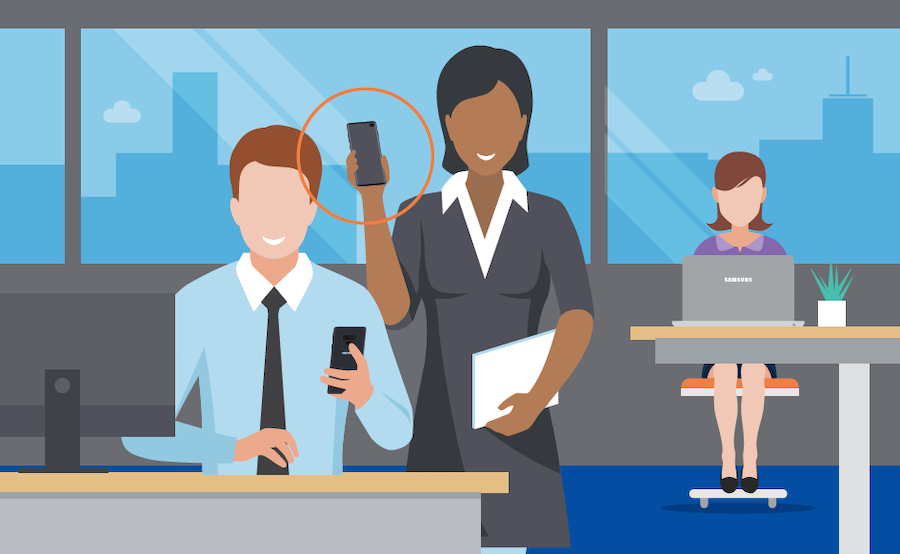 Get your free guide to matching the right smartphone with your business and employee needs. Download Now
The XCover Pro is protected by Samsung Knox, a defense-grade mobile security platform built into the device from the chip up, which ensures secure communications between dispatch and drivers. This security is vital, given the XCover Pro's support for EMV Level-1 mobile point-of-sale (mPOS) transactions, such as collect on delivery (COD) payments and customs charges by delivery recipients.
Samsung also offers Knox Capture, which transforms a rugged device into an all-in-one barcode scanner. With this technology at their fingertips, delivery drivers can quickly scan packages with their smartphone and instantly send the captured data to any relevant apps. With no need to switch between devices, drivers save time and enjoy greater productivity.
What's more, the XCover Pro supports Band 48 Citizens Broadband Radio Service (CBRS), a license-free wireless band that can be used for short-range data communications between mobile devices. Often referred to as "private LTE," Band 48 CBRS offers an alternative to Wi-Fi for wireless data and communications across large work sites.
By moving to rugged PTT smartphones, fleet managers who oversee delivery operations can significantly improve team-wide communications and device control — while reducing costs.
To see all that your company can gain from military-grade durability, discover Samsung's entire lineup of rugged devices, purpose-built to withstand even the most volatile work environments. And if you're not sure which device is right for you, find the best option for your business needs with this free smartphone assessment or this free tablet assessment.