A wall-filling array of screens might be the focal point of most control rooms, but newer technology now supports more efficient and diverse display options.
The big picture — whether it's displayed on direct-view LED or narrow-bezel LCD video walls — gives operators a top-line view of mission-critical information. Control room operators need this high-level view to simultaneously access data streams of all types in real time. With a comprehensive array of information, operators get a broader understanding of what's happening during an incident, allowing for better informed decision-making in moments of crisis.
Charts, graphs and indices on digital dashboards used in control room environments reflect real-time snapshots of statuses, trends, alerts, key performance indicators (KPIs) and activities. Smaller screens on walls and at workstations provide complementary information, allowing users to focus on specific tasks and information streams. How and where to display all of that data depends on many variables — everything from the layout of the physical space to the nature and granularity of the information.
Here's a look at the two primary technologies used in control room screens, and the complementary role of workstation monitors:
Why LED for modern control rooms?
LED technology may have been popularized by sports arena displays and large-scale airport advertising screens, but it's now the go-to solution for modern control room designs.
The biggest attraction for LED is the lack of visible seams. LED cabinets — the modular tiles that contain thousands of LEDs and their electronics — look fully seamless when they're properly arranged into large visual surfaces. Control room operators enjoy LEDs' uninterrupted, bezel-free surface. And because LED offers more flexibility than LCD, control rooms can have unconventional setups and curved corners.
Integrate digital signage in the control room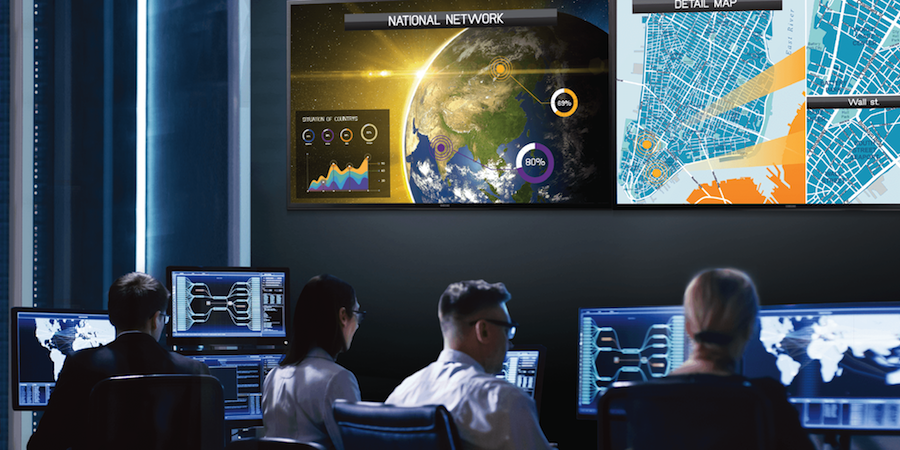 Streamline mission-critical workflows and content management with secure, large-format displays. Download Now
On an LED display, viewers look directly at the LEDs, and the screen is bright enough to operate effectively in well-lit environments. Control rooms no longer have to be dim, windowless bunkers with projectors or LCD screens.
Samsung's The Wall is a microLED display that transfers micrometer-scale LEDs into LED modules, producing visuals similar to what you'd get with QLED TVs. Using AI algorithms, The Wall's display control system can dynamically upscale visuals up to 8K resolution, revealing the nuanced hues and shades of every color. In an environment where every second and every visual counts, The Wall ensures decision makers have the most precise data. Remote power options and 24/7 operation, as well as TAA compliance, support the critical work of control rooms.
Most direct-view LEDs are at risk of being damaged by moisture or static shocks, but The Wall is impact-, shock- and water-resistant.
MicroLED is a revolutionary technology with a contrast ratio, or the ratio between the brightest shade and darkest shade, up to 30 times brighter than leading OLED technology. MicroLED also has a longer lifespan and MTBF (mean time between failures) than other popular display technologies, providing the device reliability that command and control rooms depend on.
LED control room benefits include:
Fine detail that can deliver HD viewing quality from 10 feet away
Slim, hassle-free design for easy installation and maintenance — ideal for compact spaces
Uninterrupted and bezel-free surface, which provides a clear display experience without distracting seams
Precise and stunning color that, paired with high dynamic range (HDR), delivers bright and dynamic visuals
LCD as an alternative
Projection cubes used to be the mainstay of control room environments. But the fundamental engineering design of projection cubes required a lot of space behind them, similar to the physical depth of old tube-based TVs or the projector-based home theater TVs of the '90s.
Then came LCD monitors, which require a fraction of that depth, opening up space in the control room. Today, super narrow-bezel LCD video walls give control room operators the almost unbroken visual canvas provided by projection technology, as well as improved color and brightness.
The main benefit of LCD is visual performance. These displays can now deliver resolution as high as 8K in a single panel. They also leverage advanced technologies, such as HDR and Quantum Dots (in QLEDs), to provide incredibly rich, vivid imagery.
LCD control room benefits include:
Reasonable price point, especially for organizations that need to procure a large number of devices for their environment
Great for visual dashboards that contain high-resolution imagery, schematics and text
Easily handles simple and multitouch interactive applications, which allows control room operators to share with and instruct full teams
There are, however, some more factors to consider when selecting LCD control room screens. Excellent resolution might look good on paper, but it's not always the highest priority in control rooms, where operators tend to sit a fair distance from the screen. In order for your eye to take in all the details provided by a high-resolution screen, you need to be close to it. If the control room's LCD wall design showcases rich detail, it will likely go unnoticed by operators. LCD screens are also more susceptible to glare, which can be distracting and frustrating for viewers.
The importance of quality monitors
An impressive control room LCD wall design may draw all viewers' attention at first, but don't overlook the need for quality monitors. Individual workstations provide information that's complementary to the data displayed on the main control room screens. These users need the support of a high-quality picture display.
The Samsung SE450 Series of LED monitors are not only high-quality desktop displays, they're also TAA-compliant. They're fully approved to be acquired and used by U.S. government organizations and offices. These monitors are also environmentally friendly, user-friendly and budget-friendly.
A tale of two screens
Direct-view LED costs are tied primarily to the density of light pixels in each display cabinet. The more LED lights in each cabinet, the higher the cost. Those additional lights make the "pitch" — or distance between each pixel — finer, hence the term fine pixel pitch. The finer the pitch, the sharper the screens will look from a close distance. LEDs with coarser pitches are best viewed from longer distances, as is the case with replay boards and some advertising displays.
In many control room settings, operator desks are set 15 to 20 feet back, which would make fine pitch displays rated at 1.5-millimeter to 2-millimeter pitch look sharp and vivid. If an average viewer sees the screen from at least 25 feet away, LED cabinets with 2.5-millimeter pitch or greater could be used to lower costs. However, controlling costs by using too coarse a pitch for the viewing distance could result in a main control room screen with broken visuals or hard-to-read text.
Mixing and matching tends to makes sense, particularly when a lot of information needs to be continuously visualized in real time. A main screen may show the big, uninterrupted data to operators positioned at workstations. LCD or LED screens mounted on walls or suspended from the ceiling can be used for granular, high-resolution visuals, like Doppler radar imagery or schematics, while individual desktop monitors can house complementary information for users to factor into the broader context of a given situation.
Using Samsung's ISO-certified content and device management solution MagicINFO, command and control centers can secure their content and ensure data privacy. MagicINFO's ISO 27701 certification, the international standard for a privacy information management system, is a first in the industry for digital signage and a necessity for command and control centers managing critical information.
The control room ecosystem can be as dynamic as its operators desire. Mixing and matching high-quality monitors, LCD video walls and LED displays will propel real-time, mission-critical work into the future.
As you plan your control room display upgrade, consider modernizing your workplace according to Samsung experts' free guide. And to take your digital display deployments even further, explore the breadth of Samsung's versatile digital signage solutions.