When you're on the go, you can quickly tend to simple work tasks with a few taps on your smartphone. But sometimes, you need a larger workspace. With a foldable mobile device, you get the best of both worlds.
Announced at Samsung's Galaxy Unpacked event on Aug. 11, 2021, the Galaxy Z Fold3 5G gives new meaning to multitasking by consolidating your work suite onto a single foldable device. Combining phone, tablet and PC functionality, Galaxy Z Fold3 is a three-in-one powerhouse that fits in your pocket, allowing you to multiply your productivity in ways only a foldable can achieve. When the device is folded shut, it's a smartphone, and when it's open, the 7.6-inch display gives users plenty of landscape to work in up to three windows — while navigating more precisely with an optional S Pen. And when you need a full desktop computing experience, you can connect wirelessly to a monitor using Samsung DeX and pair a Bluetooth keyboard and mouse.
Watch the video to see eight top tips for the device unfold — and read below for more on each:
1. Customize your home screens inside and out
On Galaxy Z Fold3, you can customize both your smartphone and tablet home screens based on which apps you use and when. The outer screen's customization options are great for life on the go, with apps like Samsung Health and text messaging just a tap away. And you can complete more in-depth work on the unfolded inner screen, taking full advantage of the Microsoft Office suite, calendar and other work-specific apps — arranged to your liking for quick access. With a customized outer and inner screen, you get more than efficiency: you get the flexibility to work however you work best.
2. Launch multiple apps from the Edge Panel
The tab on the right side of the flexible interior screen is your Edge Panel. Swipe in the Edge Panel to launch apps fast. With the device in tablet mode, you can drag and drop apps onto your screen to view up to three simultaneously using Multi-Active Windows. Flex the device and set it on your desk for hands-free videoconferencing, then pull up a PowerPoint presentation and even check your calendar — all at once. Z Fold3 is made for multitasking.
Shop special offers
Find out about offers on the latest Samsung technology.
see deals
Speak to a solutions expert
Get expert advice from a solutions consultant.
Talk to an expert
3. Save your favorite app pairings
When you find you're frequently using a couple of apps together, you can save the pairing to the Edge Panel so you can launch both — or even three — apps with one tap. For business users, powerhouse app pairings include:
Launch a videoconferencing app like Google Duo alongside Samsung Notes to take down meeting action items
Review emails in Outlook while you view your meeting availability in Calendar
Open Excel, calculator and Spotify in tandem to listen to some music while reviewing business expenses
These are just a few possibilities for app pairings. Multiplying productivity with Galaxy Z Fold3 is all about customizing the device to your personal workflow and creating shortcuts that help you get work done the best way for you.
4. Work naturally with the S Pen
Galaxy Z Fold3 is Samsung's first foldable that works with the S Pen (sold separately) — both the new S Pen Fold Edition and the S Pen Pro. In tablet mode, use the S Pen to take notes during a video call, mark up documents and access the Air Command menu. Or, simply use Z Fold3 as your sketchbook, with the S Pen as your writing instrument. Take advantage of the large tablet screen that gives you more space to work and write.
When you add an S Pen to your work experience, it enables powerful productivity solutions, like PDF annotation and Smart Select functionality to quickly grab on-screen content and even extract text. The natural feel of pen and paper is now on the surface of a dynamic digital landscape.
5. Capture and view
With Galaxy Z Fold3's brilliant inner display and its multiple camera lens, snapping photos for work has never been easier. Compare shots in real time using Capture View. As you focus the three cameras on your subject, Capture View lets you review the photos you just took to compare new angles and navigate better lighting.
Another unique feature that takes advantage of the device's two displays is a dual camera view of the subject. While the device is unfolded, the subject can see themself on the outer display as the picture taker views the shot from their side.
Galaxy Z Fold3 also features Samsung's first-ever under-display camera, behind the home screen in tablet mode — giving you a true edge-to-edge workspace.
6. Drag and drop between apps
Foldables are making smartphones feel more like PCs, and Galaxy Z Fold3 is especially user-friendly in that regard. Use your finger or the optional S Pen to drag and drop, just like you would on a PC. Drag and drop functionality helps you work faster as you add images to PowerPoint presentations, Word documents and more. Want to insert a photo from your Gallery to an email? Or move text from a document into a presentation? Just drag and drop, no roundabouts required.
Go mobile-only with Samsung DeX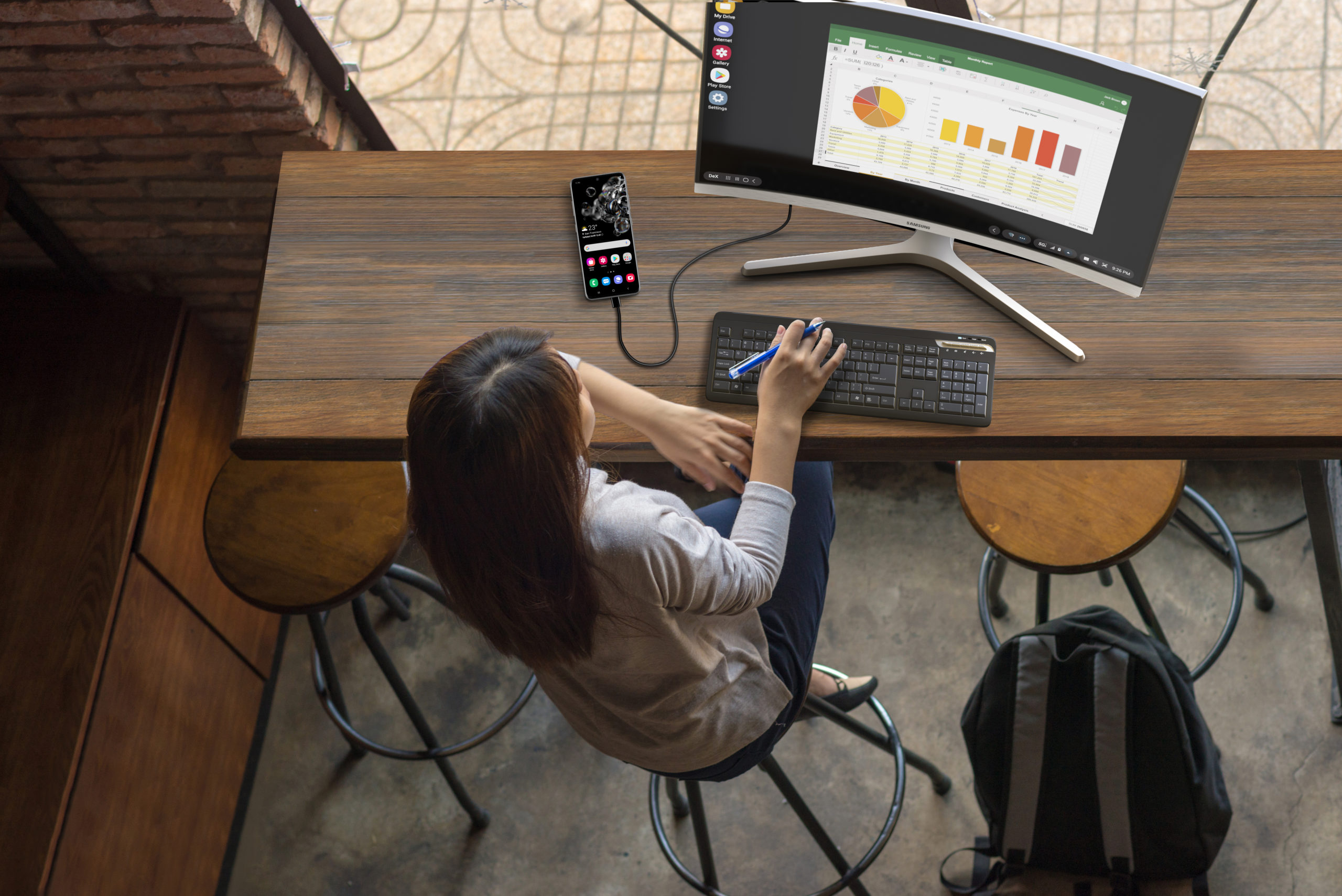 Your comprehensive guide to rolling out a mobile-only solution for your workers. Download Now
7. Enjoy foldable-optimized apps
Many of the top productivity apps have been optimized for the Z Fold3. In PowerPoint, Word and Excel, you can see the full ribbon menu along the top of the screen, much like on a PC, so you can access all these features in one tap. When you're reviewing a document, the comments panel appears alongside, taking advantage of Galaxy Z Fold3's extra screen real estate. The optimized Outlook app lets you preview emails so you can scan your inbox more quickly. The Samsung Internet app is also optimized to run multiple browser windows side-by-side. Just drag a hyperlink across to the side of your screen and instantly open it in a new window.
8. Go from tablet to PC
Galaxy Z Fold3 is a phone, tablet and PC all in one. The PC capability comes from Samsung DeX, which extends your Galaxy mobile device into a desktop computing experience. DeX lets you connect to a monitor and access all your mobile apps apps on the big screen. Work across multiple resizable windows in DeX — all while your Galaxy Z Fold3 continues to operate as a smartphone. You can run DeX wirelessly on any Miracast-enabled Smart TV, as well as Samsung's new Smart Monitor. Use Galaxy Z Fold3 as a trackpad, or connect a Bluetooth keyboard and mouse to free up your Galaxy Z Fold3 for separate use.
Galaxy Z Fold3 is a multitasking machine — and with it, so are you. Multiply your productivity with this powerful foldable that's built for the new way we live and work today.
Sign up for a Samsung Business Account to get exclusive offers, including volume pricing discounts, on Galaxy Z Fold3 5G and Galaxy Z Flip3 5G today. Or discover how you can easily roll out a mobile-only solution for your workers with our comprehensive guide to Samsung DeX.