If you've seen one hospital room, you've seen them all, right? There's a bed, a tray table, a chair for visitors and a TV on the wall. But in some leading hospitals, there's a new addition to the old staples: bedside mobile technology. As hospitals look for ways to improve the patient experience, leading healthcare systems are engaging patients with bedside tablets that provide electronic health record (EHR) access, patient education and entertainment options that offer far more than a standard hospital TV.
This trend began before the coronavirus pandemic, but now hospitals are investing in bedside tablets for another reason: to connect isolated patients with the outside world and keep families involved in the care process, even when they're not allowed in the hospital.
This all sounds great in theory, but to many hospital leaders, it also sounds impractical. Who's going to customize the user experience on all those tablets so it aligns with patient education objectives and secure them to meet HIPAA standards? Who's going to charge the bedside technology and wipe data between users? No one working in a hospital has time for that, especially not during a public health crisis.
That's where Equiva comes in. Its highly customizable, highly secure platform allows a hospital to design the user experience and deploy tablets across the facility — without taxing IT or nursing resources. Bedside tablets equipped with AI technology provided by Equiva enable health systems to more effectively engage patients and their loved ones, leveraging behavioral science to provide a better patient experience.
Isolated but not alone: Connecting during COVID-19
Nir Altman, CEO of Equiva, says demand for bedside tablets has surged during the pandemic. At the same time, healthcare needs and use cases have evolved.
"COVID-19 has exacerbated patient engagement challenges hospitals were already facing, including how to enable loved ones to support the immediate care process and support the patient post-discharge, especially when those loved ones are out of state," Altman says. "Now, these traditional challenges are being amplified by the suddenness of this illness and the fact that local family members can't enter the hospital."
Shop special offers
Find out about offers on the latest Samsung technology.
see deals
Speak to a solutions expert
Get expert advice from a solutions consultant.
Talk to an expert
Equiva's solution features a one-touch video call solution that lets patients reach out to loved ones, get the emotional support they need and loop them into conversations with care providers. If patients are too sick to make the call — or ventilated, like many COVID-19 patients — nurses can use the tablet to contact family.
"We've all heard stories about nurses taking out their phones and letting families see their loved ones and talk to them, either to boost their spirits or to say goodbye," says Altman. "They do it because they want to help families connect, not because someone told them to. This is what they have chosen to do in life — to help people. We've simply given them the tools to be able to do more of that in a more effective way."
Clinicians can also use the bedside tablets to communicate with patients, thanks to an American Well integration in Equiva's solution. This lets overwhelmed physicians talk to more patients more quickly and keeps them from entering patient rooms as often, lowering their risk of infection and preserving precious PPE.
Personalized and on demand: The new patient education experience
Hospital patients and their families usually get health information in one of three ways: on paper, in person or through the in-room TV.
"If one looks at the traditional model of engaging patients, it continues to be very much paper-based — unfortunately not all that different from the approach used since the 1980s," says Altman. "The patient receives multiple flyers and a large binder when he or she goes home. Most of it is unread. Paper and TV systems focus only on delivery of content. This is not sufficient."
To be effective, Altman says, content delivery must be coupled with evidence-based education and behavioral science.
According to Altman, the problem is that stacks of paper overwhelm some patients and bore others. Communication happens when the clinician has time to talk, which may not be when the patient is ready to listen. The same is true for traditional hospital TV content (disease-specific videos broadcasted at certain times of day); this approach doesn't take into account when the patient is actually ready to learn. It also doesn't give patients' family members — who may not be able or allowed to visit them in the hospital — an opportunity to hear or read the information.
On-demand content is key to patient engagement, especially in the digital age, explains Altman. "Look at how people are engaged in today's world," he says. "It's via digital devices. You see it on trains, subways, buses and at airports. Consuming content via mobile screens is more engaging than paper and TV and enables users to learn in the way that is most comfortable to them. Some learn best by reading, some by watching a video and some through interactive exercises."
Equiva's AI-enabled technology allows users to learn in the way that's most comfortable to them, providing instant feedback and leveraging education and behavioral science to enhance retention of key concepts and improve post-discharge self-care.
Entertainment and education, right by the bedside
To aid with active learning, Equiva provides a curated library of educational content, including 3D anatomy and physiology models on a wide variety of health conditions. Hospitals can also add their own content. Then they can assign videos to specific patients or patient populations. Cardiac patients, for example, see content on heart health, while new mothers see videos on infant safety and postpartum depression.
With the right integrations, Equiva can also give patients easy access to EHR so they can view their lab results, medication lists, doctors' notes and daily schedules. Patients become engaged participants in their care and have the information they need to stay healthy at home. They can also share this information with their family members and caregivers outside the hospital.
"Complications often arise when patients and families are not properly informed about the recovery process," Altman says. "They may not understand important items such as fall prevention or available resources. They may not understand their medications, which is important, because low medication adherence leads to 125,000 deaths each year and costs the U.S. health system as much as $250 billion. The tablet platform provides information in a way that's easy for people to understand and that can help them avert those types of complications."
How to create a mobile-first hospital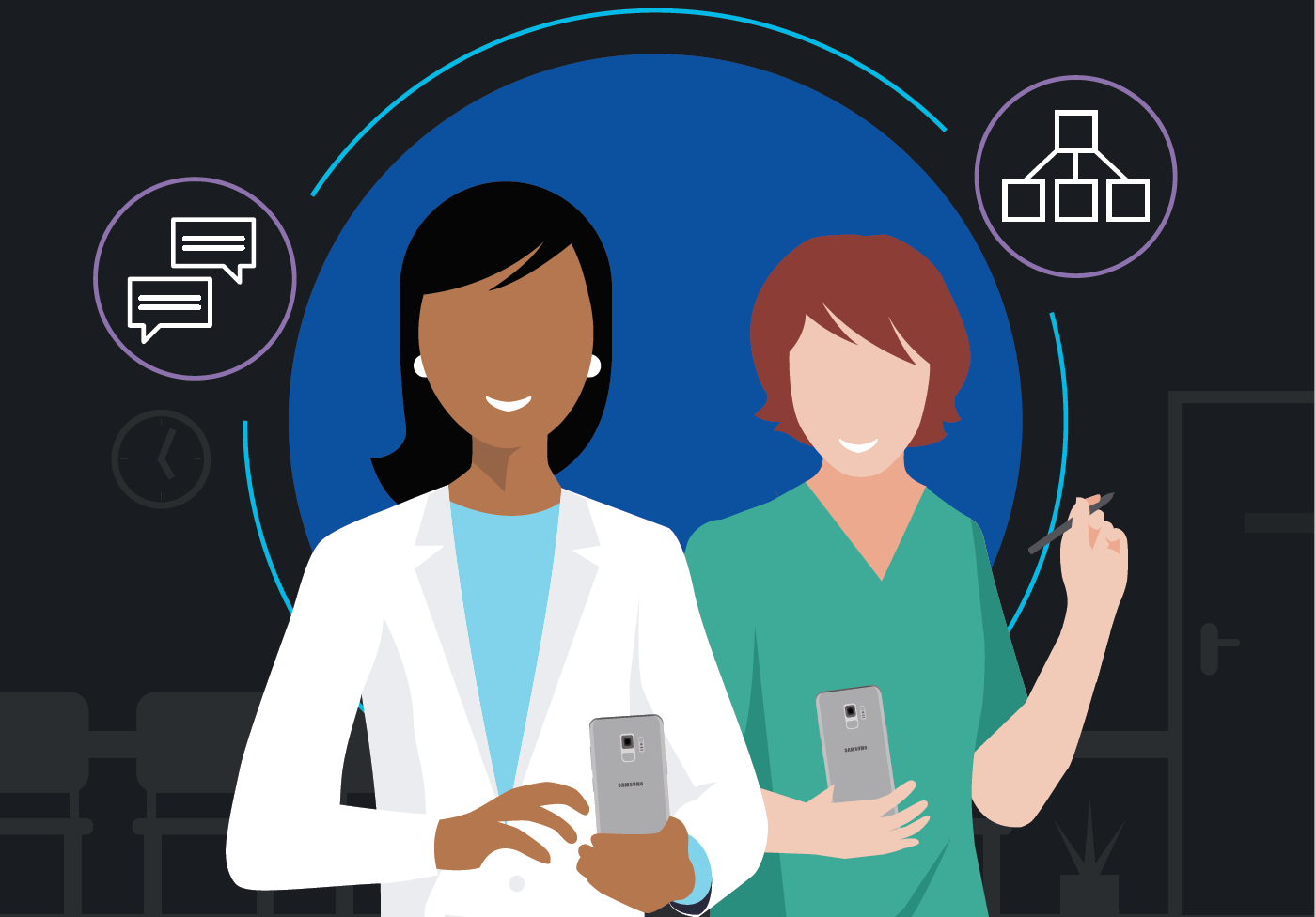 Get your free guide to modernizing clinical communications with smartphones. Download Now
Along with personalized education and EHR access, the tablets add an additional line of communication between patients and hospital staff. Patients can use the tablets to learn more about their care providers, message nurses and physicians, put in housekeeping requests and even order meals. This doesn't just improve the patient experience, it reduces the number of times someone needs to suit up in PPE and enter a patient's room.
The Equiva platform also includes on-demand video interpretation services to help non-native English speakers — and those who are nonverbal or intubated — communicate with their care providers.
All of this helps make the patient experience less overwhelming — and less boring. To help with boredom, and reduce anxiety and pain, Equiva provides access to thousands of movies, games, books and songs, along with guided mindfulness and relaxation exercises.
Research shows that patients using the Equiva solution have better medication adherence and better adherence to wellness plans, says Altman. Best of all, readmissions have been reduced by as much as 40 percent. And 90 percent of patients who have used the platform say it improved their hospital stay, resulting in increased Hospital Consumer Assessment of Healthcare Providers and Systems (HCAHPS) scores, and made them more likely to recommend the health systems to friends and loved ones.
How the solution works
Equiva loads its platform onto Samsung Galaxy tablets and leverages Samsung Knox technology for security. "Each specialty has a very unique patient population and very unique objectives," Altman says. "Some may be focused very heavily on education, while others might also have interest in providing entertainment or relaxation-type content. It has to do with the patient population, duration of stay and other elements of the care process. We're not only giving people access to cutting-edge technology and information they need to manage their health, we're also enabling them to stay grounded and more comfortable in a way that mimics their life at home."
"Samsung Knox technology enables us to be respectful of patient privacy and meet other security requirements of health systems," he adds.
The implementation process is fast and hands-off for the organization, says Altman. Patients can begin using the tablets within two weeks. "Health systems are focused on the patient care process and not necessarily focused on deploying digital patient care tools and the science required to educate and change behavior. That's our specialty, so when it comes to being able to engage patients in a digital way, that's a problem we help them solve quite effectively at scale. And thanks to Samsung Knox, it's a problem we can solve very quickly."
Learn how to identify and mitigate risks associated with sensitive patient data on mobile technology in this free white paper. And explore how Samsung's digital health solutions can help you elevate the patient experience, streamline clinical communications and vividly bring your brand to life.