Reducing power consumption not only protects the environment, but also brings cost savings. Energy Star, a government-backed program for energy efficiency, has stood for this goal of creating more eco-friendly products since its inception in 1992. And Samsung has been actively working toward this goal as well.
To help businesses and individual people shrink their carbon footprint and spend less, Samsung has developed Energy Star certified monitors. Their eco-friendly packaging is free of oil-based ink, instead incorporating environmentally friendly materials backed by world-renowned forest management advocate FSC.
On this year's Energy Star Day, explore some of Samsung's Energy Star certified monitors that help protect the planet:
Webcam Monitor
Made of recycled plastics, Samsung's 24-inch S40VA Series Webcam Monitor features Eco Saving Plus, a local screen-dimming technology that reduces power consumption by up to 10 percent — without sacrificing image quality. The monitor is named for its built-in camera, paired with built-in speakers, which make videoconferencing easier than ever.
Desktop monitors are full production hubs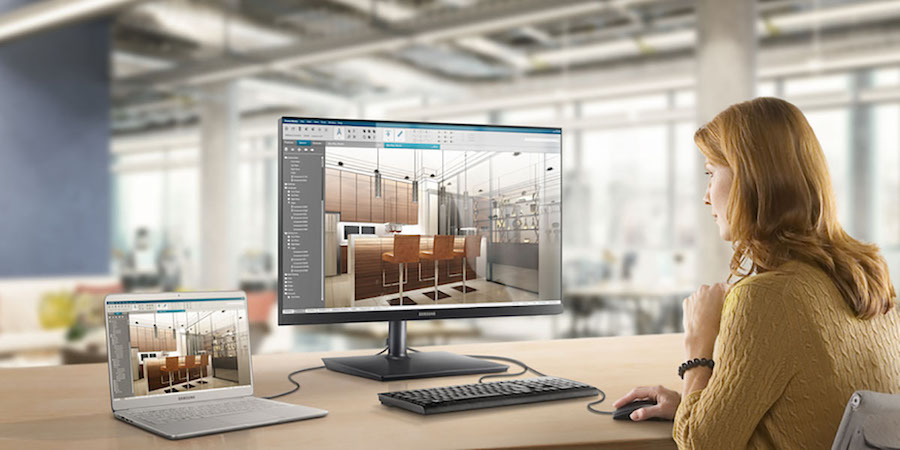 Monitors aren't just displays. Learn how USB-C, HDMI and Thunderbolt 3 enable complete workstations. Download Now
The Webcam Monitor also features Display Power Management Signaling (DPMS), which automatically turns off the screen after a period of inactivity. The monitor uses just 0.3 watts in off mode, compared with up to 40 watts when it's on.
High-resolution S Series monitor
Samsung's S Series high-resolution monitors (S6, S7 and S8) also use Eco Saving Plus to conserve power. On the backlit monitor, the darkest parts of the screen are turned off completely, converting muted gray into pure black, for increased contrast and crisp, vibrant visuals. The Eco Light sensor also helps cut energy by automatically adjusting the monitor's brightness according to the ambient light level.
The S Series monitors have received the TCO display certification for next-gen sustainable products — awarded by the Swedish Confederation of Professional Employees (TCO, in the original Swedish). The S Series has also received the Electronic Product Environmental Assessment Tool (EPEAT) ecolabel certification from the Global Electronics Council.
Full HD monitor
Flat LED monitors in the FT45 Series and T37F Series also feature Eco Saving Plus and higher contrast colors, while adjusting RGB gain values to maintain consistently high-quality visuals.
Meanwhile, the FT650 Series professional monitor adds DPMS to reduce power consumption when the screen is not in use.
Thin bezel monitor
With thinner edges around the screen, Samsung's SR650 Series of monitors both conserve materials and maximize the space in your dual monitor setup. The monitors incorporate about 15 percent recycled plastic and also feature Eco Saving Plus.
Setting up your office infrastructure with innovative monitors that suit your unique workflows will set your team up for success. And when you choose Energy Star certified monitors from Samsung, your conscience can rest easy, knowing you've chosen to protect the planet.
Discover more eco-conscious work solutions by browsing the full lineup of Samsung Energy Star certified desktop monitors. If budget concerns are holding you back from a technology upgrade, calculate the total cost of ownership of upgrading your business's monitors with this free, short assessment.