Once seen as a luxury, on-premise digital technology is now vital to business operations and the customer experience. Customers are just as concerned about in-store health safety as they are about the product selection and price point.
Digital signage technology is now fundamental to day-to-day operations — both for global brands and for local businesses. Screens make it easier to manage store access, reinforcing safety protocols and communicating relevant changes, including face mask requirements and product stock levels. These screens are also minimizing direct contact between staff and shoppers while enabling new types of shopping, like online ordering and curbside pickup.
As the world slowly reopens and businesses resume somewhat normal operations, some of these customer shopping preferences will be sticking around. Retailers are still tasked with:
Monitoring and controlling store access
Encouraging safe shopping through social distancing and the use of face masks
Creating a physical bridge between the online store and the physical store
Enabling virtual and remote shopping experiences
Let's break down how that's playing out in stores of all kinds:
Changed consumer habits
Global consulting firm McKinsey, which has been surveying consumer sentiments since 2020, found that online spending grew to 48 percent of consumer purchases in January 2021. According to the report, "Convenience and value have been the main drivers of shopping behavior change; however, quality and seeking brands that match with their values also inspire change for about 40 percent of younger consumers."
Improve store safety with digital signage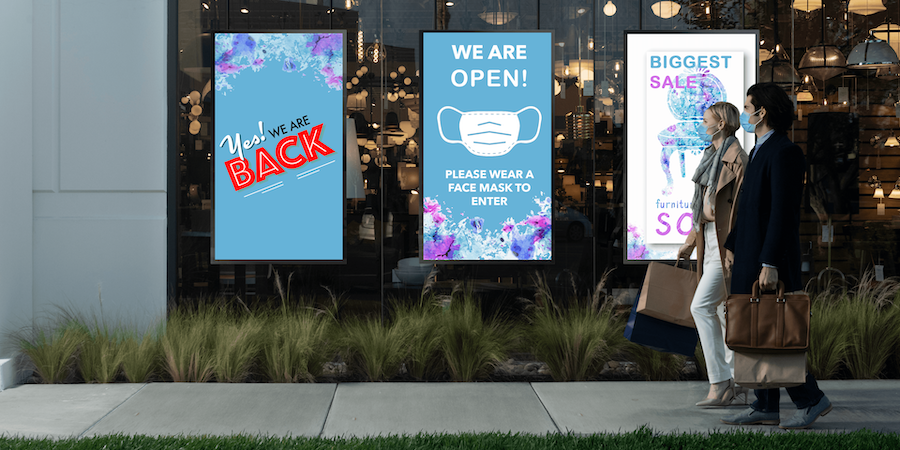 Discover new ways you can adapt your store signage to keep shoppers safe and maximize ROI. Download Now
The survey also revealed that nearly half of consumers intend to keep using digital ordering tools like restaurant curbside pickup for the forseeable future, and 70 to 80 percent of consumers intend to keep using digital health-and-wellness tools.
In-store messaging
In-store screens serve multiple communication roles. When it comes to health safety protocols, for instance, screens are easy to update as CDC guidelines change.
Without digital display tools, many retailers have resorted to taping signs to their windows, columns, paper easels and whiteboards to communicate timely information such as mask requirements or the availability of highly sought-after goods. Retailers who use digital signage technologies to communicate these changes are able to retain a more professional look and update their messaging as often as needed.
Interactive touchscreen displays such as self-service kiosks have reduced the need for one-on-one contact with staff. The new all-in-one Samsung Kiosk, for example, allows customers to conduct their own product lookup, ordering and payment — providing them with all the information they need to make an informed purchase and complete the transaction at their own pace.
Bridging the digital divide
Even if local health concerns prevent in-store shopping, curbside pickup solutions allow retailers to keep operating. And they can streamline this service with designated parking spots or automated click-and-collect lockers. Outdoor-ready digital displays can drive customer awareness of pickup services, guiding shoppers through the process and displaying notices on outdoor totems or window screens to update shoppers on their order status.
Virtual experiences
With an interactive display on the store floor, a shopper can ask questions through a live videoconference with a subject matter expert — even if they're several time zones away. Shoppers get invaluable advice, and store operators deliver a great customer experience that doesn't put staff at risk.
Capacity controls
Screens at store entrances and in windows function as shopper traffic lights, metering entry based on occupancy. In some cases, sensor technology automates the capacity control screens — which can also be done manually through a smartphone app.
Retailers can also use these screens to relay entry requirements and take temperature readings. Automated camera-based systems can detect shoppers with elevated body temperature (which may be indicative of illness) and alert staff as needed.
Queue management technology — widely used in waiting rooms and checkout areas — has been adapted for use in stores. High-brightness window displays show people their wait status, removing the need for a physical line. People can even wait in their cars. The screen notifies them when they can come in — and doubles up with marketing messages.
Thinking ahead
To identify the right technology solution for your retail operation, you'll need to consider a couple of key factors. First, your signage solution should directly address a core problem, such as managing store access or organizing a fluctuating supply chain. Second, your solution should be futureproofed; technology that solves an immediate problem should also have a useful purpose in the future, as best as you can predict it. In-window displays, for example, which are now managing curbside pickups, have effective long-term applications as shopper-facing marketing tools for generating foot traffic and boosting sales.
Learn how to configure and tailor messaging across all your signage using an integrated CMS in this free comprehensive guide. And if you're still deciding what sort of displays would best suit your business, discover Samsung's wide range of retail signage solutions, designed with diverse use cases in mind.