Customer relationship management (CRM) started out as a digital rolodex — a way to organize customer contact information in a centralized database. The technology has since evolved to include sophisticated data analytics and reporting, AI-based sales insights, automated data entry and deep integrations with other important business software.
If you need to consolidate your business's data and get your team on the same page, using CRM software is a no-brainer. But choosing which CRM software is a tougher choice. There are dozens of popular CRM solutions, and the list is growing rapidly.
All CRMs share some of the same basic functionality, but they can vary dramatically in terms of features, user experience, scalability, price and complexity. Some solutions are built for specific industries and market segments, while others serve all kinds of businesses.
As you decide on the right CRM software for your small business, consider these eight factors:
1. Your goals
All CRM providers claim their solutions will help you find more qualified leads, shorten your sales cycle, increase your conversion rate, improve customer service, boost marketing efforts and streamline interdepartmental collaboration. Even so, different CRM solutions excel at different things, so it's important to understand what problem(s) you're trying to solve with CRM and what you want to accomplish.
Shop special offers
Find out about offers on the latest Samsung technology.
see deals
Speak to a solutions expert
Get expert advice from a solutions consultant.
Talk to an expert
Start by considering your top sales challenges: Are you generating enough leads? Do you have plenty of leads but they're mostly unqualified? Do deals get stuck in your pipeline because reps aren't following up? What are your top pain points, and what's the best CRM software to address them? Also consider whether you have other customer-facing teams that need CRM access (marketing, customer service) and which solutions best meet their needs.
2. User experience
All CRM solutions help you gather customer data and utilize it to improve business relationships and sales. But they go about it different ways, prioritizing certain features and functionality, reflected in the user experience. Enterprise-grade solutions are built for large companies with multiple customer-facing teams that use CRM to coordinate data and customer engagement. This typically comes with lots of tabs and integrations that your small business may not need.
Solutions built for SMEs often take a different approach. For example, Pipedrive and OnePageCRM were built by salespeople for salespeople. Marketing and customer service can access the data, but the user experience is specifically designed to boost sales effectiveness. OnePageCRM puts all the data you need about each contact on a single scrollable page and uses an Action Stream to remind you exactly what you need to do next to turn each prospect into a customer. Pipedrive also keeps salespeople focused by presenting sales data in a pipeline view that's mapped to your sales workflow — giving your team data visualization that's actionable.
3. Mobility
Mobility has always been important for small business owners and their teams. With mobile CRM, your salespeople can document deal statuses while running from one meeting to the next, or look up customer contact info while they're working remotely. Especially during the pandemic, mobile data access has been critical to maintaining open communication with customers and prospects.
Most cloud solutions can be accessed from any device connected to the internet, but the mobile experience is better with some CRMs than others. As you choose your CRM software, spend some time with the mobile app. Has the user experience been optimized for mobile, or is it just a mini version of the web application that's hard to use on a small screen? Is the mobile navigation user-friendly? Do you get the full product suite? Will it work on all of your team's mobile devices?
4. Integrations
Early CRMs were "dead databases"; they gave you one place to keep all your customer data, but that information was siloed from all your other software and databases. Now, thanks to application programming interfaces (APIs), most CRMs can be integrated with your phone system, as well as your digital marketing tools, accounting software, productivity apps, collaboration apps and practically any other compatible cloud solution. These integrations help you sync your data and save time, with features like automatic call logging and "click to call," which allows you to call a contact directly from the CRM using your business phone system.
The best CRM software for your business will integrate seamlessly with all your other key systems. So before you invest in a solution, make sure it can work in tandem with your current software and your team's favorites apps. Which integrations have already been turned on in the system, and which integrations can be added? Does the CRM provider have an open API that will allow you to integrate any cloud solution you want, or are you limited to integrations in the providers' app marketplace?
5. Your budget
CRM typically falls into the software as a service (SaaS) category, where you purchase a subscription for each user and pay an annual or monthly licensing fee. The monthly cost per user can range from $0 to $50+, depending on the provider. With cloud-based CRM, which grew by 12.6 percent — or $69 billion globally — in 2020, the monthly fee is all you pay. With on-premises CRM, you're also responsible for the server and maintenance costs, so most small businesses use cloud solutions, except for those in highly regulated industries where they're required to have full control of all their data.
Enterprise-grade solutions also tend to be more expensive than CRM built specifically for SMBs, because they have more bells and whistles, but if you don't need all those extra features, find a CRM solution that's cost-effective.
6. Flexibility/scalability
Your business might be small now, but if you're planning to grow it over time, you need a scalable solution. And if you anticipate that your workforce will both grow and shrink over time — if, for instance, you need to add seasonal employees or you just want to be prepared for economic fluctuations — then you also need a flexible solution.
Choose the right phone for your growing business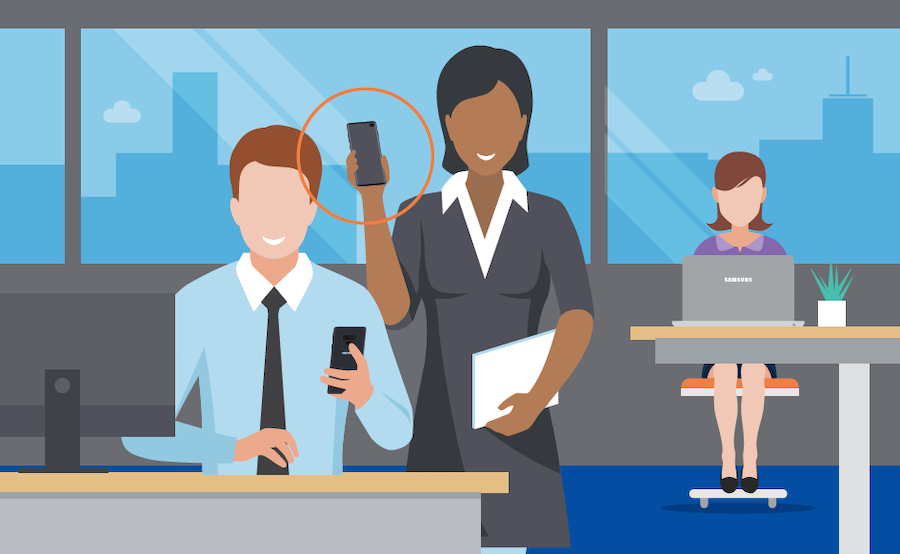 Get your free guide to matching the right smartphone with your business and employee needs. Download Now
As you're choosing CRM software, ask: Will the solution grow with my business? Will it meet my IT needs or sales goals in the future? Can I easily remove users (and their subscription fee) and add them again in the future as needed?
7. Reporting/analytics
Effective CRM software doesn't just facilitate your sales workflows; it also helps you evaluate these workflows so you can see what's not working and what could be more efficient. Likewise, CRM software should help you evaluate individual team members' performance to determine who's on track, who needs additional training and who deserves a promotion or higher commission.
All CRM solutions accomplish this through advanced analytics and reporting, but some do it better than others. Keeping your sales goals and pain points in mind, look for a solution that will give you the information you need to improve both your workforce and your workflows. Also, find out how much of the process is automated. OnePageCRM, for example, lets sales leaders automatically generate reports for each sales rep and have those reports emailed directly to them on a set schedule. This way, they get all the information they need, when they need it, without even logging into the system.
8. Vendor reputation
Make sure to ask vendors — and, better yet, ask your users: How much will this CRM solution actually help your business? Is the technology secure and reliable? How easy is it to implement? Will the vendor provide quality customer service after you've signed?
As you're choosing CRM software, customer testimonials and case studies can be helpful resources, but vendors usually highlight only their most satisfied customers. Check their reviews on third-party sites, see what professional tech experts think about the solution and, most importantly, ask for recommendations from your peers — business leaders in your industry at similar-size companies. Find out which solutions they're using now, which they used in the past and why they switched.
Many CRM software providers also offer free trials so you can test out the solution risk-free.
With so many CRM solutions on the market, there's no "best" CRM software, only the best solution for your unique needs. As you try to find the right fit, this checklist will help you narrow down the list; then ask people you trust which vendors they trust.
Discover CRM software and other essential apps to empower your growing business — and explore exclusive business pricing, financing and trade-in options and other deals on everything from phones and tablets to monitors and memory.