When it comes to business data and mobile devices, security is critical. With hybrid or remote employees accessing and storing confidential data outside the office, the risk of a security compromise increases. And when an employee doesn't understand the perils of a rogue Wi-Fi connection, willfully jailbreaks a device or simply misplaces it, the probability of a security incident increases exponentially.
How can you be sure all that data is tightly secured in today's mobile-centric environment? Sure, employees need to be educated about the risks of a data breach — but don't rely on compliance to keep sensitive company information safe. Careful management of devices, apps and data is necessary. The best approach? Start by securing and controlling endpoint devices with a mobile device management (MDM) or enterprise mobility management (EMM) solution so security policies can be enforced and incidents quickly addressed.
Managing your mobile fleet
Many, if not most, employees require access to email when outside the office — especially in today's new normal — and many of those employees use other business applications and communicate work assignments principally by means of their mobile devices. Whether those employees are home healthcare therapists, service technicians, delivery staff, appraisers, auditors or a myriad of other job titles, they are entrusted with privileged client data that must be secured.
Shop special offers
Find out about offers on the latest Samsung technology.
see deals
Speak to a solutions expert
Get expert advice from a solutions consultant.
Talk to an expert
For example, physical therapists travel to the homes of post-surgery patients to provide rehabilitative services. One aspect of the job includes accessing applications that contain confidential patient data such as healthcare records, insurance information, billing systems and expense reporting. Because that data is highly confidential, it's essential to have safeguards in place to keep that employee's device secure. But with limited IT staff, how can that be accomplished?
Simplifying mobile management for small businesses
EMM solutions like Samsung's Knox Manage provide a cloud-based command center to efficiently manage your fleet of mobile devices. Once enrolled, devices are configured to a profile that you determine based on your security and workforce productivity needs. The status of all devices can be monitored and issues flagged within the console. If a device is lost or stolen, it can be remotely locked or wiped of data to ensure confidential information does not fall into the wrong hands.
EMM takes MDM to a higher level by enabling IT admins to apply a wide variety of management controls and protections, from disallowing corporate app access over Wi-Fi connections to enforcing biometric or multifactor authentication, providing GPS tracking and more.
Knox Manage can control the device and user interactions at a granular level based on predetermined profiles, such as disallowing screen capture from healthcare applications that would violate company and regulatory requirements. The platform generates alerts such as failed upgrades of containerized applications, while monitoring and reporting capabilities enable administrators to track numerous data points for forensic evaluation and compliance based on devices, users or groups.
Managing a mixed device fleet
Endpoint management can get considerably more complex when dealing with multiple operating systems, OS versions and device capabilities, because management options inherently vary slightly — which may frustrate administrators. Knox Manage is a cross-platform EMM — supporting all Android devices, iOS and Windows — but it provides the most granular management controls for Samsung's Android devices.
As a result, small businesses in particular may find it beneficial to provide or allow only specific devices for employees. While many organizations establish a "bring your own device" (BYOD) policy that enables IT to manage employee-owned smartphones, Oxford Economics reports about 69 percent of companies provide devices for some or all of their employees, and the financial case for company-provided devices is bolstered with more streamlined security and reduced fringe use cases.
Mobile device management for beginners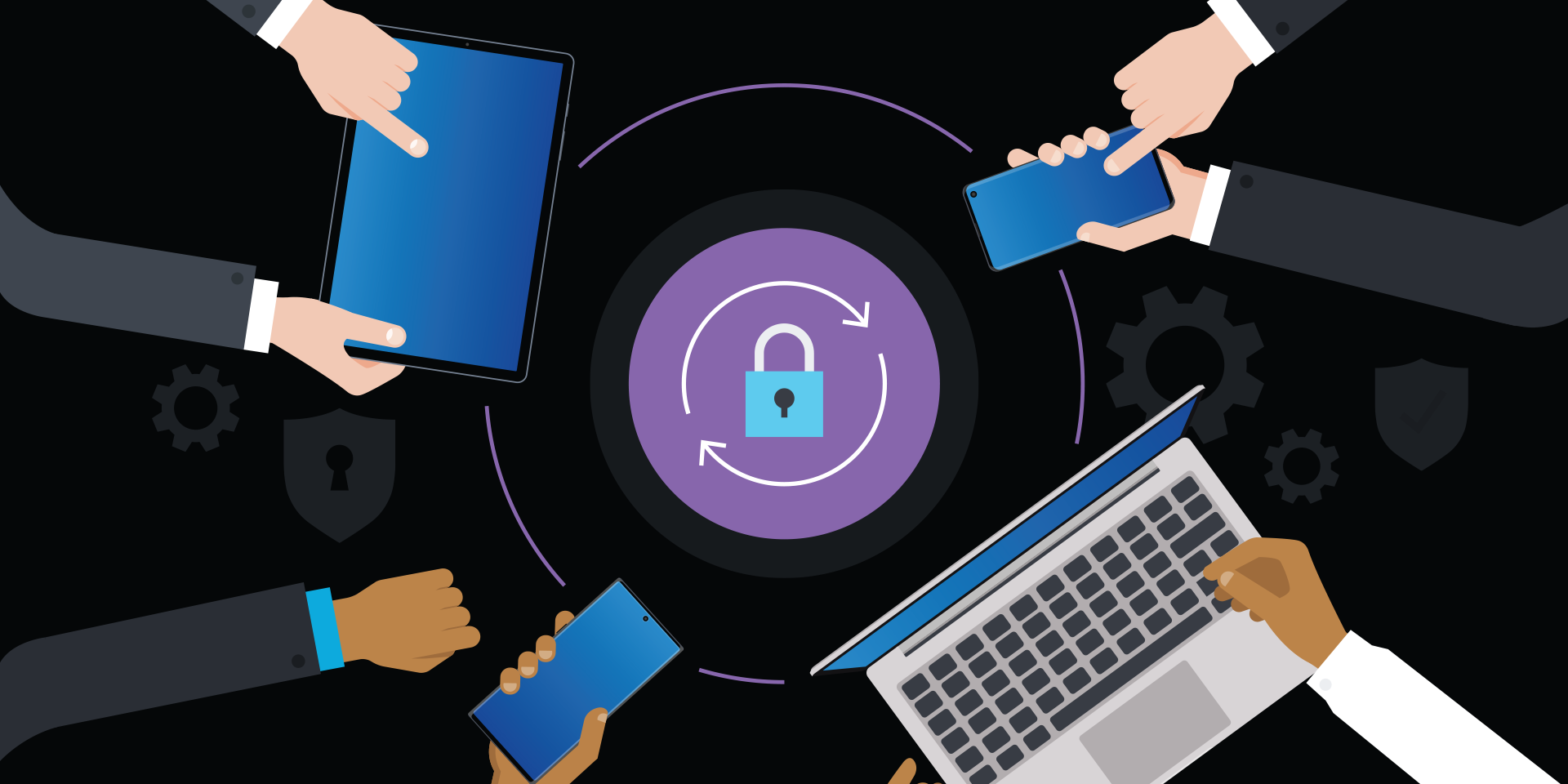 Get started with MDM so your organization can spend less and do more — securely and efficiently. Download Now
Not all mobile device management (MDM) solutions are created equal, and the administrative effort to deploy and maintain an advanced mobile security system varies as well. Basic MDM enrolls devices and provides core policy controls over usage. But it starts to get complicated, especially for small businesses and IT shops, because basic MDM often isn't sufficient. Typically, organizations of all sizes need to enable corporate apps in a container and/or enforce stringent security policies that stipulate if a user attempts X under Y circumstances, then Z occurs.
On Samsung devices, security is built in at the chip level during the manufacturing process. The Samsung Knox platform provides a defense-grade foundation for security, and Knox Manage integrates closely with it to give IT admins greater control and peace of mind. For enterprises with complex mobility requirements, Samsung's Knox Platform for Enterprise provides access to even more advanced security features, extending far beyond what is possible with Android Enterprise.
Make EMM easy with Knox Manage
Another key benefit of Knox is fast, trouble-free provisioning of new Samsung smartphones for employees, including the latest Samsung Galaxy Z Fold3 5G and Galaxy Z Flip3 5G. Knox Mobile Enrollment (KME), which enables new devices to be pre-enrolled into Knox Manage, is especially useful for small businesses. Rather than enroll each device individually, the IT manager can automate the provisioning of hundreds of devices with just a few clicks. When the user then receives their phone, all they have to do is turn it on — without extensive how-to documentation or calling with connectivity questions. They'll immediately have easy access to all their business applications without the need to install the EMM client or other apps themselves.
While we often think of security gaps in the context of major data breaches involving banks or healthcare databases, unmanaged mobile devices can be the cause of data compromises. Whether your organization is large or small, an EMM like Knox Manage is essential for putting in place core security policies that can significantly reduce mobile security risks.
Samsung also combines all its key management capabilities in Knox Suite. With one license and one sign-on, organizations can access the advanced security features of Knox Platform for Enterprise, together with cloud-based services like KME, Knox Manage, Knox E-FOTA, and Knox Asset Intelligence (KAI).
Take control of your mobile fleet by signing up for a free 90-day trial of Knox Manage today. And learn to how to keep your business data secure with our mobile device management guide for beginners.