When you're traveling, the littlest things can make the biggest impression. Whether it's for business or leisure, the guest experience is often made more enjoyable by an easily navigable website, a simple check-in process or a staff member who goes above and beyond.
As the hospitality industry becomes more technology-focused — in response to consumer demand for convenience and safety — hospitality operators often struggle to present a unified brand experience. A hotel website, for instance, may have a different look and feel from the same hotel's native app. Or perhaps the digital displays outside the hotel have different messaging from those inside guest rooms and common spaces. A lack of unity in terms of messaging, color schemes, layout and branding throughout the overall digital footprint can result in consumer confusion, loss of brand awareness and missed opportunities for the business. So, how do brands provide a consistent digital experience and stand out among the competition?
Hotel digital signage and TVs upgrade the guest experience
Hotels can utilize digital signage and guest room TVs in a number of ways that subtly reinforce a positive, consistent brand experience — from exterior signage to in-room hospitality TVs that allow guests to check out right from their room using the remote control.
Large-format video walls, like Samung's The Wall, create "wow" moments inside lobbies and conference rooms, while displays behind the check-in counter might showcase positive guest reviews or other available services, such as spa treatments or golfing packages. At larger properties, hotel digital signage can be used for wayfinding, and self-service kiosks can eliminate the need to wait in line to check in or out. Digital signage is also a powerful marketing tool: Conference rooms with the latest technology are always in demand, and displays can be used at weddings and other events to run customized content for each party. Hotels can even opt to rent on-screen advertising space to local businesses.
Impress your guests with digital signage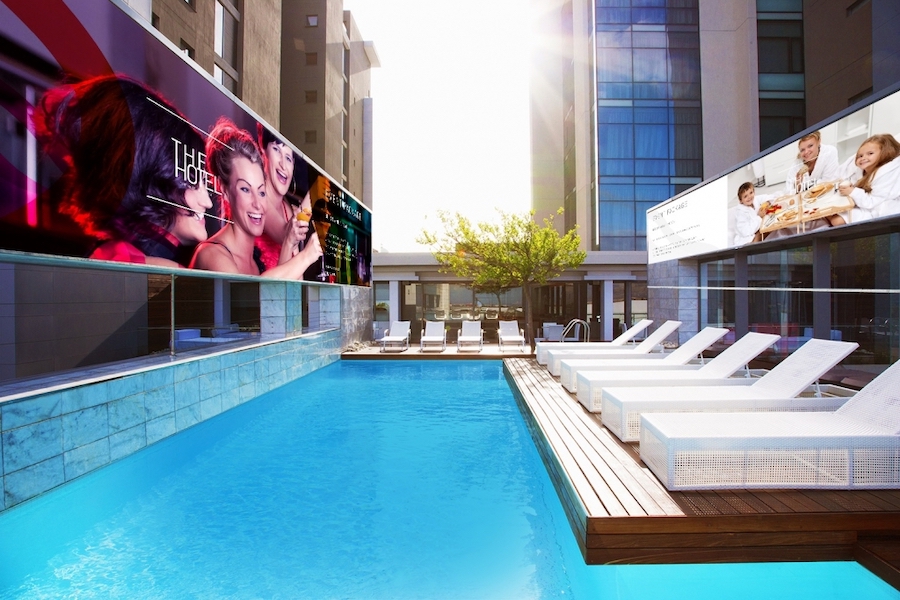 Learn how to redefine the guest experience with digital signage opportunities around every corner. Download Now
Inside the hotel restaurant, digital signage can greet guests as they wait for their table, showcasing the menu with photos of special items or even live shots of the kitchen.
With all of these display capabilities, it's critical that operators have a cloud-based hotel content management system (CMS) that allows them to harness the full power of their digital signage.
The future of hotel content management is cloud-based
In the past, hotels had to use disparate, unconnected systems to manage content distribution. Marketing directives came from corporate or company leadership, then were filtered through local servers to individual properties and managers. It could take weeks or months to deploy a marketing campaign, and even then it was difficult to gauge its effectiveness. Thankfully, the days of these antiquated hotel content management processes are numbered.
In early 2021, market and consumer data firm Statista surveyed hoteliers in North America, Europe and Asia about where they thought their organization's IT environment would be in the next two years. One-third of respondents said that most of their IT environment would be on the cloud.
The reason is simple: Cloud-based content management solutions allow hotels to be agile — yet cohesive and consistent — in their operations. A cloud-based CMS allows brands to distribute hotel content simultaneously straight from the source, ensuring all properties have the most up-to-date and accurate information available. Conversely, the C-suite can instantly access analytics on individual properties and marketing campaigns. More than half of Statista's survey respondents stated that cloud-based systems also enhanced customer experiences, while 50 percent said that customer data analytics were very important to the business success of their company.
A cloud-based solution designed specifically for hoteliers
LYNK Cloud is Samsung's comprehensive cloud solution designed specifically for the hospitality sector. In addition to its powerful content and device management system, LYNK Cloud works with Samsung hospitality TVs to remotely monitor and report device usage in guest rooms, unlocking data and marketing insights which can help brands deliver more customized guest experiences.
In addition to targeted welcomes that greet guests by name on the screen, hotel management can set preview content that promotes guest services or activities at the property. Management can even remotely control the features on each device — such as volume and input source changes — in real time. Guests can use the TV as a digital concierge to access all the property has to offer, such as to order food from room service or schedule appointments at the spa, golf course or conference rooms. At checkout, each guest's credentials are automatically removed from the CMS. All of the scheduling, monitoring and reporting of content can be done remotely, allowing a corporate office to access data from each of their hotel locations around the world.
But LYNK Cloud goes even deeper: Operators can also see what content and services guests engage with most — paid movie channels, apps or the dining menu, for example — and what purchases they ultimately make. This allows them to analyze the return on investment (ROI) of on-site promotions and ultimately, devise strategies that increase ROI.
A powerhouse content management solution
With MagicINFO, Samsung's exclusive content, device and data management system, brands can ensure their marketing messages are consistent throughout all their digital channels. MagicINFO is a holistic solution, allowing users to create, schedule and distribute content simultaneously — from any mobile device, anywhere in the world.
In the user-friendly interface, you can make updates quickly and easily, and you can push content to a network of devices as small or large as your brand needs. Content can be played in a variety of formats, without external software or hardware, making it easy for operators to share custom content, ad space and cohesive brand messages.
As more hotels adopt digital signage to create unique and memorable guest experiences, streamlining content distribution will be a critical part of maintaining an effective long-term marketing strategy. And with an all-in-one cloud-based management platform, not only do guests enjoy a more personalized and impactful experience, but your brand enjoys greater ROI.
Continue enhancing the guest experience, build your brand and drive revenue with this free, complete guide. And discover additional solutions for elevating your customer experience by browsing Samsung's full lineup of hospitality technology.