Galaxy Z Fold3 5G is Samsung's first foldable device that's compatible with the S Pen. When you pair your Galaxy Z Fold3 with the optional S Pen Fold Edition or Bluetooth-capable S Pen Pro, you can unfold your office anywhere and work with precision on the smooth, expansive 7.6-inch interior screen.
In an age of hybrid work, being productive on-the-go is more important than ever. And with the extra screen space afforded by the Z Fold3's unique form factor, combined with the precision of S Pen, you won't miss a beat in terms of keeping up with your daily tasks, even if your day is taking you to a few different locations.
If you already use an S Pen as an essential part of your workday, you'll love what it can accomplish on Galaxy Z Fold3. If you haven't used an S Pen before, prepare to rewrite your definition of efficiency.
1. Take notes instantly
The need to write something down can happen at any second — not just in a meeting, but while you're commuting, relaxing or casually chatting. With the S Pen, you don't even need to unlock your Galaxy Z Fold3 to start taking notes. Just press the side button on the pen and start writing. Then, when you're done, tap save and everything will be safely stored in Samsung Notes. You can also launch Samsung Notes at any time when you are using the device from the Air Command menu (see Tip 4 below).
2. Convert handwriting to text
Use the S Pen to handwrite an email or message and convert it to text. Microsoft has optimized Outlook for the Z Fold3's foldable form factor, both in Flex Mode and tablet mode, so you can use the S Pen to respond to emails by hand. To switch to handwriting mode, just tap the three dots within your onscreen keyboard, then tap "handwriting." Now, everything you write in the grey box will be converted to text above.
Shop special offers
Find out about offers on the latest Samsung technology.
see deals
Speak to a solutions expert
Get expert advice from a solutions consultant.
Talk to an expert
Writing a short email and converting it to text is quick and convenient — a refreshingly intuitive departure from thumbing away at a smartphone keyboard. In Outlook or in Samsung Notes, Z Fold3's AI transcription capabilities digitize your message with speed and accuracy, even when you write in cursive.
3. PDF annotation
As your team collaborates on business documents, you can make their lives easier with simplified revisions. The S Pen is perfect for marking up documents on Galaxy Z Fold3 in tablet mode.
To mark up PDFs, open Samsung Notes and then tap the "Import PDFs" icon at the top of the screen, select the PDF and start annotating. You can even add a voice recording to further explain your comments. When you're finished with your markup, you can save, share and send it with a few taps.
The S Pen works seamlessly in Microsoft Office too. If you're creating a presentation or proposal on your own, use the S Pen to drag and drop images or blocks of text in one motion — no need to copy and paste. Or take advantage of the "Draw" functionality within PowerPoint and Word to sketch your ideas within the presentation or document.
4. Use Air Command
Air Command is a hub for one-tap S Pen shortcuts. With your Z Fold3 in tablet mode, tap the floating pen icon on the right side of your screen to access the Air Command toolbar. From Air Command, you can create a new note, screen write, translate text, magnify on-screen content, draw on top of live video and more.
Smart Select is one of the most powerful Air Command tools, allowing you to grab on-screen content by drawing a rectangle or freeform shape around it. You can then add annotations, extract text and move the content to another app and quickly share it with colleagues. If you're often creating business proposals and presentations, Smart Select is a simple timesaver that can recover valuable time in your workday.
5. Translate
Doing business globally is a little bit easier with the S Pen. With the Translate tool in the Air Command menu, you can translate words, emails, documents and news articles between dozens of languages instantly. Simply open the text you want to translate and then launch Translate within the Air Command menu. Now select the source and target languages, and hover over the text.
You can switch between translating a single word and a full sentence by tapping the "T" in the Translate toolbar. To hear the word or phrase spoken, tap the speaker icon while you hover.
6. Take notes during a videoconference
When you flex Galaxy Z Fold3 and set it on your desk, you can videoconference hands-free. But what if you want to take notes at the same time? Thanks to Z Fold3's Multi-Active Windows support, you can run the Samsung Notes app on the bottom half of your screen simultaneously.
Just swipe in the tab on the right of your screen to open the Edge Panel. Then find Samsung Notes (if you don't see it, tap the menu at the bottom of the Edge Panel and select "All apps" to add it) and drag it down to the bottom half of your screen.
The mobile security top 10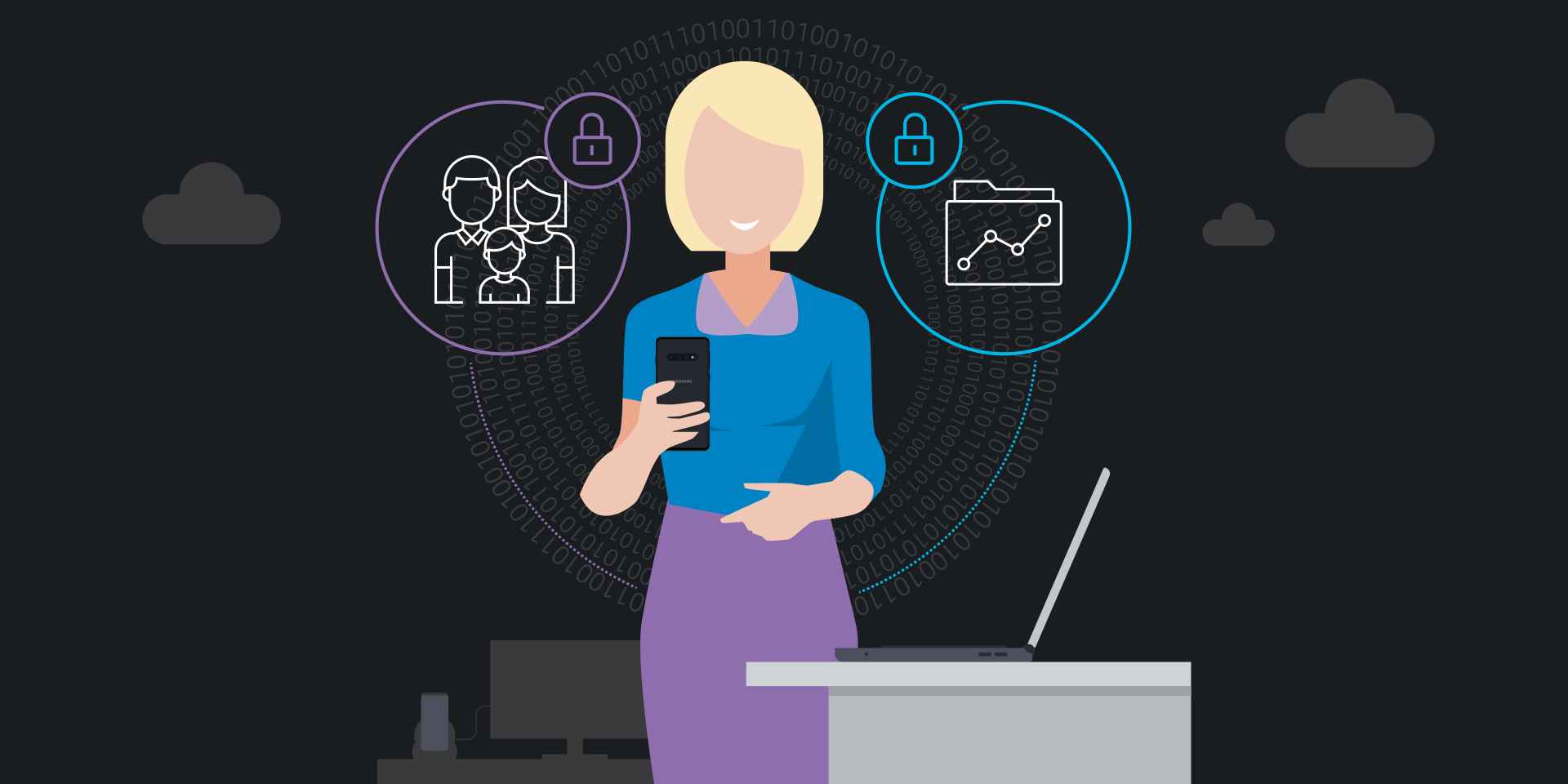 Get your free guide to better securing the personal and work data on your mobile phone. Download Now
Having a mobile videoconferencing suite in your pocket is refreshingly convenient for a business leader or owner on the go. Rather than carrying a pad of paper and an ink pen, you have your Galaxy Z Fold3 and S Pen ready to let you connect, listen closely and take notes.
7. Show your creative side
Architects, graphic designers, brand marketers and other creative professionals can use Galaxy Z Fold3 as a canvas and the S Pen as a drawing instrument. Saving your creations digitally keeps them safer than a paper notepad or sketchbook, and easier to revisit as needed. Even if you're not in a creative field, the S Pen can spark inspiration and ideas through visual brainstorming.
Samsung Notes offers you a wide array of drawing instruments to choose from, including fountain pen, calligraphy pen, pencil and calligraphy brush. Adjust the thickness and color (including using Hex and RGB color codes), and add some real finesse with 4,096 levels of pressure sensitivity.
Which S Pen should you choose for Galaxy Z Fold3?
Previous generation S Pens will not work with Galaxy Z Fold3. Samsung has introduced two new optional S Pens that are designed so they will not damage the flexible interior display. They feature soft tips and built-in springs to lessen the impact on the display as you write.
The S Pen Fold Edition works only with Z Fold3 and is more compact at just over 5 inches. It supports all the features discussed above and is ideal for accurate writing and drawing.
The S Pen Pro works across most Galaxy devices with S Pen support. It is larger at just over 6.8 inches, giving you a comfortable grip. The S Pen Pro also features Bluetooth connectivity, so you can use it as a "remote control" for your device and take advantage of Air Actions such as swishing your pen to advance slides in PowerPoint. It is charged via USB-C, and a quick 50-minute charge can get you up to 16 days of battery life (depending on usage).
The natural feel of pen on paper meets the power of Galaxy Z Fold3. Watch the video above to see the S Pen in action for the first time on a Samsung foldable smartphone.
Sign up for a Samsung Business Account to get exclusive offers, including volume pricing discounts, on Galaxy Z Fold3 5G and Galaxy Z Flip3 5G today. Take your business fully mobile using Samsung DeX to create a PC-like experience right from your smartphone — just by connecting it to a monitor.