The S Pen on your Galaxy Note20 is a powerful tool for sketching ideas and jotting down notes, with a true pen-and-paper feel. But it's also a wand for work that puts incredible productivity in the palm of your hand. You can use this incredibly advanced stylus to convert your handwriting to text, translate foreign languages and annotate a PDF.
The S Pen can also be used from all the way across the room like a remote, even in Samsung DeX mode. With a click of the S Pen button, you can quickly and elegantly advance presentation slides or, when you're unwinding and enjoying a quiet moment, use it to play media or snap a photo.
Here are four ways you can use your S Pen to be more productive right now:
1. Convert handwriting to text
Being able write naturally by hand is one of the signature features of the Galaxy Note line. But have you ever wanted to convert your handwritten notes to text so you could add them to a document or email? There's no need to type up what you've written by hand. You can instantly convert handwriting to text within the Samsung Notes app. Once you're finished taking notes, simply tap the convert handwriting to text icon in the bottom menu bar. It will be instantly converted — and, yes, Samsung Notes does a remarkably good job of deciphering messy handwriting! You can now copy the text and paste it into another app or simply convert it in Samsung Notes.
Shop special offers
Find out about offers on the latest Samsung technology.
see deals
Speak to a solutions expert
Get expert advice from a solutions consultant.
Talk to an expert
You can also convert handwriting to text in the Outlook email app. To handwrite an email, tap the three dots in your keyboard toolbar. Now select Handwriting and begin writing in the window. Everything you write will be automatically converted to text in the email draft above. If a word is converted incorrectly, you can quickly correct it by selecting from the suggested alternatives.
2. Translate text instantly
If you are learning a second language, interacting with a foreign business partner, or just come across something on the internet you want to translate, this tip is for you. The S Pen can help you instantly translate between dozens of languages. First, remove your S Pen from your device. Open the Air Command menu by tapping the pen icon and then select the Translate tool. In the floating translation menu, select the language you want to translate from and to.
To translate a single word, just hover your S Pen over it. If you want to translate a whole sentence, tap the text icon in the floating menu to switch to sentence mode. Now just hover with your S Pen again. To hear the pronunciation of a word or phrase, tap the speaker icon. Now that you can translate text on the fly, you can communicate more easily and efficiently with business partners across the globe.
3. Annotate a PDF or screenshot
The S Pen makes it easy to mark up content on your Galaxy Note20. If you want to quickly annotate something on your screen, first take out your S Pen and tap the pen icon to open the shortcuts menu. Now tap Smart Select, which will automatically screenshot what you're viewing. Select what you want to annotate by drawing a box around it or using a freeform lasso. Now tap the pencil icon to make your annotations on the selected content. When you're done, you can quickly save or share your marked-up image.
If you want to annotate a multipage PDF, you can easily do that in Samsung Notes. First, tap on the PDF to open it. It will automatically open in the Samsung Notes editor.
Select the pencil icon at the top to start annotating your PDF. You can use the toolbar at the bottom to switch between different pens, a highlighter and an eraser. Or, just hold down the S Pen button for quick access to the eraser.
While using the S Pen to annotate a document, you can continue to scroll through with your finger. When you're done, tap the Options menu in the top right to save the file. You can save it as a PDF, a Samsung Notes file or a Word file, as well as several other options. Now you can mark up a digital report just as easily as you would a paper on your desk — and send it back to your colleagues for timely follow-up without having to scan a single page or use a third-party app.
4. Control your Galaxy Note20 with S Pen gestures
The S Pen on the Galaxy Note20 can also be used like a wand to control your phone with gestures. To get started, pull down your notification bar and open Settings. Now scroll down to Advanced Features. Tap on S Pen and then tap Air Actions. In the Air Actions menu, you can learn about what happens when you perform certain air gestures in your favorite apps. You can also activate or deactivate Air Actions here.
So how does it work? Well, let's say you're in a media app like Spotify. You can use your S Pen to play, pause and skip tracks or adjust the volume. Press the S Pen button once to play a track and once more to pause. Hold the button and swish right to skip forward, or left to go back. To raise or lower the volume, hold the button and swish up or down.
Choose the right phone for your growing business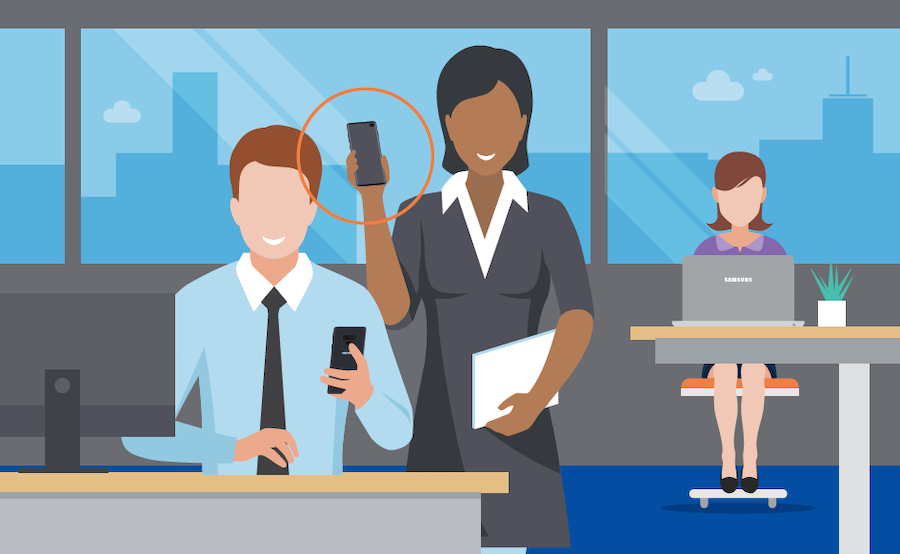 Get your free guide to matching the right smartphone with your business and employee needs. Download Now
In the Camera app, a single press of the S Pen button can take a picture or start recording a video. You can swish up or down to switch between front and rear cameras. Twirl your S Pen clockwise to zoom in and anticlockwise to zoom out. When giving a presentation in Office, simply press the button to move to the next slide or double-click to go back.
Excited about these S Pen gestures? There are even more available. Explore the Air Actions menu for other useful gestures to try out with your S Pen.
This is just a snapshot of how the S Pen can boost your productivity. You can also use the S Pen to share your calendar availabilities, magnify a photo or edit a video. From work to home, the Galaxy Note20 with S Pen is built for the new way you work — all day, every day.
Discover 10 benefits of upgrading to the Samsung Galaxy Note20 — and explore exclusive business pricing, financing and trade-in options and other deals on everything from phones and tablets to monitors and memory.