From larger-than-life outdoor video walls to ultra high-definition (UHD) screens that reveal every scene in sharp detail, LED is dominating the display market. Large hospitality and retail brands are already seeing the benefits of LED video walls in settings such as flagship stores, hotels, restaurants, cruise ships and casinos.
Now, businesses — and even individuals — can create the same kinds of wow moments in their own spaces. The Wall All-in-One combines the striking large format of a commercial LED application with the user-friendly aspects of Samsung's consumer TVs, delivering the ultimate viewing experience straight out of the box. Whether at a small business or inside a luxury home, users can enjoy unrivaled picture quality and effortless operation, faster.
Here's how The Wall All-In-One can transform your business or residence into the epitome of innovation.
Ease of video wall installation
The Wall All-in-One requires significantly less time to install than commercial LED video walls. For a simplified setup, the screen comes with pre-installed background plates and three to four mounting brackets, depending on the display size.
How to plan and deploy direct view LED signage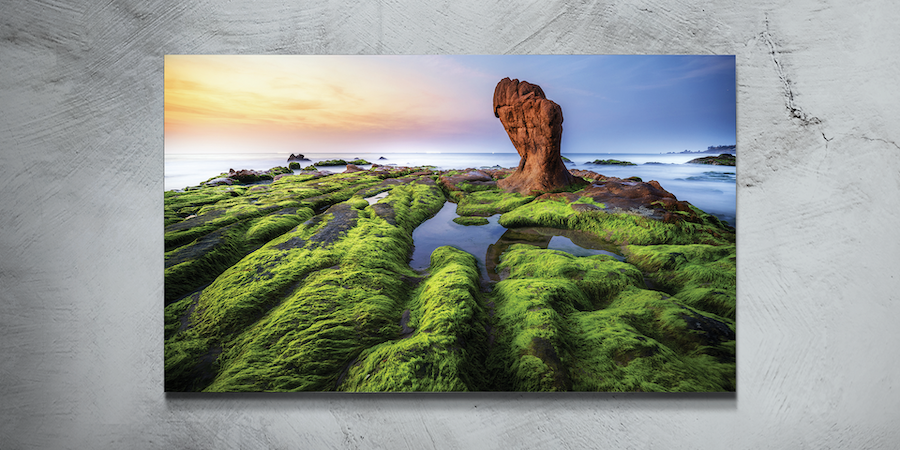 Everything you need to know about choosing your LED displays for optimal viewing indoors and out. Download Now
Everything you need to begin operations is included — the control box and pre-assembled mounting system, as well as built-in speakers and a decor bezel around the edge of the display — so you can focus on getting the display up and running fast. No additional purchase required. And no need for a professional team or special equipment; installation typically takes two hours for two people. Simply mount the wall brackets, dock the background plates and hang the preset modules.
Built-in components
Video walls often require separate components, which is more than just cumbersome. It can be unsightly and create clutter — a challenge when you want to project a modern, streamlined aesthetic.
Conventional LED displays have an external control box, and sometimes a cabinet that houses the box and speakers. The Wall All-in-One integrates the S-Box (or control box) and speakers into the device, eliminating the time-consuming configuration process, and fostering a neater, tidier display environment. Gone are the days of purchasing home theater components separately — and the frustration that comes with trying to configure them.
The integrated control box and speakers are especially useful in settings where space is limited, like conference rooms, and in upscale applications like yachts or vacation homes.
Set number of options
When faced with an abundance of options, "analysis paralysis" is all too common, particularly when it comes to choosing technology.
Without the complexities traditionally associated with LED display and video wall installations, The Wall All-in-One has a streamlined purchase path based on just two factors: size and resolution. Choose from three sizes and resolution types, without complications such as pixel pitch or configuration.
Whichever model you choose, rest assured your content will come to life with awe-inspiring visuals and high definition. Built-in Black Seal Technology blankets the screen with perfect uniformity, creating a seamless canvas for purer contrast, while an ultra low-reflective film minimizes external light reflection. Colors appear two times purer and more accurate than conventional LEDs with extraordinary contrast ratio and smooth, natural tone. A powerful AI processor analyzes every second of on-screen content to automatically optimize the display's brightness and sound levels for every scene.
Integrated software solutions
As workers return to the office, boardrooms and conference rooms are ideal use cases for The Wall All-in-One. Video wall installations project a cutting-edge image that attracts highly skilled people who value access to the latest technology at work.
The Wall All-in-One comes equipped with LogiTech cam, Google Duo and Cisco Webex integrations, so video calls are easier and more collaborative. Connect and mirror up to four devices simultaneously for virtual meetings and events.
Retailers that want to up their content game can also use The Wall All-in-One as a plug-and-play solution to create memorable moments for customers.
With The Wall All-in-One, businesses and indivduals can create their own larger-than-life moments on a daily basis and put forward a modern, tech-savvy image. Its easy installation, built-in components and integrated software solutions make it not only a beautiful investment, but a practical one.
Discover the endless applications of Samsung's The Wall All-in-One and deliver the ultimate viewing experience right out of the box. You can find everything you need to know about choosing LED displays for optimal viewing — indoors and out — in this free guide.