Many teachers and students are back in the classroom, but the days of focusing on solely in-person learning are gone. The current and future state of education is all about building a hybrid learning model, augmenting the physical classroom with digital learning tools.
Schools know they need to provide a device for every student, but they may be unsure which form factor and model is the best fit.
Chromebooks are a popular choice for middle and high schoolers, but for elementary school students, many districts are opting for tablets. With touchscreens and a more intuitive user experience, tablets do a great job of engaging younger students. And if the student needs a more traditional laptop-style setup, their tablet can be paired with a keyboard and mouse.
What to look for in a tablet
As you look for the best tablet for your remote students, here are a few features to consider:
Screen size: Tablets vary in size from 7 inches up to 12 inches, and some even larger. If students will use their tablets for detailed visual work or pair their device with a keyboard, opt for at least a 10-inch screen.
Memory/storage: More memory (RAM) will better support multitasking and keep apps from running slowly. If students will be working across several apps or windows at once, look for a tablet with at least 4GB of RAM. More storage will also ensure students don't run out of space if they download large apps or take photos or videos for multimedia projects.
Stylus or digital pen: Allowing students to write by hand on their tablets, a stylus can help create a more engaging and intuitive learning experience.
Wi-Fi or LTE: Some tablets depend on Wi-Fi, while others offer cellular connectivity (once you add a SIM card and carrier plan). For students who don't have reliable Wi-Fi at home, tablets with LTE connectivity can provide a fail-safe.
Battery life: Students learning from home exclusively spend a lot of time on their devices. Llook for a tablet that offers extended battery life to minimize interruptions.
App compatibility and learning platforms: If your teachers use remote learning tools such as Google Classroom, look for tablets that integrate with this software.
Security: Data security is a key issue for remote learning models, so make sure you choose a tablet with built-in security that integrates with leading mobile device management (MDM) tools.
Shop special offers
Find out about offers on the latest Samsung technology.
see deals
Speak to a solutions expert
Get expert advice from a solutions consultant.
Talk to an expert
Samsung offers a broad portfolio of Android tablets — from entry-level devices suitable for younger learners, to more powerful tablets that let middle and high schoolers multitask much like they would on a laptop. Here's a closer look at the Galaxy tablets that are perfect for remote learning:
Galaxy Tab A8
With a vibrant 10.5-inch LCD screen, up to 128GB of storage and a long-lasting battery, Galaxy Tab A8 is an ideal tablet for modern hybrid education. With Multi Window, students can videoconference effectively while simultaneously taking notes or collaborating with their classmates.
Each of the three Galaxy Tab A8 models has a screen big enough and crystal-clear enough for effective remote learning and multitasking. The Galaxy Rich Audio embedded microphone helps students clearly hear their teacher's instruction and communicate their questions.
Galaxy Tab A7 Lite 8.7
Samsung's Galaxy Tab A7 Lite 8.7 is an excellent mobile device for supporting digital learning, whether students are attending in person or virtually. It comes with a crisp 8.7-inch display, 3GB of RAM and 32GB of internal memory, which can be expanded with a microSD card. The 2MP front-facing camera and a 5MP rear-facing camera make it perfect for connecting and collaborating from afar.
Galaxy Tab A7 10.4
With a 10.4-inch display and up to 14 hours of battery life on a single charge, Galaxy Tab A7 10.4 gives students an immersive visual experience for remote learning. It features 3GB of RAM and a choice of 32GB or 64GB internal memory (which can be expanded via microSD). For videoconferencing and multimedia assignments, Galaxy Tab A7 10.4 comes with a 5MP front-facing camera and an 8MP rear-facing camera with auto-focus.
Galaxy Tab S5e 10.5
With a thinner and lighter frame, Galaxy Tab S5e provides students with a versatile workstation. It's DeX-compatible, meaning it can be converted to a full desktop computing experience. Students need only connect their tablet to the optional Book Cover keyboard to use it like a laptop. Alternatively, they can connect the tablet to a monitor, external keyboard and mouse. DeX works with just about any monitor or TV with an HDMI port (connected via USB-C adapter).
Galaxy Tab S5e also offers an exceptional visual experience on a corner-to-corner 10.5-inch screen. This tablet is available as Wi-Fi-only, and with up to 14.5 hours battery life on a single charge. It comes equipped with 64GB storage and 4GB RAM. It's a great fit for middle and high school students who are completing advanced assignments and can benefit from multitasking across several app windows.
Fund your remote learning initiative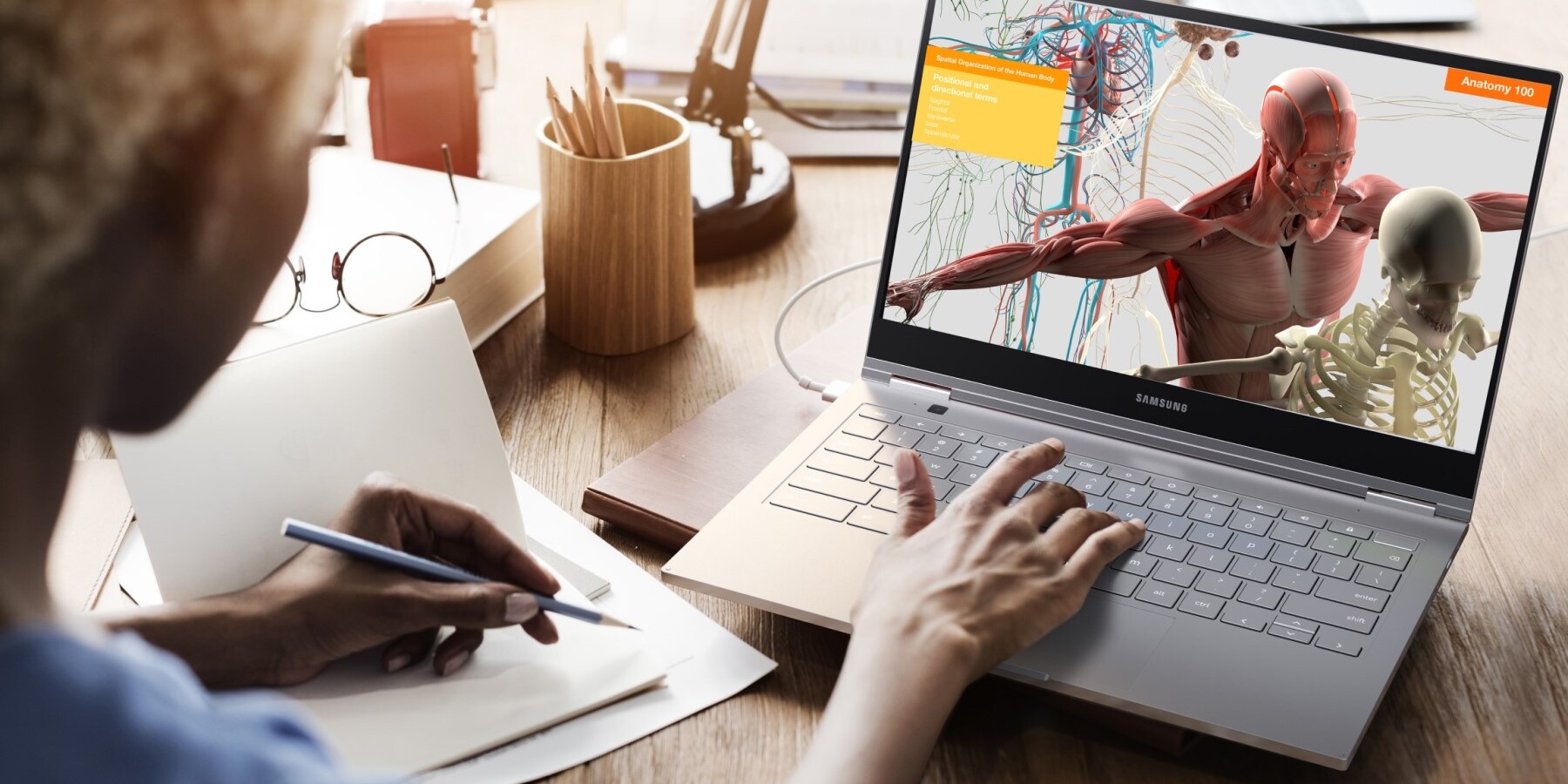 Learn how to create, present and secure grants for your remote learning technology needs. Download Now
Galaxy Tab S6 Lite
Regardless of where learning happens, students need the ultimate notepad for study, which is exactly what Galaxy Tab S6 Lite delivers. Weighing just 1.01 pounds, Galaxy Tab S6 Lite lets students carry less and enjoy more, thanks to a 10.4-inch immersive screen that lets them see homework assignments more clearly and comfortably.
Galaxy Tab S6 Lite's Dual Speaker with Dolby Atmos and sound by AKG provides powerful, well-balanced sound, whether students are attending online lectures or communicating with classmates. Auto Framing automatically adjusts the zoom to keep people visible on screen, while Duo Present to Call simplifies the process of sharing a presentation. Effective learning also means note-taking, which Galaxy Tab S6 Lite transforms with the redesigned low-latency S Pen, pairable with Samsung Notes.
Galaxy Tab S6 Lite is also designed to keep students' tablets secure with facial recognition, via the front-facing camera. IT departments benefit from being able to deploy and manage many of these devices simultaneously using Knox Configure, while protecting them with Knox security. Finally, Galaxy Tab S6 Lite also meets CIPA compliance.
Tab S7 and S7+
The new Galaxy Tab S7 and S7+ have even larger displays (11 inches and 12.4 inches, respectively) and also include an S Pen. Ergonomic book cover keyboards are available for both models. They also have additional computing power, with models ranging from 128GB storage/6GB RAM up to 256GB storage/8GB RAM. The versatility, size and power of these tablets make them more than viable as laptop alternatives for older K-12 students and teachers.
Each of Samsung's tablets is protected by the built-in Samsung Knox security platform, and they're compatible with Knox Manage, as well as other leading MDM solutions.
No matter your remote learning needs, there's a tablet that can meet them where they're at. Samsung understands the challenges schools are facing as they build hybrid classrooms, and will work with you to find a solution that fits the needs of your district, your ed tech budget and your classrooms.
Get your free guide to securing funding for your remote learning initiative. And discover more Samsung education solutions designed to help teach and inspire, whether students are in person or at home.