While many K-12 schools are starting to return to in-person instruction, that doesn't mean a return to using pencils, erasers and wide-ruled composition notebooks. The COVID-19 pandemic and subsequent shift to remote learning has permanently altered how education is delivered. Digital platforms are now the primary mode of instruction, whether students are in the classroom or remote.
Affordable, intuitive and easy to manage, Chromebooks are ideal for student computing. The Google Workspace for Education ecosystem, in particular Google Classroom, has been widely adopted over the past year as a way to keep remote learners engaged and on-task. Students can use Google Docs and Slides on their Chromebook to complete work or collaborate with peers on assignments in real-time. Google Meet enables remote learners to connect with teachers, while the vast array of Chrome and Android apps provides endless opportunities for creativity. From an IT perspective, managing and securing Chromebooks at scale is made easy through the Chrome admin console.
Chromebooks used to mostly look alike, with the same basic specifications and a focus on affordability. But, in 2021, there are a broad spectrum of Chromebooks available for students, teachers and administrators. Some models include a touchscreen and stylus for creative work, while others have increased computing power and high-resolution cameras to help teachers create multimedia lessons, manage assignments and record lectures.
Connectivity is an essential component of remote learning. For students who don't have reliable internet access at home, districts may choose to address accessibility needs with a Chromebook model that provides LTE cellular connectivity.
To help you decide which Chromebook model best suits your district's needs, here's a closer look at each model Samsung currently offers:
Samsung Chromebook 4 and 4+
The Samsung Chromebook 4 and 4+ have become a mainstay for school districts expanding their 1:1 mobile device initiatives over the past 12 months. Released in 2019 as a successor to the popular Chromebook 3, the Chromebook 4 and 4+ remain affordable and dependable. They're also rugged, meeting eight military standards for durability, with resistance to extreme temperatures, dust and shock.
17 innovative lesson ideas for remote learning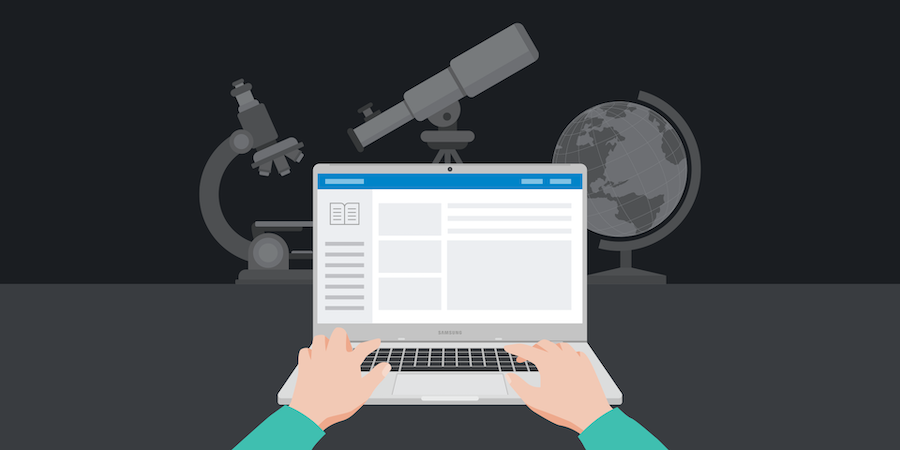 Get your free pack of multidisciplinary lesson plans to teach modern students with modern tools. Download Now
The standard Chromebook 4 model has an 11.6-inch HD screen, while the Chromebook 4+ expands that to 15.6 inches and adds an additional USB-C port, allowing users to charge the device and transfer files at the same time. Battery life for the Chromebook 4 is up to 12.5 hours, while the Chromebook 4+ is rated at 10.5 hours due to the larger screen.
Depending on the model, you can choose from hard drive capacities of 16GB, 32GB, 64GB or 128GB. The 64GB and 128GB storage versions also include 6GB of RAM (versus 4GB RAM on the smaller-storage models), providing higher performance while you're running multiple apps.
The Chromebook 4 and 4+ both support Gigabit Wi-Fi, allowing students and teachers to stream video and download large files quickly. Each model also comes with stereo speakers and a 720p webcam for excellent multimedia and videoconferencing quality.
Samsung Chromebook Plus and Plus LTE
In 2017, Samsung introduced the Chromebook Plus as a business-centric device with extra productivity features and enhanced performance — and it's proved popular with students too. The updated Samsung Chromebook Plus comes with a built-in stylus and folds neatly from a traditional laptop form into tablet mode. Users can take notes and sketch directly on the touchscreen — a bonus for those who prefer editing or annotating assignments by hand.
The Chromebook Plus also has two cameras (1MP front-facing and 13MP rear-facing), which are especially useful for videoconferencing and taking pictures for assignments, while the device's Intel Celeron processor enables smooth multitasking.
The Chromebook Plus LTE edition adds cellular connectivity. With a mobile service plan, you can get online from anywhere with cellular service — providing expanded accessibility for students and teachers with unreliable home Wi-Fi.
Galaxy Chromebook 2
The newest addition to the Samsung Chromebook family, the Galaxy Chromebook 2 is an ideal fit for high school students and teachers. It features a high-definition Quantum LED (QLED) display and 100 percent DCl-P3 color gamut, allowing you to edit videos to a professional standard and view a wide range of true-to-life colors. The Galaxy Chromebook 2 also comes equipped with a powerful 10th-generation Intel Core Processor, a 13-hour battery and Smart Amp audio technology that detects speaker excursion and temperature, allowing you to crank up the volume without distortion. The touchscreen is compatible with USI pens (purchased separately) for drawing or other creative projects.
Galaxy Chromebook
Released in 2020, the Galaxy Chromebook is Samsung's premium Chromebook and one of the most full-featured models on the market. It comes with 256GB storage and 8GB RAM, providing students, teachers and administrators with extra space and computing power to run powerhouse apps. Its 13.3-inch 4K AMOLED HD display is ideal for detailed visual work, and its automatic brightness feature adjusts to your surroundings. The Galaxy Chromebook's thin 3.9mm bezel maximizes its display, which can rotate 360 degrees, so you can use it as a tablet, a standing display and a traditional laptop.
Like the Chromebook Plus, the Galaxy Chromebook comes with a built-in S Pen for drawing, note taking and annotating documents. The device supports Wi-Fi 6 at Gigabit Plus speeds and includes a variety of ports, along with Universal Flash Storage (UFS) and microSD card slots. You get a 1MP front-facing camera, so you look sharp in class and videoconferences, and an 8MP camera built into the keyboard deck that takes great photos when you're in tablet mode. The keyboard even has a built-in fingerprint sensor to enable a convenient biometric unlock.
In Samsung's diverse lineup, there's a Chromebook suited for every student and educator — and for every budget. Samsung understands the complexities of education budgets and education technology investments. Alongside your preferred tech integrator, Samsung works closely with school districts to find the right technology solutions, accessories and deployment services that will ensure learning continues seamlessly, no matter where classes are hosted.
As you consider bringing more mobile technology to your district, make sure you're prepared for what's expected in education's new normal. And get tips on creating a new roadmap for digital learning for your school.