Samsung Galaxy Z Fold4 is a phone, tablet and PC — all in one. The foldable form factor opens up new ways to work on a mobile device in what's called Flex Mode, a unique feature that expands Galaxy Z Fold4's capabilities at work and on the go.
With Galaxy Z Fold4 in Flex Mode, you can accomplish all this and more:
1. Video chat hands-free
Start in tablet mode and open your go-to videoconference app, such as Google Meet or Microsoft Teams. Then, rotate your Galaxy Z Fold4 to the left and flex the device so the fold is at a 90-degree angle. The nearly invisible front-facing camera should be on the left side of the display.
Shop special offers
Find out about offers on the latest Samsung technology.
see deals
Speak to a solutions expert
Get expert advice from a solutions consultant.
Talk to an expert
Set your Galaxy Z Fold4 on a flat surface in front of you at about arm's length and adjust the camera to your desired angle. Start your video call and enjoy the simplicity of meeting face to face on mobile without having to hold your device. In compatible apps like Meet and Teams, Flex Mode will automatically adjust the layout and user experience.

2. Multitask on a videoconference
The ability to be on camera hands-free is even more powerful when you bring in Galaxy Z Fold4's Multi-Active Windows. Before you go into Flex Mode for a video call, add one or two more apps to your workspace from the Edge Panel. View your calendar, email inbox or a document for reference, without having to pause your call. You can also take down important points in Samsung Notes, which works best with an optional S Pen for Galaxy Z Fold4. You'll want to make sure your videoconference app is in the top portion of the screen in tablet mode before rotating your device into landscape mode and then folding it into Flex Mode.
3. Keep up with emails
Thanks to Multi-Active Window in Flex Mode, you can keep your email inbox open in one half of the display while working in a different app on the other half. Galaxy Z Fold4 lets you handwrite emails with an optional S Pen that automatically transcribes into text when composing an email while the device is flexed. When switching from Flex Mode back to tablet mode, you can rotate the device to your right for portrait mode, and fill the screen with just your email app so you can easily read, type or write on an expansive 7.6-inch display.
4. Get more from your smartphone's camera
Ready for an entirely different photo-taking experience? Open the camera and fold your Galaxy Z Fold4 about 45 degrees vertically. Your active camera view will appear on the right, with capture view on the left, allowing you to compare your takes in real time and pick the perfect shot. The icon at the top right activates the cover display so your subjects can see themselves on camera.
Go mobile-only with Samsung DeX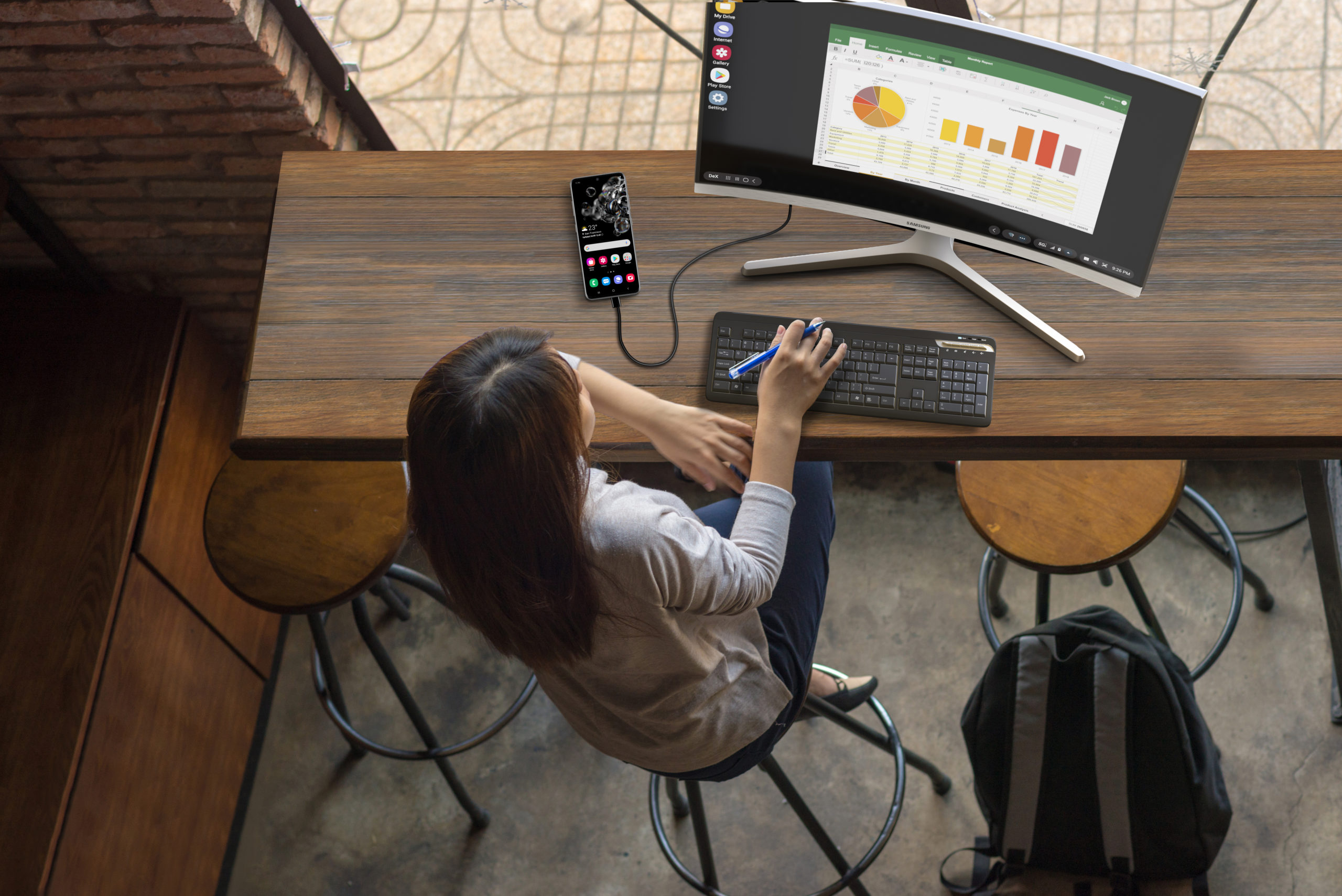 Your comprehensive guide to rolling out a mobile-only solution for your workers. Download Now
When you use Flex Mode on Z Fold4 horizontally — akin to positioning it like an opened laptop — a world of hands-free opportunities unfold. Selfies and group shots alike are being redefined by the Galaxy Z Fold4's Flex Mode, with the device's maneuverability acting as its own tripod. Place the device on any surface, enable the cover display preview for the best look at your subject, step back and activate the shutter with your voice or by showing your palm to the camera. Gone are the days of shaky shots or blurry videos due to hand-holding the device. You also won't have to worry about standing Z Fold4 on a precarious setting in order to get the right height or angle for your photos or videos; while set in Flex Mode, the device is as sturdy as a laptop.
When you're taking a photo in landscape mode, you can also use Flex Mode split screen. If you like this setup, you can access it in tablet mode by clicking the icon at the top left of the screen.

5. Flex with DeX
After going from phone to tablet, you can take your productivity on Galaxy Z Fold4 to the next level with Samsung DeX. DeX lets Galaxy Z Fold4 connect wirelessly to a smart display, which then launches a PC-like environment on the larger screen, providing full use of your suite of apps, including Microsoft 365. Pair the monitor with a keyboard and mouse to free up Galaxy Z Fold4 for separate use as a self-standing videoconference suite in Flex Mode. DeX goes a step beyond screen mirroring for a true desktop experience. You can see your videoconference, messages, phone calls and Multi-Active Windows on the big screen with PC-like features including drag and drop, keyboard shortcuts and right-click menus.
Galaxy Z Fold4's flexibility adds a new dimension to the mobile computing landscape. Flex Mode is also available on the smaller Galaxy Z Flip4. See which foldable is right for you and flex the newest tech from Samsung.
Sign up for a Samsung Business Account to get exclusive offers, including volume pricing discounts, on Galaxy Z Fold4 and Galaxy Z Flip4 today. And see how much your company could save by replacing legacy tech with foldables using this simple cost calculator.