To improve retail operations without increasing workload for staff, many retailers are looking to tools such as digital signage, self-service kiosks and interactive displays. These solutions can upgrade the in-store shopping experience — making it convenient and profitable.
With strategically placed digital displays, consumers can interact with products, educate themselves on the specs and features and even complete self-checkout without having to wait in line. This frees up associates to take care of the more complicated tasks, like stocking inventory, organizing the store or assisting customers who need more in-depth support. This is especially critical during the ongoing labor shortage, which has hit a turnover rate of over 60 percent. Smart retail technology and integrated IT solutions allow retailers to meet consumer expectations and maintain smooth operations amongst these labor changes.
Let technology do the selling
According to a 2021 consumer survey by UPS company Ware2Go, shoppers spend an average of $50 more during in-store shopping trips than when they shop online. And when they need an item quickly, 54 percent of consumers prefer in-store purchase or pickup.
Become a digital transformation expert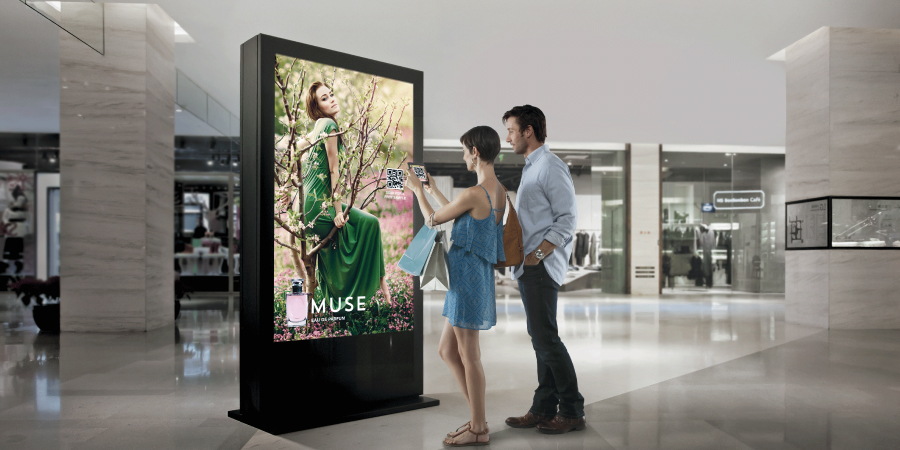 Explore how to harness the power of data with integrated tech to elevate any in-store experience. Download Now
Self-service kiosks, tablets and LED displays allow customers to interact with products in a more tactile sense — which is impossible online. Saatva, an online mattress retailer, is a great example. In their Viewing Rooms — the first of which opened in Manhattan in 2021 — Saatva uses Samsung's OMN-D series two-sided displays to greet customers with customized messages as they enter the store. And next to each mattress, an interactive QB13R display allows guests to learn more about specific features and the production process.
Batteries Plus, meanwhile, uses Samsung 4K UHD LED displays behind their checkout area, where they act as "silent salespeople," offering customers timely, location-specific messaging, such as promotions for relevant products triggered by real-time weather alerts. Besides freeing up associates for other more involved tasks, these screens act as a conversation starter for salespeople to talk to customers.
Maintain inventory and streamline retail operations
In today's omnichannel shopping environment — where orders come from inside the store and online, as well as native apps and third-party shopping sites — retailers have to maintain accurate inventory management. Digital displays can be used in both the front and back of house to keep track of inventory, locate items or update out-of-stock SKUs, ensuring retailers always have the most up to date and accurate information as they assist customers.
Samsung Kiosk, for example, can be programmed to mark out-of-stock items as unavailable and allow customers at self-checkout to order the product for home delivery. Samsung rugged tablets equipped with barcode scanning technology provide convenient handheld units for workers to take inventory and manage restocking. If a particular store is out of a specific item, associates can use their handheld devices to help shoppers locate the item at another nearby location. With the help of cloud-based software, inventory is always up to date, as the store's ordering system connects to its vendor databases.
Mitigate risks with IT experts
Most retailers know that they need to take advantage of digital technology, but you might not know where to start. Factor in staff shortages, and operators have to get even more creative about maintaining efficient workflows, including the IT department that monitors their tech stack. For smaller brands that have had to make more significant budget cuts, Samsung's integrated display software can help manage IT support and enables custom content scheduling — all protected by Knox, its defense-grade mobile security platform.
Samsung's proprietary MagicINFO content, device and data management system is a lifeline for time-strapped marketing managers and small teams without a dedicated IT department. Users can quickly and easily create custom content such as branded slideshows, and MagicINFO routinely performs health checks on the equipment and software, alerting retailers to issues in real time.
While online shopping is here to stay, it's brick-and-mortar retailers that are leading the way when it comes to innovative, omnichannel strategies. Digital displays backed by a cloud-based content management system (CMS) let retailers deliver customized content and self-service kiosks, even with limited staff and budget resources — and especially then.
Explore Samsung's comprehensive ecosystem of retail solutions, from video walls and kiosks to tablets and smartphones. And get your free guide to growing your retail business by adopting future-proof, e-commerce technology.