Before the global pandemic, 80 percent of California-based community college classes met in person, 15 percent were remote, and 5 percent were hybrid. But then the pandemic changed everything, pushing almost all students into remote learning.
Today, even though in-person classes are possible again, students are asking for remote or hybrid options, with 65 percent of California-based community college classes taking place remotely, 25 percent in person, and 10 percent hybrid, according to a state report. It seems remote learning is here to stay. As a result, both students and teachers need a way to bring their documents, course materials, and work with them wherever they happen to be.
Portable solid state drives (SSDs) are a smart solution to this problem. But what is a portable SSD, and what exactly are the benefits of having one?
What is a portable SSD?
SSDs are already a staple of the post-secondary education market, and for good reason. The benefits of an SSD portable drive are impressive. Unlike hard disk drives (HDDs) that have mechanical internal parts — including an actuator arm that reads and writes data to a magnetic spinning disk — SSDs have no moving parts. Instead, they use software- or hardware-based controllers to read and write data to columns and rows of semiconductor chips.
How over-provisioning SSDs impacts performance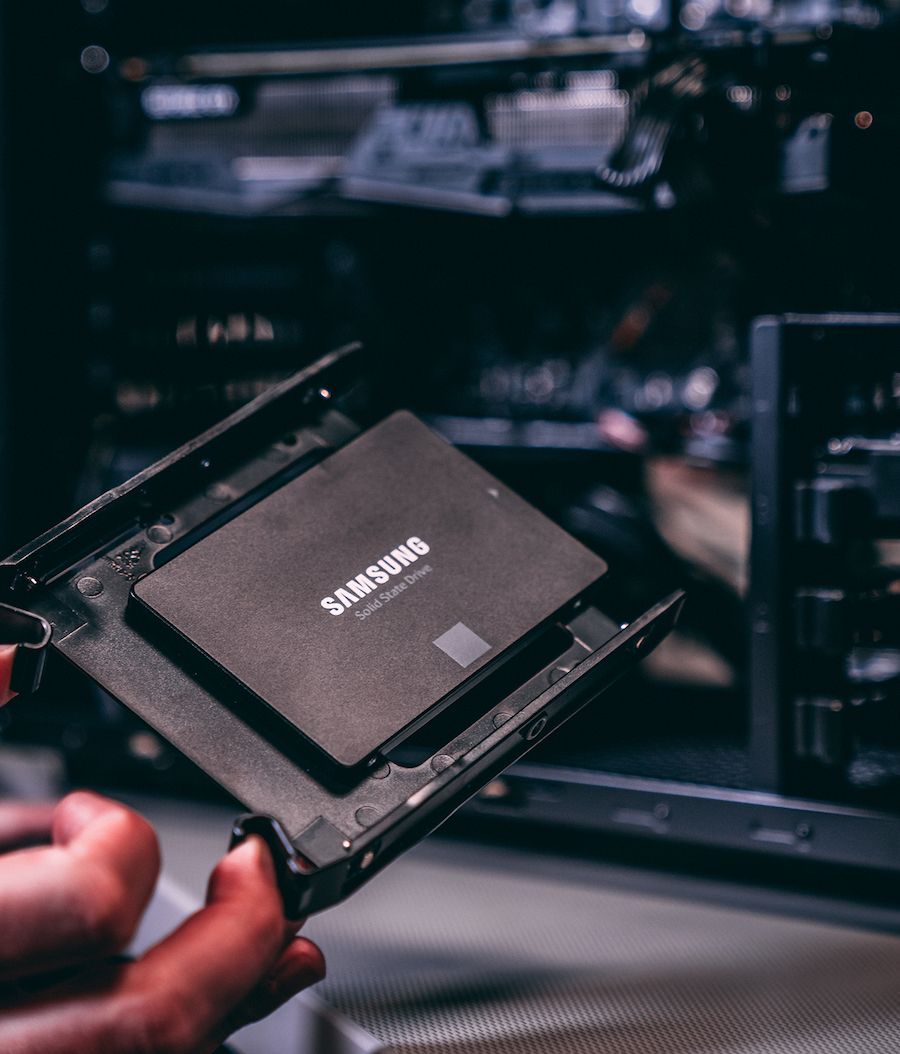 Get your free white paper on how over-provisioning of SSDs can improve memory performance. Download Now
From a durability perspective, this means a portable SSD can handle being tossed into a backpack or accidentally dropped onto the floor. For example, Samsung's T7 Shield has a 9.8-foot drop resistance and is water- and dust-resistant so it can survive in a traditional class setting as well as a physical science lab, even if it gets spilled on or dropped on the floor.
Samsung T7 Shield, which is a portable SSD drive, has read/write speeds of up to 1,050/1,000 MB/s, so files are transferred quickly, and there's no waiting around to get started learning and working.
Making the grade with SSD
There are some benefits of SSD portable drives that should be especially appealing to students and educators, especially when answering the question: How much data storage does a college student use? (The quick answer: A lot.) SSDs are significantly smaller and more portable than traditional portable HDDs, making them easier to fit into a backpack or pocket. Students can start work in a science lab on an in-lab PC, save their work to the SSD, then bring it into the field to continue their research. Once they're done collecting data, students can continue their work at home.
Security is another significant benefit of SSDs. In the fast-paced world of college life, it's not uncommon for drives to get left behind in the classroom or attached to a public-facing PC. SSDs feature encryption to keep data safe and out of the wrong hands. Samsung's T7 Shield uses 256-bit AES encryption — the modern gold standard for data encryption that government agencies use — with password protection.
Finally, the high-end capacity of SSD drives helps students and teachers who may be storing or creating large media files or using analytics programs with big data repositories. T7 Shield comes in two capacity options: 1TB or 2TB configurations. And since it is compatible with a wide variety of devices including PC, Mac, Android, and gaming consoles, users can accomplish tasks like jumping from an in-classroom video shoot on a digital camera and then using a graphic editing program at home.
Learn more about how Samsung SSDs can turbocharge learning and why the future of education depends on SSD speed and durability.