Retail banks are intent on transforming the branch office experience. Like businesses across the retail spectrum, they are trying to satisfy and impress customers who have fully embraced mobile technology but still covet face-to-face interactions for milestone moments in their financial lives.
Digital banking surged during the pandemic, as 44 percent of retail customers used their bank's mobile app more than they did pre-pandemic. For many consumers, that's changed what they seek from their bank when walking into a branch. Instead of cashing a check or checking a balance, many now seek advice or face-to-face service.
Banks have done great work with online technology, and now it's time to bring comparable transformation to the retail branch. But for many banks, the in-branch experience has hardly changed in decades — except perhaps to become more transactional as the customer base has grown.
Supporting the bank associate
My colleagues and I work continuously to understand the role of technology in transforming the retail branch experience. We are deeply engaged in retail banking and believe technology plays a major role in optimizing the in-branch employee experience and the customer omnichannel experience.
Shop special offers
Find out about offers on the latest Samsung technology.
See Deals
Speak to a solutions expert
Get expert advice from a solutions consultant.
Talk to an Expert
Do you need to transform your branch experience? To find out, ask yourself these questions:
Can you greet customers by name — and know their reason for visiting — even if they don't regularly visit the branch?
If you have a greeter stationed near the door, what is that person's capacity to answer complex questions or serve the customer?
How long do customers typically wait to meet with a specialist? And a follow-up question: Does your bank track this wait time?
Do customers feel like your bank is listening to them, or do they have to repeat their needs and situation to every new representative they speak with?
Creating a seamless experience
What would a branch transformation mean? First, it would require equipping your branch, associates and their clients with the seamless, frictionless, omnichannel experience that we have all come to expect when shopping online and interacting with technology companies.
Crossing this divide is a high priority at big banks because the evidence is clear that customers want to be known and valued at the branch. Even with the rise of digital banking due to the pandemic, 28 percent of consumers still prefer to carry out banking tasks at branches, according to research from McKinsey. That share jumps to 50 percent for more sensitive or involved tasks like fraud or financial advice.
Also, with more banking moving online, banks risk losing an emotional connection with consumers, according to Accenture. That could make banking commoditized and hit banks' efforts to build customer trust. Millennials and Gen Z are less likely to stay loyal to a bank than previous generations. Add in fierce competition from neobanks, and building customer trust and loyalty will be key to banks' growth.
Roles within the branch are changing to meet the more significant needs of customers. More branch employees are becoming universal bankers, able to help consumers with various tasks. As a result, the number of advisors and universal bankers per branch has jumped by 48 percent, according to McKinsey.
To support their expanded roles, banks should outfit all branch personnel with the technology they need to serve the customer fully, whatever their position. So it's well worth equipping your staff across roles and channels with the devices and software they need to serve as a single, knowledgeable unit to provide a seamless customer experience.
For example, through wearables, employees can be alerted when a customer walks in and provide immediate assistance by pulling up their customer data.
What personalization can mean
Here are more details on what personalization can mean for customers visiting a bank branch:
Know your customer
Provide customer information to bankers as soon as a customer walks into the bank. Bankers are alerted on their wearables or tablets and can walk up and greet the customer by name. Bankers can also scan customer IDs on tablets to verify their identity for security. Our Galaxy phones and wearables can make these alerts clean and discreet to avoid distracting other customers in the area while accomplishing a host of other tasks your staff usually completes in front of a computer.
Immediacy
Not only can bankers know when their customer walks into the branch, but customers with the bank app on their phone can be added immediately to the queue and confirm their reason for the visit on their phones. If customers lack the app, they can walk up to a self-service tablet to provide a reason for their visit. If their need is low-touch, the tablet will direct them to a virtual teller kiosk. This process will help shorten customer wait times and help employees with queue management.
Connected experiences
Keep track of conversations across all systems, from call center to branch, to provide seamless connected customer experiences. Provide all employees with a secure enterprise-grade account to ensure branch associates have the information they need to offer the best customer experiences. As a result, employees will feel better supported when meeting with customers, and customers will receive the connected experiences they crave.
What's next for the future of finance?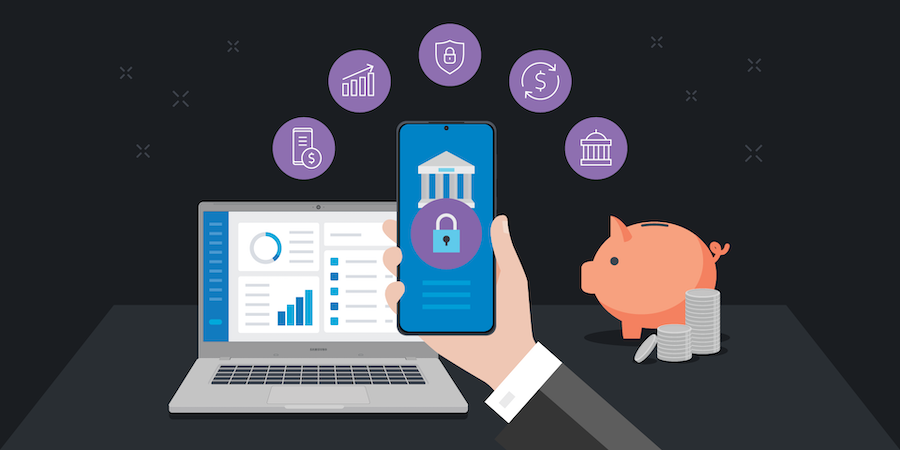 Samsung surveyed 1,000 finance professionals about the future of mobile tech. Here's what they said. Read the report
Technology can also create better-connected employee and customer experiences:
Bankers can meet other employees where they are in the branch and access relevant information via a tablet.
Bankers can pull up account information and share personalized products on the customer-only tablet screens.
Foldable mobile phones, such as Samsung's Galaxy Z Fold4, provide employees with the ability to access multiple insights, from customer account details to market trends, in a single view.
Customers can use self-service kiosks for immediate service of more straightforward tasks.
Samsung tablets like Galaxy Tab S8 can put the power of multiple devices, including POS pads, ID scanners and thin clients/PCs into one device. Using a tablet for multiple purposes creates a more seamless experience while helping banks lower hardware costs.
Providing employees with these devices enables them to increase speed of time to competency as well as the ability to reskill/upskill, which in turn encourages employee loyalty and retention.
The Samsung vision
Technology can also smooth the transition from working on a phone to a tablet to a desktop. Samsung DeX, in particular, deserves a place in every retail bank's road map. Built into all Galaxy flagship phones and tablets since 2018, DeX enables a mobile device to support a full desktop experience via a monitor, keyboard and mouse, providing a seamless employee experience throughout the branch. In addition, DeX lets you create a fully mobile desktop computing environment that connects branch employees immediately to any applications they need, whether directly on their devices or through virtual desktop infrastructure (VDI) provided by services such as Citrix and VMware.
All Samsung mobile devices incorporate the security and flexibility of Samsung Knox, our defense-grade security and device management platform. Samsung Knox is built into Galaxy devices from the chip up and runs constantly in the background. With the introduction of our Knox Suite, we're providing customers with an all-in-one solution to solve their most complex mobility requirements.
Giving branch employees mobile devices does increase the risk of loss or theft. That's why our Knox Guard offers an inexpensive option to protect and control access to corporate mobile devices — and the data they hold — when a device is lost, stolen or just misplaced. In addition, Knox Guard can automatically lock devices if they go offline for a preconfigured period, work to recover them with push notifications, or use device-wipe capability to protect confidential data — all remotely.
With the security and flexibility offered by Samsung Galaxy devices, retail banks have the opportunity to transform the branch experience for their clients and customers — and keep ahead of the competition.
Learn how Galaxy Z Fold4 and the Galaxy ecosystem can support your productivity on the go. And sign up for a Samsung Business Account to get exclusive offers, including volume pricing discounts, on Galaxy Z Fold4 and Galaxy Z Flip4.