A full decade after she first launched a business from her kitchen table, Dune Jewelry & Co. CEO Holly Daniels Christensen found herself back there starting in 2020. But since then, she has been connecting directly with thousands of customers from afar, via their mobile devices.
In her "Kitchen Table Talks," a series of Facebook Live video discussions, Christensen has chatted with other fashion, luxury, and style experts on how to look and feel your best, even from a distance. "I've had customers send private messages talking about what a hard time they've been having," says Christensen. "[Kitchen Table Talks] have really helped some of the people who are anxiety-ridden take their mind off things."
National Small Business Week is the perfect occasion to spotlight a company like Dune Jewelry & Co., whose team is about 30 people strong. Their jewelry incorporates sand and earth elements from thousands of memorable and iconic locations around the world.
"Even if they've ordered from us two or three different times, customers might not realize they can use sand from their honeymoon or flowers from their wedding in a piece of jewelry," she explains. "We're focused on opening up people's creativity and helping them be creators of their own jewelry."
Associates can of course walk customers through their options in-store, but they can also connect online via a chat box on the Dune website. On the back end, Christensen is upgrading Dune's e-commerce platform to allow for greater personalization. She also deployed a software-as-a-service (SaaS) platform that helps automate Dune's customer service operations. Like most cloud-based tools, the SaaS platform allows the team to monitor business operations from their laptop or smartphone, even while they're off-site.
Dune is a great example of how small businesses can avoid being held back by legacy IT. To follow in their footsteps, you have several other technologies at your disposal:
Boost employee loyalty and productivity at the same time
As a result of the last few years, businesses and their employees are adapting to the hybrid work environment that doesn't seem to be going anywhere. They are continuing to find new ways to stay connected and productive. A next-gen mobile device like Galaxy Z Fold4 5G empowers employees with the ability to multitask more productively — in up to three apps at once — dragging and dropping content between apps and even writing by hand with an optional S Pen. And there's the latest Galaxy S23 Ultra, which in addition to having compatibility with the S Pen, enables employees to easily access work files and documents from anywhere with integrated Microsoft and Google cloud tools.
Shop special offers
Find out about offers on the latest Samsung technology.
See Deals
Speak to a solutions expert
Get expert advice from a solutions consultant.
Talk to an Expert
Create safe, immersive, and helpful in-person experiences
Amid the rise and rapid increase of online shopping over the last few years, small to medium-sized businesses (SMBs) face the pressing need to find additional ways to showcase their products and communicate with customers to create a more personalized customer experience.
Technology advancements and solutions such as edge computing could help with that by allowing data to be processed closer to where it's used on the network. According to a report forecast, Internet of Things (IoT) devices are expected to jump from 9.7 billion in 2020 to a whopping 29 billion devices in 2030 globally. Edge computing is often a feature of IoT environments, where embedded sensors in a physical building can connect to digital wayfinding and navigation apps, for instance. SMBs can also use location-based services supported by edge and IoT technology to offer personalized advertising and special offers depending on who is browsing and where.
Wayfinding and navigation apps can help customers find the items they want more quickly, reducing their time in the store. The moment a customer grabs something off the shelf, you can promote an accessory or other related product, encouraging upsells with items of genuine value to the customer.
Reduce paperwork and admin chores
According to a small business owner report, 49% of SMB owners are planning to use artificial intelligence (AI) to further enhance their business value. The challenge, however, might be figuring out where to start.
At many SMBs, too much time is spent sifting through and coordinating contracts. ZDNet offers a helpful guide for SMBs, explaining how AI technologies like machine learning and natural language processing (NLP) can simplify contract management and ensure they're legally sound.
Choose the right phone for your growing business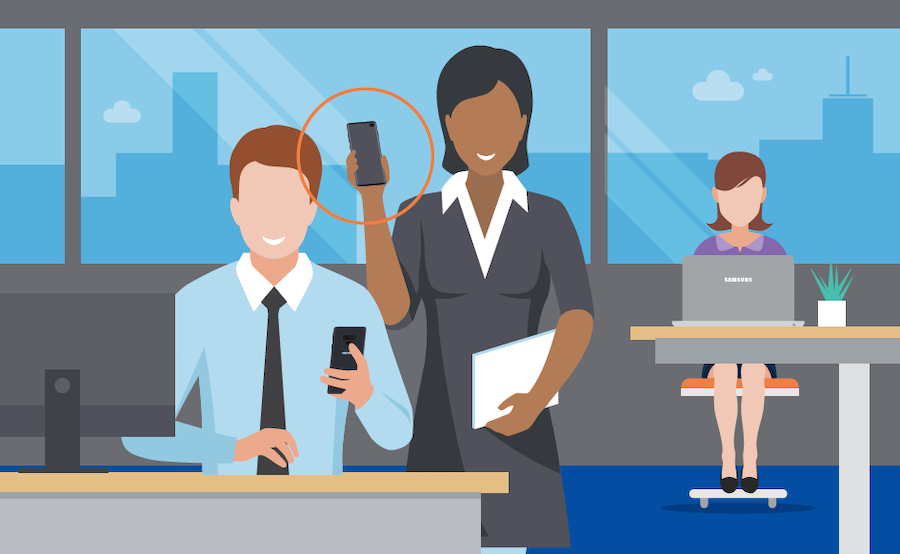 Get your free guide to matching the right smartphone with your business and employee needs. Download Now
Grow online revenue by making changes faster and easier
Many SMBs that offer e-commerce use website plugins that are connected to their content management system (CMS). Even without in-house developers, SMBs can now access "headless commerce" tools that split their back-end e-commerce architecture from the CMS. Companies that do so can quickly create special e-commerce microsites for peak seasons or add "buy" buttons on social media — while boosting their SEO.
According to Shopify's guide on getting started with headless commerce, one of the biggest business drivers is the increasing volume of customers shopping on mobile devices.
Whether you try one of these solutions or all of them, this National Small Business Week can be a catalyst for your business's digital transformation.
A key part of succeeding as an SMB is spending less and doing more — securely and efficiently — which is much easier with a mobile device management (MDM) tool. Find out how you can get started in this free beginner's guide. You can also explore exclusive business pricing, financing and trade-in options, and other deals on everything from phones and tablets to monitors and memory.