A constant challenge for small- and medium-sized businesses (SMBs) is balancing the need for innovation with workforce challenges. In recent years, labor shortages, minimum wage hikes, and a shift to remote and hybrid work environments have added new layers of complexity to this dilemma. Small teams have always had to do more with less, but now they must also do it faster — and with fewer resources.
Mobile devices and apps can help SMBs maximize the efficiency of their small teams. From employee training to line busting to arming employees with critical information in the field, mobile devices and apps can dramatically transform workforce productivity. With distributed workforces being the new norm, taking a mobile-first approach can be a game-changer in terms of optimizing overall business operations. However, there's a right way and a wrong way to deploy mobile if you want to maximize capabilities and minimize cost, particularly as a business scales. That's why we've developed this quick playbook to outline four key considerations for your business.
1. Adopt a mobile-first approach
The way we think about work has drastically evolved over the past decade. Today, getting the job done means being able to take video calls, collaborate on documents in real time, collect data, and access critical applications — and all of this needs to work equally well in remote settings. Entrepreneurs need tools that support a flexible work style in order to stay aligned with the demands of a remote-first future.
Shop special offers
Find out about offers on the latest Samsung technology.
See Deals
Speak to a solutions expert
Get expert advice from a solutions consultant.
Talk to an Expert
Mobile devices are indispensable for SMBs. Leveraged effectively, they can drive significant lifts in workforce productivity and job satisfaction. However, many smaller companies have not harnessed the potential of mobile, choosing instead to adopt a fragmented Bring Your Own Device (BYOD) approach that makes it difficult to manage devices or deploy apps consistently across their teams. By taking a mobile-first approach to technology deployment, businesses can not only make their core mobile communications and collaboration capabilities more effective and integrated, but they can also introduce entirely new capabilities that drive greater workforce productivity.
2. Remember that apps are king
Identifying, deploying, or developing the right mobile applications that enable your teams to communicate, collaborate, and track performance should be a major focus of your mobile-first strategy. Today, virtually all of the core desktop productivity applications have powerful mobile versions — from Microsoft Office 365 to Google Workspace and line-of-business applications, like Salesforce. Make sure your team has full access.
Messaging, collaboration, and file-sharing applications are also hugely beneficial. It's highly likely your team is already using one or more on an "unofficial" basis. Getting everyone on the same platform (and ensuring it's secure) will help break down barriers and boost knowledge sharing. Canvasing the team to find out what they currently use and what capabilities they need is a great starting point.
Lastly, find opportunities to innovate. Take a look at the existing tasks and workflows that are slowing your team down. It's very likely that mobile phones can help. In fact, there's probably already an app for it.
3. Select a device that lets you do more
When you consider just how much you and your team rely on your mobile devices, it's important to make sure you have a device that doesn't slow you down. In today's competitive market, 24/7 availability is a must — a single missed opportunity could make or break the business. For this reason, it makes economic sense to invest in mobile tech that maximizes your productivity.
Mobile device management for beginners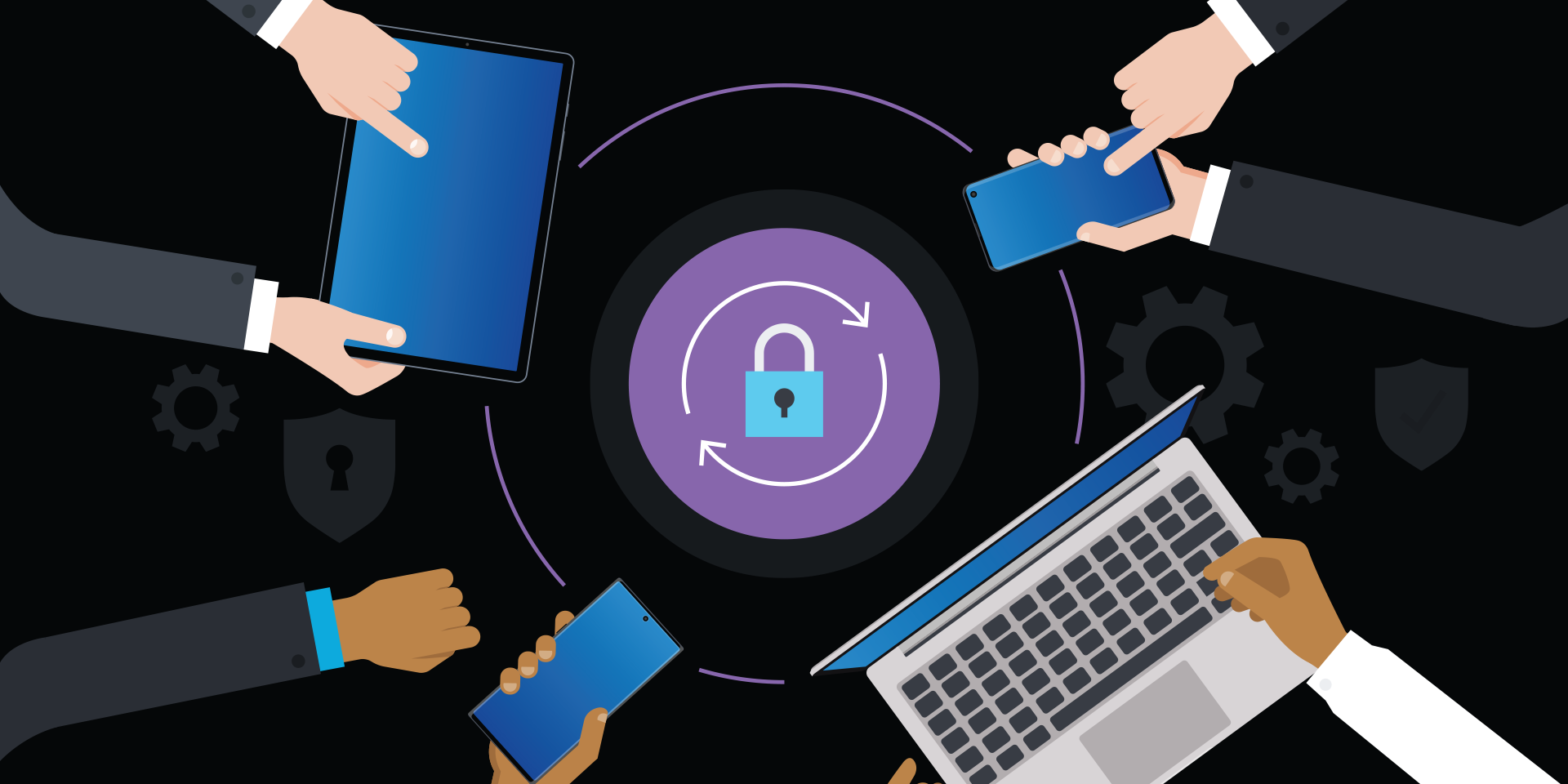 Get started with MDM so your organization can spend less and do more — securely and efficiently. Download Now
Screen size matters, too. With extra screen real estate, you can master multitasking, allowing you to hold a call, search for information and then grab and send screenshots, all while still on the line. A powerful smartphone can actually replace the PC for many mobile workers, eliminating the need to purchase and manage laptops or desktops that rarely get used. When you do need a desktop, you can connect your Galaxy smartphone to a monitor, keyboard and mouse through Samsung DeX.
Have a team of frontline workers who need devices that can stand up to tough, real-world environments? Check out the Samsung lineup of rugged phones and tablets.
4. Shore up security to protect your data assets as you grow
While large enterprise hacks often grab the headlines, SMBs are increasingly becoming a target for sophisticated hackers, and mobile attacks are at the heart of this growing problem. Exactly half of the respondents to Verizon's latest Mobile Security Index report agreed mobile device threats are growing more quickly than other threats, and it's highly likely the disruption caused by the pandemic gave hackers new opportunities to sneak in without being noticed.
Achieving an enterprise-grade security posture doesn't have to be overly complicated or come with an enterprise price tag anymore. Defense-grade mobile security platforms, like Samsung Knox, take the guesswork out of protecting employee phones for resource-constrained businesses where the CEO, sales or human resources person may also be IT.
Investing in mobile device management (MDM) pays off. A robust MDM solution can ease management and deployment with frictionless out-of-the-box setup, preconfigured apps tuned to the needs of the business, and security settings that protect company data and IP. All of the leading MDM tools integrate closely with Samsung mobile devices, and we also offer an affordable cloud-based enterprise mobility management solution of our own called Knox Manage.
While the benefits of mobility are clear, without an overarching strategy, costly missteps can derail the business. By building a plan with key productivity, availability, and security needs at the forefront, SMBs can work anywhere to ensure they can move quickly on opportunities that will fuel growth. With the help of Samsung Business Financing, you can also remain lean when cashflow is tight, enabling you to enjoy the benefits of mobile innovation without worrying about hidden fees or large upfront investments.
Discover more ways Samsung DeX can enhance your productivity in the office or at home. Then explore Samsung SMB solutions designed to help your business grow.