Advancements in performance, network connectivity, and sheer versatility would be more than enough to explain the growing popularity of tablets among businesses. When you consider how everyday work is changing, though, it's no longer a question of whether companies will want to equip their teams with these connected, multipurpose devices. It's a question of giving employees the best model to meet their specific business needs.
According to TechRadar, for example, 80% of workers feel that larger displays increase their productivity. People want the portability of tablets, but also a PC-like experience, with superior battery life and extra functionality — like the ability to take notes.
Simultaneously, companies are also taking into account the myriad scenarios in which their employees will have to stay connected on the go and use essential business applications. Research from Deloitte suggested a desire for increased productivity and efficiency is the No. 1 reason many firms are investing in both Wi-Fi 6 and 5G.
Meet the Galaxy Tab S9 lineup
Samsung designed the latest Galaxy Tab S devices with all these business uses in mind, starting with key features that are common across all three devices.
This includes a Qualcomm Snapdragon 8 Gen 2 processor that offers our most powerful and fastest performance yet, two-in-one functionality with a keyboard and Samsung DeX, plus enterprise-grade security and management through Samsung Knox.
The Tab S9 series also offers enterprise-ready connectivity with options like Wi-Fi 6E, which will provide access to business apps and data wherever there's a wireless network. Meanwhile, using 5G, employees carrying a Tab S9+ device can continue working without interruption wherever they are, including remote sites or while they're in their vehicle.
To begin deciding which Tab S9 family devices your company needs, think through the everyday tasks an employee or team tends to focus on, and how they collaborate. The Tab S9+ will work well for those whose jobs require extreme portability, while those focused on content creation might need the larger screen of the S9 Ultra.
Shop special offers
Find out about offers on the latest Samsung technology.
see deals
Speak to a solutions expert
Get expert advice from a solutions consultant.
Talk to an expert
Another way to make the right choice is by aligning your Tab S9 device with the specific use cases of the industry or vertical market in which you operate. Read on to explore a few examples based on some common business segments.
Galaxy S9 Ultra
A larger screen compared to the S9 and S9+, ideal for employees who need room for note-taking and multitasking
From 256GB up to 1TB storage and 16GB RAM
An 11,200mAh long-life battery to keep employees productive
Boasting a 14.6-inch display that rivals many laptops, the Tab S9 Ultra offers the space necessary to communicate or visualize complex ideas and collaborate with co-workers and customers. It also delivers 16 hours of video playback time compared with 14 hours on the S8 Ultra.* In addition, it has a fast charging time of only 98 minutes.**
This extra screen real estate is valuable for any multitasker. Like all devices in the Tab S9 lineup, the S9 Ultra offers diverse multiview layouts, which you can adjust based on the kind of experience you need. Finance professionals, for example, can display product and service options to a client or internal team while simultaneously displaying customer feedback to offer social proof or identify areas to improve the customer experience.
The S9 Ultra's Dynamic AMOLED 2x display offers the color and quality to see products as though customers were standing in front of them in real life. A new optional Vision Booster automatically detects high illumination and maximizes vivid colors on the screen, while low blue light and dark mode offer enhanced eye comfort.
Samsung DeX provides the ability to display presentations on an even larger screen. Each new Tab S9 also includes the responsive S Pen Pro2, which supports writing or drawing tips you can use at a 50 to 60-degree tilt. Illustrate a concept for your team or bring an abstract idea to life for your client. Sketch out your next masterpiece. Write a note longhand and automatically convert it to text.
The S9 Ultra is also an example of where the power of a Galaxy-connected experience streamlines workflows. With the new Multi-Control feature, for example, you can control your smartphone with a tablet keyboard and trackpad to reply to messages.
Finally, the S9 Ultra allows employees to work at home, on-site and anywhere else via Wi-Fi 6E. That kind of connectivity ensures support for high-bandwidth apps. A retailer could offer a purchasing app through the tablet, for example, to assist a customer through their entire shopping journey.
Galaxy Tab S9+
Flexible connectivity with 5G for employees working in remote sites or while on the move
A 12.4-inch screen offers enough real estate to tap into productivity features such as multiple windows
Pro level app-ready with Good Notes and ArcSite
Portability matters, particularly with many organizations offering some degree of hybrid work options for employees. The Tab S9+ is like others in the latest series that allows you to activate your device on the go with a new dual SIM feature — a physical SIM and eSIM. This can prove valuable for organizations that are operating private networks.
With a 12.4-inch screen, the Tab S9+ gives mobile workers both the real estate and the performance they need to be productive, including a long-life battery and up to 1TB of expandable memory.
Continuity with the rest of the Galaxy ecosystem means it's easy to transfer information from one Galaxy device to another. A retail manager could connect to desktop systems in the back office, for example, to set up staff schedules, then be on the floor to engage directly with customers and assist associates by suggesting accessories and complementary products.
You can also connect the Galaxy Tab S9 to a keyboard, and use DeX in a vehicle. A government employee, for instance, could leave an off-site meeting and then go to their car and add more detailed notes, enjoying flawless connectivity to their applications over 5G.
Support for pro-level apps like Good Notes and ArcSite, meanwhile, will enhance the ability to enjoy the freedom of handwriting or doing quick and easy CAD/CAM designs.
Galaxy Tab S9
The most lightweight Tab S9 device with an 11-inch screen
Wi-Fi 6E connectivity allows the team to work at the office, at home or wherever there's a wireless network
The same next-generation processors as the Tab S9+ and S9 Ultra drive premium performance for anyone on the team
An ideal device for digitizing business and replacing backend paper-based processes
There are hardly any jobs left where mobile devices like tablets aren't offering a compelling alternative to traditional business processes.
Especially in this age of remote and hybrid work, devices that enable effective work from wherever employees may be based — and connectivity among your team — are more important than ever before.
What's the best tablet for your business?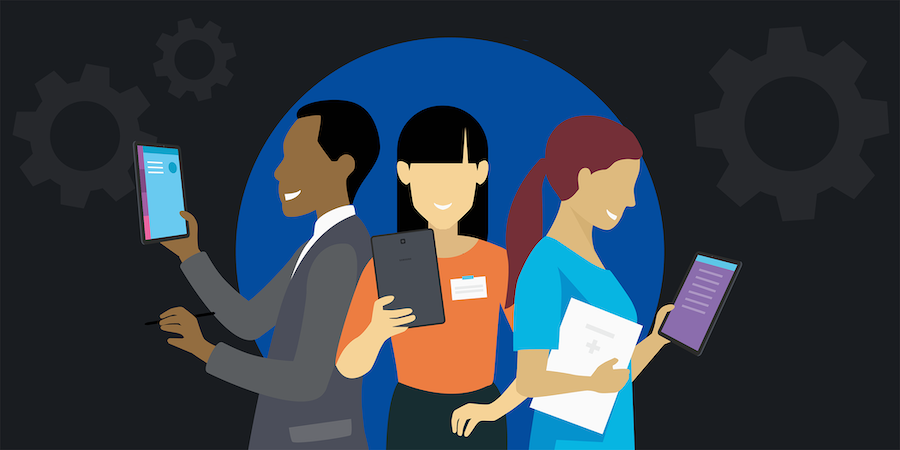 Take this quick assessment to see which Samsung tablet would best support your business needs. Download Now
Financial institutions, for example, are reimagining the branch experience by arming employees with devices like the Tab S9 to offer enhanced customer service and account management.
In all these cases, the S9's 11-inch screen and lightweight body provide the portability they need and an 8,000mAh battery to take them through their entire day. If their job involves taking videos, employees can use the new Auto Share feature to take the footage they shot on their smartphone and edit it conveniently on their tablet.
Galaxy Tab S9 FE series: Galaxy Tab S9 FE (Wi-Fi only, or Wi-Fi & 5G), Tab S9 FE+ (Wi-Fi only)
S Pen included in the box — perfect for sketching out ideas, taking notes or marking up documents on the go
Secured by Samsung Knox
Two large display options, with a full 10.9-inch display for the Tab S9 FE (Wi-Fi and 5G models), and an impressive 12.4-inch screen featured on the Tab S9 FE+, Tab S9 FE Wi-Fi
Tab S9 FE 5G
Samsung's Tab S9 FE 5G is perfect for team members who need to stay productive and connected while on the go. This tablet boasts a powerful processor, a long-lasting battery and reliable 5G connectivity, making it ideal for your mobile business needs. No more working from a hotspot or asking a client for their Wi-Fi password — no matter where the workday takes you.
Tab S9 FE Wi-Fi
Conversely, across industries like retail, manufacturing, warehousing and more, employees need to stay connected and complete a variety of tasks while away from their desks. But their work is taking place all in a centralized location. Boasting water and dust-resistance and all the benefits of the Galaxy Connected Ecosystem — which streamlines file-sharing and even adds phone call capability to the device — your team will be more productive, and more connected, than ever before with Tab S9 FE Wi-Fi. All without a pricy service plan.
Tab S9 FE+ Wi-Fi
No matter where a client presentation takes place, the 12.4-inch display of the Tab S9 FE+ will have them engaged from start to end. Everything looks professional on a big, bright 12.4-inch Galaxy screen. There's plenty of room to tackle your day with a large, dynamic viewing experience whether you're multitasking projects, designing a presentation or videoconferencing. Plus, dual speakers make everything sound amazing.
As organizations across verticals continue to accelerate their digital transformation journeys, the Galaxy Tab S9 portfolio will allow businesses to augment the effectiveness of their PCs and related systems with devices that were purpose-built for multitaskers on the go. And instead of just one option, they'll be able to choose from three different versions to ensure everyone has the best device for their job.
Ready to switch to a tablet, but not sure the Tab S9 is the right choice for you? Take this free, quick assessment to match your business needs with the ideal tool for the job. And see how you can get the most out of Samsung DeX on your Galaxy tablet.
* Based on local, 720p resolution video playback, default video player (full screen), 162 nit brightness, earbud volume 7, Wi-Fi and mobile network off. Results vary with settings, usage and other factors.
** 1Wall charger sold separately; use only Samsung approved chargers and cables. To avoid injury or damage to your device, do not use incompatible, worn or damaged batteries, chargers or cables. Supports up to 45W charging.