For the armed forces, training is time-consuming, costly and potentially dangerous — but technology offers a better way. Increasingly, military leaders are turning to virtual reality (VR) as a means to make training more efficient and more cost-effective.
With the help of immersive VR experiences, "we can get better training for our soldiers and we can do it more efficiently," said LTC Michael Stinchfield of the Combined Arms Center's Training Innovation Facility at the National Simulation Center.
With the rise of inexpensive equipment, highly detailed and customized simulations, VR can provide a full range of immersive scenarios for military training – from mission rehearsals to live fire exercises. By being placed in a more hands-on learning environment, personnel can not only gauge more realistic reactions but also have higher retention of information since VR brings training beyond theory.
Endless Applications and Scenarios
Virtual reality can come into play early in a soldier's career, beginning with a virtual boot camp experience. Diverse scenarios can be tailored to the different service needs, with programs supporting skill drills, physical fitness and other key boot camp experiences, reducing the number of instructors.
Winter Sports Clinic: A New Reality for Veterans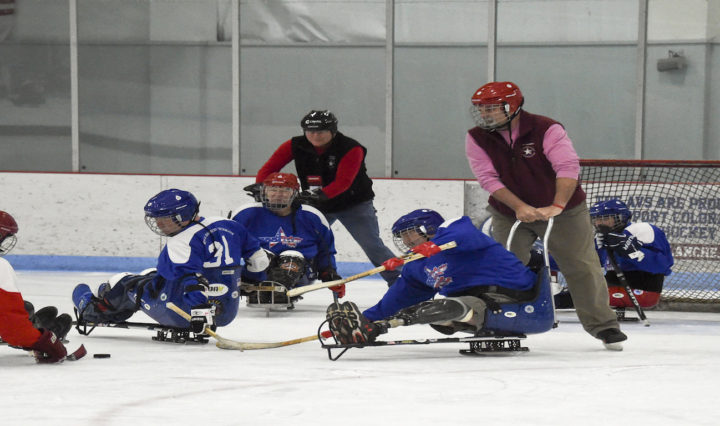 Learn how disabled veterans are staying active with the help of virtual reality. Download Now
VR technology is being used to support tactical exercises as well. The U.S. Army Edgewood Chemical Biological Center, for instance, has been designing immersive experiences to simulate real-life scenarios. "One of the benefits of this technology is that it can be used anywhere, making it easier to conduct effective training, in a shorter time frame and in multiple settings," the Army notes. Training software can be deployed overseas if needed and can be implemented either in the field or in the classroom.
Medical training can also benefit from the flexibility of virtual reality. While it can be difficult in a classroom to simulate the complex swirl of activity a field medic may encounter, VR offers a way to generate realistic battlefield conditions for the purposes of training. This immersive, experiential approach can help prepare medics to better cope with the confusion and chaos of the battlefield, and can also expose them to a range of scenarios not easily replicated with traditional methods.
Vehicle and flight simulations provide another application for VR to augment conventional training. These types of training can be expensive in terms of fuel and time, and there's always a risk of damage to the equipment with a novice at the helm. With virtual reality, soldiers can learn how to operate a plane or vehicle and can also prepare to tackle emergency situations. Simulators mimic the real motions and sensation of a vehicle, thus helping to prepare troops for actual field experience.
Virtual reality is also on the rise as a means to conduct combat training. This is a key for new recruits, gearing them up to obey orders without question and to respond with alacrity under duress. VR can simulate sights, sounds and motions of the battlefield, drilling soldiers to act as effective team members and building their individual resilience.
Custom Capabilities
One advantage VR has over the conventional classroom training is in its ability to generate highly complex simulated scenarios. The battlefield is comprised of many moving parts: people, gear, ammunition and vehicles. That swirl of activity can be difficult to recreate in a traditional training scenario with limited resources and traditional methods. On the other hand, VR designers can craft an environment that is exceptionally rich in detail, one that gives a high degree of accuracy and includes the diverse range of variables that converge on the battlefield.
"Being able to combine artists and programmers gives us a lot more potential than some organizations that just have computer scientists or engineers," says Joseph Williams, computer scientist and lead software developer at ECBC. "This helps develop a better product."
Software programs with different variables ensure that trainees can potentially be exposed to more than one demonstration within a training session. Additionally, VR also makes it easier to bring the trainings beyond a classroom setting on a military base — empowering soldiers with combat skills and the latest tactics abroad or even in the field.
Finally, VR speaks to the interests of a new generation of soldier — a generation weaned on electronic experiences, with an intuitive appreciation for digital information. Interactive 360-degree training operates in the video game vernacular, while taking that idiom to a new level of depth and intensity. VR technology is highly convenient for recruits in attracting new soldiers. As the armed forces seek to train and equip soldiers, VR offers an affordable and readily available way to bring field medicine, live fire combat, boot camp exercises and a range of other military training scenarios to life.
Our government technology solutions are ready to assist government agencies with their digital transformation efforts.