Working on a mobile device with a small screen imposes a "cognitive load" on the user. The text and menus are small, there is too much toggling between windows, and it's a struggle to do something basic like cut and paste text. This is not a formula for productivity, and it can be a real headache, too.
With Samsung's new Galaxy Note8, we're trying to shift much of that cognitive load to the phone itself. With its expansive 6.3-inch Infinity Screen, S Pen and a slew of smart productivity tools, the Note8 makes it easier to do more. You could say that it increases mobile productivity, but many people simply say it makes life easier. This is all part of our effort to create the best smartphone for business.
Imagine that you have to dial in to a conference call using an invite on your Calendar app. Problem is, the person who sent the invite didn't include the passcode in the format that allows automatic dialing. With a typical smartphone, you are going to switch back and forth between two windows and either struggle to cut-and-paste the passcode you need, or maybe you will attempt to remember those nine digits. Good luck. We've watched users try both approaches, often with frustrating outcomes.
But with App Pair on the Galaxy Note8, you can launch both the Calendar and dialer apps simultaneously on on a split-screen. You don't have to memorize anything; just look at the invite and enter the code. The phone does the work, instead of you.
Likewise, if you are reviewing a colleague's report and want to provide feedback on a chart. In the past, you might find yourself toggling back and forth between the chart and your email app to note down your comments. Instead, with the Galaxy Note8 and S Pen, you can quickly access the Screen Write tool and be instantly annotating directly on the chart by hand. Then you'll simply save and hit share to send back your feedback. Much faster, less stress.
Discover the Most Intelligent S Pen Yet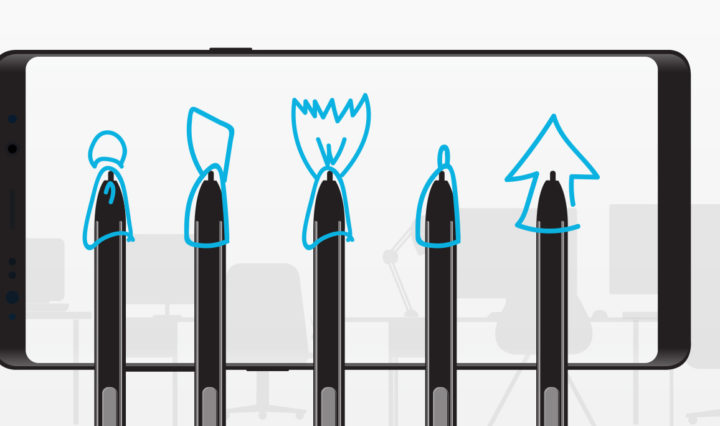 Learn five smart tricks you can do with the S Pen in this infographic. Download Now
The S Pen on the Note8 is our smartest and most precise yet, so that you can more easily employ intuitive actions like checking a box, circling something of interest or highlighting text. Think of a catering service that needs to run through a new menu, check off the options they prefer and sign a confirmation. By making these tasks easier and faster, we help you sell and deliver your services.
A Mobile-powered Desktop Experience
For when you need an even bigger screen, there is Samsung DeX, our docking station that lets you to extend your smartphone to the desktop. Introduced with our Galaxy S8 device, the DeX experience is further enhanced with the Note8 with an improved email app and app launcher screen.
DeX is a game-changer for highly mobile workers, allowing you to dock your phone and access a desktop-like experience with a monitor, keyboard and mouse. It further simplifies your life, as the phone itself serves as your computer and the main access point to all your data.
By shifting cognitive load to the device, we increase mobile productivity but we also make new applications possible, taking some of the guesswork out of your daily routine. Instead, you've got all the information you need at your fingertips. Especially with applications such as Bixby Voice, you can simply ask your phone to access what you're looking for — decreasing the amount of time usually spent searching through miscellaneous files.
A Balancing Act
Building the best smartphone for business involves a delicate balancing act between what's best for each of our business customers — think organizations from 30 to 300,000+ employees — but also delighting each individual phone user. Their needs and goals are not always the same.
Companies need top-notch security and seek to maximize mobile productivity, but individuals have a broad range of needs, some of which they can't explain until they have a phone in their hands and start to use it. That's why we want to make sure our devices can be customized for user preferences, from home screen settings to expandable storage options.
Since the Galaxy Note8 features our largest Infinity Screen without a corresponding increase in the size of the device itself, people are often surprised by what's now possible. To put it simply, this is a phone on which you can move past your finger as the sole input mechanism and instead access a much higher degree of precision and focus.
In introducing new devices, it's easy to get caught up on features and functionality. My goal today has been to help you grasp the thinking behind our latest phone: To shift the workload to your mobile device. When you think of entire companies starting to adopt this strategy, you recognize just how much productivity a mobile device can deliver.
Discover how the Galaxy Note8 can bring a new level of productivity to your enterprise.