Whether you're using your mobile phone for work or play, we all have the same needs: a quality device that has a display that you can still see in direct sunlight, and boasts all-day battery life, a great camera and an easy-to-use interface. But if you'll be using it on the job, there are additional considerations — namely, how will it help you be more productive at work?
The new Samsung Galaxy Note8 was designed with this question in mind. With its 6.3-inch Infinity Display, upgraded S Pen and multitasking capabilities, the Note8 can help you be productive at work and at home, using the same device — which is just one of the many reasons why you should switch. And with Secure Folder, you can keep your personal apps and data protected.
Here are seven reasons why switching to the Galaxy Note8 makes sense for business users:
1. Infinity Display: Although you can now access many of the enterprise tools you use for work right from your smartphone, you likely still use your tablet or laptop for certain tasks, even when your phone is closer. Why? Larger screens are easier to see and require less scrolling. With a 6.3-inch Infinity Display, the Note8 makes it easy to view PDFs and spreadsheets, letting you see more by scrolling less. Even if you need to work outside, the sun's glare won't slow you down. Thanks to the Mobile HDR Premium-certified Super AMOLED display, the Note8 gives you a cinema-quality screen with sharp, true-to-life color — indoors and out.
2. Dual Messenger: If you use the same messaging apps for work and play, switching between accounts can be a real pain. Dual Messenger on the Note8 solves that problem. Rather than logging in and out of accounts, you can run the app as two separate instances. This way, you never miss an important message from your colleagues and customers, or your friends and family. Dual Messenger works for Facebook, WhatsApp, WeChat and more. It also sets up the screen to ensure you won't accidentally post the wrong photos or statuses to the incorrect account!
A Day in the Life With the Note8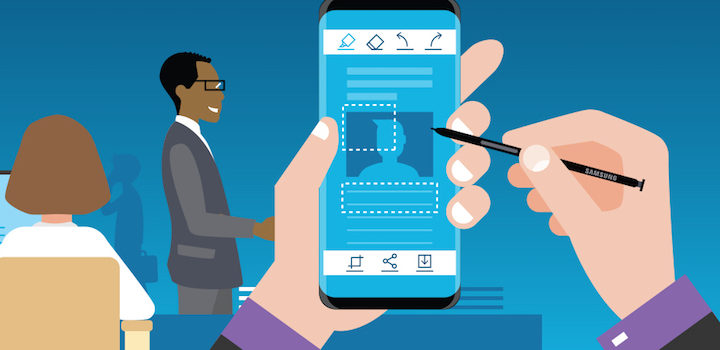 White Paper
See how the Galaxy Note8 can help you increase productivity throughout your day in this infographic. Download Now
3. App Pair: Toggling between apps is inefficient, and sometimes you need to use two different apps at the same time. The Note8 features App Pair, which lets you pair two apps to launch at once in multi-window view. For example, if you need to participate in a video conference call and read the meeting agenda, you can pair Skype and Microsoft Word and view the content side by side. Better yet, multitasking won't drain your processing speed and battery. The Note8's 10nm processor and 6GB RAM keeps you running at top speed regardless of how many apps are open.
4. S Pen: Don't you hate it when you have a great idea and lose it before you have a chance to write it down? That won't happen with a Note8. You can take notes on the go, without unlocking your phone, just by writing on the screen. The Infinity Display has been optimized for writing, and the Note8 features the smartest S Pen yet, enabling you to extract and translate text, annotate PDFs and documents, and hand-write messages. Like the Note8, the S Pen is dust and water resistant, so you can even make notes if you get caught in the rain.
5. Great Camera – Front and Back: Finding time to be face-to-face is important for business communication, and video conferencing has made that possible even when you are in different countries. Featuring the world's first Dual Camera with Optical Image Stabilization on both lenses and Live Focus, the Note8 makes you camera-ready, wherever you are. And the 8MP front camera with smart focusing to make your video chats sharper than ever — you don't even need a computer to have a professional video call. You can also take clear, well-lit pictures, even in the dark or from afar.
6. Secure Folder: Using a single smartphone for work and personal use can be complex. With Secure Folder, you can keep all your personal apps and data in one place, putting additional security measures such as biometric authentication in place to make it even more secure. Switching to the Galaxy Note8 not only brings with it huge benefits for you, but it also supports Knox 2.9, which offers device protection from the chip up, making it easier than ever for IT departments to implement a BYOD policy.
7. Smart Switch: Perhaps most importantly, getting a new phone is exciting, but migrating your data takes so long (and is so error-prone) that it can take the joy out of getting that new mobile phone. Switching to the Galaxy Note8 is easy thanks to Samsung Smart Switch, which enables you to seamlessly transfer contacts, photos, messages and other data from your old device. Choose from one of three simple ways: transfer content directly from your old phone wirelessly, transfer content directly from your old phone via USB cable or you can transfer content from a PC or Mac to your new Galaxy Note8 phone.
Can your current phone do all that? If not, maybe it's time to let the Samsung Galaxy Note8 help you be more productive at work and on the go. Switch today.
Discover how the Galaxy Note8 can bring a new level of productivity to your work day.