What if all you needed for a meeting was a smartphone? No more lugging around a laptop. No more searching for a pen and notepad to capture notes. No more struggling to connect to Wi-Fi networks.
The super powerful Galaxy Note9, with its S Pen and DeX capabilities, gives you everything you need to be a mobile meeting pro. Here are five ways you can put the Note9 to work to power productivity in the meeting room.
1. Screen Off Memo
The Galaxy Note9's S Pen is a great tool for taking quick meeting notes. You don't even need to unlock the screen — just pop out the S Pen and Screen Off Memo will instantly launch. You can now start taking handwritten notes, tapping the down arrow to add additional pages as you need them. Once you're done, just hit Save and your meeting minutes will be stored for future reference or sharing.
2. Samsung Notes
Samsung Notes, which is preloaded on the Note9, is a versatile note-taking app to replace your pens and paper pads. It has a classic notebook feel, but adds all the digital upgrades including write-to-text, dictation-to-text and more. It's also where you'll find any Screen Off Memos you've saved.
Launch the Samsung Notes app and tap the plus sign at the bottom to create a new note. Now you can add a title, and select Text, Pen or Brush. Pen is great for handwritten notes or sketches, while Brush lets you get a bit more artistic.
When selecting Text, you'll see the keyboard pop up at the bottom of the screen. You can type away, or tap the microphone icon to dictate a memo. To use the handwriting-to-text feature, tap the down arrow and select Handwriting. This will open a notepad where you can write away, while your notes are converted instantly to text in the window above.
3. Annotating Presentations and Documents
What if you need to add notes right on the presentation or another document during the meeting? Screen Write is another smart feature that takes advantage of the Note9's S Pen, allowing you to annotate anything on your phone's screen.
Discover the Note9 for Business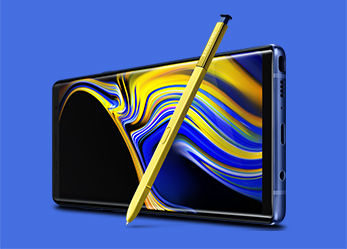 White Paper
Learn more about how the new Note9 can power your productivity through the Next Mobile Economy. Download Now
To use Screen Write, first, open the presentation or other documents. Pop out the S Pen, and tap the pen icon on the right side of the screen to open the Air Command menu. Now tap Screen Write — this will instantly take a screen capture of the document you were viewing and open a set of editing tools. You can add notes with your S Pen, as well as Crop, Share and Save. Another option: Scroll Capture lets you capture a longer webpage or multipage document, and then annotate.
4. Presenting From Your Phone
What if you need to present? With Samsung's DeX adaptor, you can connect to most conference room displays or TVs with HDMI inputs, and share slides or other content.
To do this, connect the DeX adaptor to your Galaxy Note9 and the HDMI cable on the conference room display or TV. Samsung DeX will launch on the big screen, giving you access to all your mobile apps in a desktop UX. For a quick presentation, you can just use your phone as a touchpad by activating it in the Notifications list. Then just open the content you'd like to share and maximize the window.
If you are sharing a PowerPoint presentation, you can even use your S Pen to advance the slides. Just click the button on the side of the S Pen once to advance and twice to go back. The Bluetooth Low Energy connectivity on the S Pen works for about 200 clicks; then just reinsert your S Pen into the device for a quick recharge within 40 seconds. Other smart features using the S Pen as a remote control can be managed in the Settings menu on your Note9.
5. Get More Out of Samsung DeX
If you regularly run meeting presentations off of your Note9, consider connecting a keyboard and mouse to get even more out of the DeX platform. You can pair a Bluetooth keyboard and mouse, or use a multiport adaptor to connect USB peripherals.
With the keyboard and mouse connected, you'll have a full desktop experience on the conference room display, powered from your smartphone. And, since you don't need to use your phone as a touchpad now, you can keep using it as a phone at the same time. This is useful, for example, if you want to keep taking notes privately on your phone while sharing the presentation via DeX on the big screen.
A powerful smartphone like the Galaxy Note9 is really all you need to be a meeting pro. Whether taking quick notes with the S Pen, sketching your big idea or connecting to the conference room display via DeX to present, with the Note9 it's time to forget your laptop, on purpose.
Still on the fence about upgrading? Discover how Samsung Smart Switch makes the move to a new Galaxy Note9 simple.