The Challenge
In a manufacturing facility with 40 assembly lines, issues are bound to arise. To gain a competitive advantage that would reduce costs and allow for continued improvement and growth, Magna International wanted to move from a reactive approach of using radios for employee communication at their plant in Ontario, Canada, to a more proactive one, where issues would be handled immediately. The ability to gather more intelligence about crucial areas like factory waste and mean time to repair was also a high priority.


The Solution
Samsung worked closely with Magna to create a comprehensive enterprise solution that would not only provide them with real-time information about their factory environment, but also allow them to take the first step toward becoming a smart factory. The end-to-end solution uses Samsung Gear S3 smartwatches, tablets and 55-in. TVs around the facility. Tablets are used to send alerts to maintenance personnel on smartwatches when issues arise, while TVs display reporting and analytics on critical factory metrics, like mean time to repair. With improved factory intelligence from wearables, Magna can more easily identify areas of waste and react faster to issues. 


A 15 percent improvement in downtime would save them over $250,000 annually, with a full return on investment in less than a year.
The Results
The integration of Samsung technologies, including the Gear S3 smartwatch, has allowed Magna to reap the benefits of wearable technology by improving maintenance personnel response times and gaining plant intelligence that wasn't previously available. The plant can now further reduce downtime and improve their manufacturing waste through smart factory projects. Additionally, the technology is helping the plant visibly speed up its continuous improvement curve, which is providing a competitive advantage in a price-aggressive marketplace.



Magna International, Inc. is a large automotive parts company, supplying OEMs in 28 countries and four continents around the world. Its Dortec Industries plant in Newmarket, Ontario, Canada, which is overseen by Magna, has been around since 1985. The plant manufactures 21 million door safety latches per year and has 40 assembly lines.
Competition from China and other low-cost labor regions have put pressure on the plant, but the Newmarket location continues to defy odds and shine as a beacon to other Canadian manufacturers, offering encouragement that Canada can compete in the global marketplace. A critical component of its ability to remain competitive has been the plant's focus on being efficient and striving for continuous improvement and growth. In its latest efforts, Magna turned to Samsung and the benefits of wearable technology to help move toward its goal of becoming a smart factory and using innovative technology to continue to advance.
The Challenge
Maintain a Competitive Edge Through Continuous Improvement
The automotive manufacturing industry is highly competitive. Being situated in a high-cost labor market region such as Canada means it's even more critical to reduce costs and increase efficiency to compete with low-cost regions around the world, both internally at Magna and externally. To remain competitive, Magna has embarked on a continuous improvement project across all divisions worldwide.
At the Dortec plant in Ontario specifically, they wanted to focus on and improve systemic downtime as part of the overall continuous improvement project. They were also seeing a trend in wearables and VR and AR, and wanted to try to integrate some of these technologies into their current tech environment.
One significant efficiency challenge the plant wanted to resolve with wearables was improving employee communication. When a line goes down, there are usually only one or two people in a given facility who can resolve the issue and restart the line. Finding those individuals by phone, radio or physical search inside an enormous and loud manufacturing facility can be a difficult and time-consuming process.
"We were trying to create a system that could self-generate and be more intuitive than our current reactive setting," said Darren Charbonneau, the director of lean manufacturing at Magna International.
Another aspect of the project was to leverage the wearables to collect intelligence that would make waste more visible than in the past. The key areas of waste that the plant focused on include:
• Minimizing transportation
• Reducing downtime
• Making rework visible
• Better utilization of skills, capabilities and talent
To meet these goals, the company was looking to leverage new technologies and capabilities that would improve the quality, flexibility and efficiency of manufacturing processes. They also wanted to make these processes more intuitive to boost their culture of continuous improvement.
Finally, with a long-term goal of becoming a smart factory, the company wanted to find a partner who could work with them to develop a baseline for a smart factory concept. Because they are a global company, they also needed a partner who had a similar global reach and the expertise to show them how to leverage and develop a technical solution that would meet the needs of their environment.
"We needed the expertise and real-world experience of Samsung's business solutions and the integration of the technologies it has to create a new level of improvement. This is a key part of this partnership."
—Kyle Robinson, Continuous Improvement Supervisor at Magna International
The Solution
Wearables and Factory Tablets Aid Continuous Improvement Efforts
When Magna began their search for a partner to help them reduce downtime and increase efficiency across the plant with wearable technology, Samsung quickly emerged as the right choice. Among the leading factors was that Samsung could offer an end-to-end solution, not only from a product standpoint, but also with software.
"We were able to utilize Samsung's enterprise solutions as a package set where we would have [otherwise] required multiple vendors to supply us," said Charbonneau.
Using the Samsung Gear S3 smartwatches, tablets and 55-in. TVs, the factory was able to implement a more proactive approach to employee communication and downtime resolution.
The solution involves using tablets that are connected and can "talk" to the smartwatches, which then communicate with the tablets around the plant. Kristin Abbinante, who worked with Magna on the project as the senior mobile enterprise business manager at Samsung, noted that because "security is paramount to any organization," the entire solution is also secured and managed by Samsung Knox, the defense-grade security solution built into Samsung mobile devices from the chip up.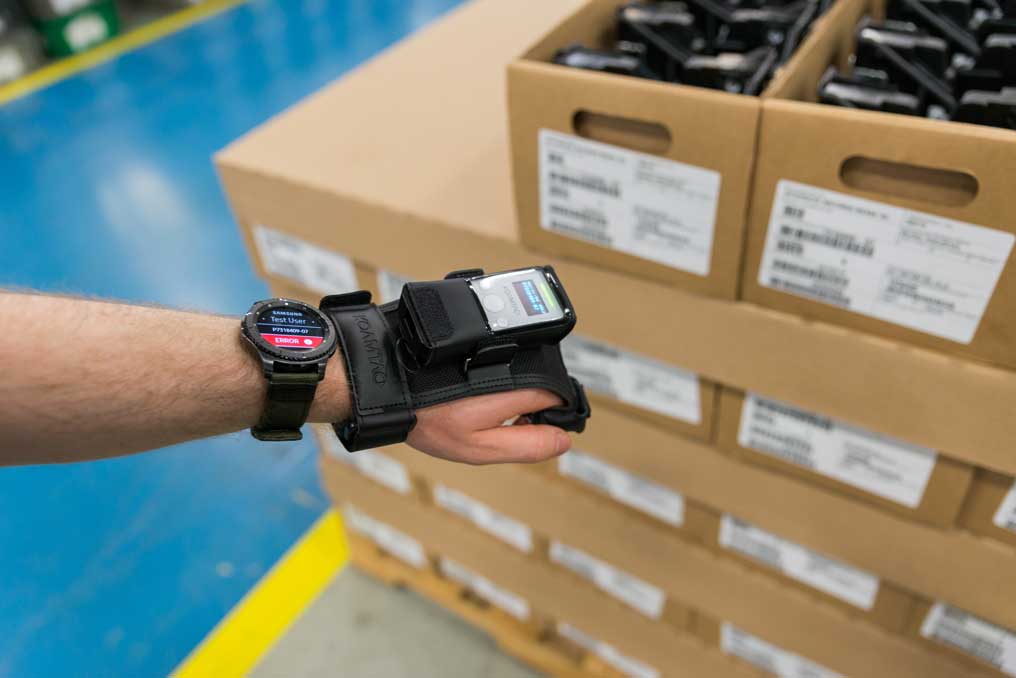 With the use of wearables and tablets on the shop floor, the plant is also able to envision how to achieve their next steps, which include:
• Going paperless
• Using analytics in a paperless environment via touch screens
• Creating more intuitive analytics to guide operations
• Speeding up continuous improvement curve over time
• Achieving more innovation in the future
The company also notes that the partnership with Samsung was about more than just its products. "We needed the expertise and real-world experience of Samsung's business solutions and the integration of the technologies it has to create a new level of improvement," said Kyle Robinson, continuous improvement supervisor at Magna International. "This is a key part of this partnership."
Samsung has provided support to educate plant management on what technology is available and how they can leverage Samsung services to the company's advantage. "Samsung showed us several use cases outside our industry to start the creative cycle and see if we could change or adapt those to our needs," Robinson said.
In addition, Samsung gave Magna the opportunity to visit its product experience centers in the United States and Canada so they could see the technology in use. They were even able to visit Samsung's Korea-Gumi plant, which operates as a smart factory, to see the potential future state they could achieve.
Stay connected every step of the way and get expanded manageability, customization and productivity.
Make meetings more efficient with an interactive digital flipchart designed for creative thinking, collaboration and business innovation.
The Results
More Efficiency and a Greater Competitive Advantage
To determine the value of improving employee communication with the integration of Samsung technologies, Magna began by calculating the ROI of improving systemic downtime. According to their calculations, a 15 percent improvement in downtime would save them over $250,000 annually, with a full return on investment in less than a year.
In addition to the solution being able to quickly pay for itself, there were several other benefits.
• Faster reaction times to issues: With more data and intelligence coming in via wearables, as well as being more visible by using TV screens to display reports and analytics, the plant can make better decisions faster. "Going into a paperless environment, you can get all that data, trend it, chart it, understand it and make better reactions and actions coming out of it," said Charbonneau.
• Continuous improvement and cost savings: The solution allows more technology and monitoring on the production floor, which in turn is reducing waste. With better intelligence on the floor, Magna can continuously reduce costs as time goes on.
• Software is deployable across the company: The software being used at the plant can easily be transferred to other Magna divisions and groups within Magna. The only cost for implementation would be the capital required to purchase the hardware.
• Provides a baseline for a smart factory: The infrastructure implemented with this solution provides the base technology for other smart factory improvement projects and phased improvements, which will provide the plant an advantage over many of their competitors.
• Enables future implementation of emerging technologies: With the success of this project, the company is now launching a VR application for divisional benchmarking as well as using VR in other areas such as training and remote troubleshooting. Charbonneau noted that their experience so far with the Samsung solution has allowed the plant "to be more confident in pursuing emerging technology like AR/VR that can be leveraged in many ways."
Another future project that the plant is working on with Samsung is using facial recognition for their training process. The plan is to use a tablet with facial recognition that will be able to identify and authenticate the operation staff coming to a specific station. "This will allow the company to validate that the right product at the right time is being made with quality in mind," says Charbonneau.