Smartphones and mobile apps are increasingly critical to the operations of small businesses. According to research from SMB Group, two-thirds of SMBs say mobile solutions are changing how they work and collaborate.
As we enter the second decade of the smartphone era, bring your own device (BYOD) policies remain popular with smaller organizations, with 52 percent either currently supporting BYOD or planning to in the near future. However, with the increased importance of and reliance on mobile, SMBs would be wise to reconsider their approach to mobile device management, or MDM.
What Is MDM?
Sometimes part of a broader enterprise mobility management (EMM) suite, MDM is software that lets you control and enforce your company's policies on employee smartphones or tablets. It enhances security and functionality while minimizing device downtime and reigning in support costs. In simple terms, all employees install an MDM client application on their mobile devices. The IT administrator is then able to configure and adjust settings and policies for all enrolled devices via an MDM portal.
At first glance, MDM might seem too complex for your small business, but it's often essential. If you use smartphones for anything more than voice calls without an MDM in place, you may be putting your business at risk for data breaches and regulatory compliance issues. According to research from SMB Group, 70 percent of SMBs don't use MDM, even though there are SMB-friendly, affordable options.
What Does MDM Do?
To help you enforce policies on smartphones and tablets, MDM uses software agents on the devices and an MDM server in the cloud or on-premises that sets the device policies. These products typically come with over-the-air (OTA) distribution, which enables the server to push policies, applications and updates to the device. The MDM agent applies the policies to the smartphone or tablet so that, for example, biometric authentication is required or the device can't download certain social media apps.
Choose the Right Phone for Your Small or Midsize Business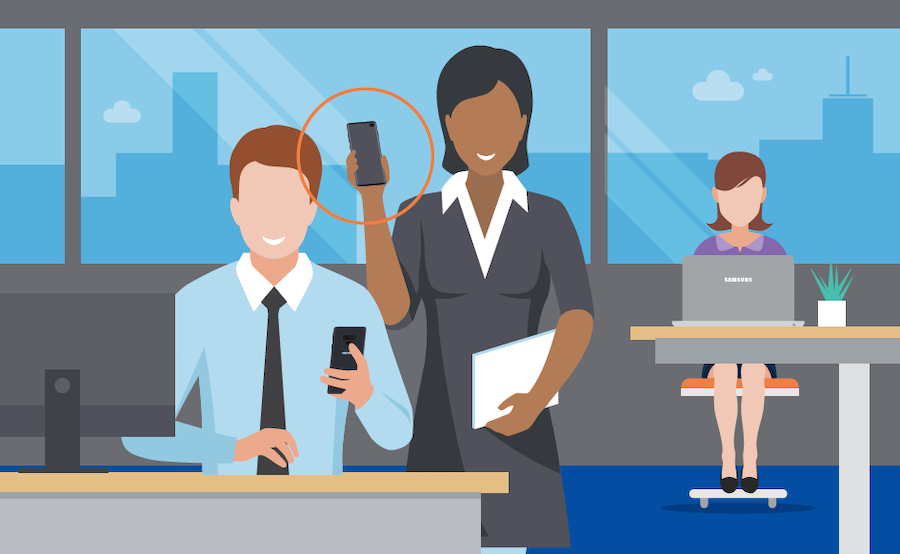 White Paper
Get your free guide to matching the right smartphone with your business and employee needs. Download Now
Most MDMs have enough features to help you secure any mobile devices used by employees, whether they're BYOD or company-issued. You can track devices, enforce strong password policies, distribute applications and updates (like a new version of the mobile CRM app, similar to what app stores do for consumer apps), remotely wipe the devices if they're lost or stolen, or encrypt data on the device itself.
MDM Is Priced Per User
With balancing the books usually top of mind, small businesses want to weigh these benefits against the cost. A recent study by Oxford Economics finds the typical monthly cost of MDM is between $3.25 and $9 per device. Pricing information for eight different solutions is featured in a recent PC Magazine article, along with a comparison of the different feature sets. Of course, the cost rises as you add more features, such as containerization or data separation. Some MDMs, including Samsung's affordable cloud-based Knox Manage solution, offer free trials.
On-premises and cloud-based versions each have their advantages and disadvantages. On-premises products require companies to install the MDM server product in a data center and need one or more IT professionals to maintain it, which may be beyond the scope of a small business. However, companies have complete control over on-premises installations and they're ideal for companies that must have Active Directory integration.
Meanwhile, cloud MDM products don't require a server and are automatically updated by the vendor. It's often recommended that small business IT managers start with a cloud-based solution because of the smaller capital investment and consistent capabilities. Additionally, cloud security has come a long way in the past few years. Data centers in the cloud are often just as (if not more) secure than their on-premises counterparts.
What does bring hefty costs is a data breach. According to the Ponemon Institute, the average cost per record is $148. For healthcare organizations, that amount can be as much as $408. If your employees are using their smartphones for business purposes, they likely have sensitive information stored in their email inbox or mobile apps. What happens if their device is lost, stolen or hacked through a rogue app they downloaded or unsecured WiFi? Small businesses often don't survive a data breach.
MDM protects mobile devices used for business purposes, whether they're company or employee-owned, and helps protect the organization from risk. As your small business becomes more mobile, an MDM becomes indispensable.
Sign up for a Samsung Small Business Account to receive discounts and special offers on smartphones, tablets and more.