In an effort to stay competitive, department stores are upgrading their selections and technology to appeal to a younger demographic. Historically, department store trends include decades-old habits of doing business that rely on a wide assortment of overlapping generic merchandise and discounted sales to get customers in the door.
Yet while specialty retailers have grown, department chains have collectively closed or announced the closure of 8,000 stores in 2017, according to NPR — with no sign of the trend abating in 2018.
Today, the most successful stores are moving away from passive strategies and using technology and customer service to actively engage shoppers with meaningful experiences.
Bringing in New Opportunities
Mobile point of sale (mPOS) systems can be used wherever, whenever and however they're needed, which is why they're gaining adoption within retail settings. Mobile devices offer flexibility and empower associates to actively engage shoppers on the sales floor, serving as a point of information.
This can help retailers not only close sales, but deliver two of the things shoppers seek most: personalization and convenience.
Revolutionize Retail Through Technology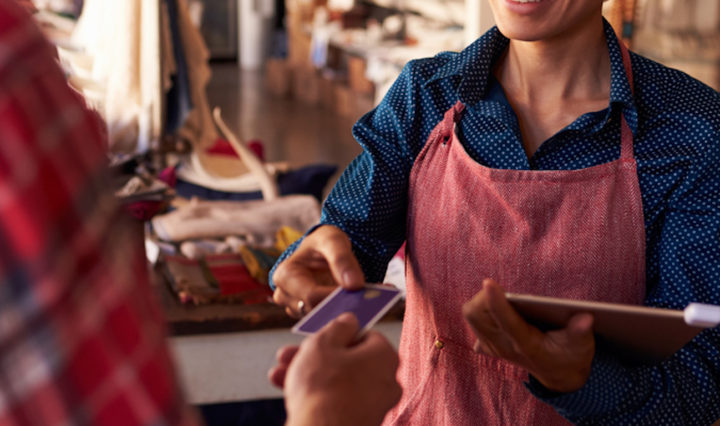 View the infographic to learn how digital technology is transforming the shopping experience. Download Now
Furthermore, they put information and transaction capabilities in the hands of associates, empowering them to actively engage consumers. Through cameras and apps, mobile POS can be used as a barcode or card scanner to assist customers, check prices and conduct inventory.
Tablet POS: A Flexible Device
Beyond mobile technology, tablet POS systems offer a number of advantages, and can help department stores upgrade their customer experience. With a larger screen and more connectivity, they are suitable for multiple types of transactions and information processing. An mPOS with defense-grade, multi-level security starting from the chip up also provides essential protection against data theft.
The Samsung Tab S4 is ideally suited for mPOS applications with its advanced feature set — including an S Pen stylus to collect customer signatures and DeX support that enables a manager use applications such as inventory management in full desktop mode.
As part of an active retail strategy, tablet POS systems enable associates to approach customers on the sales floor, start a conversation and make a connection. Putting tablet POS systems in the hands of associates can help enhance the customer experience, boost sales, reduce wait times and increase basket size.
They can also be a valuable tool for closing and saving sales. For a customer who is interested in a piece of apparel that is not available in their size, a tablet enables an associate to check other stores for available inventory, or order it and have it sent to the customer's house. Since it can be done right there on the spot, the associate doesn't have to leave the customer, possibly losing the sale.
Changing the Retail Game
Department stores can have long transaction wait times during peak seasons, which can be detrimental to the bottom line. Smartphone or Tablet-based POS systems let associates break up the line and check customers out before they become frustrated and abandon the sale. It also lets the store create and move additional POS on the fly, as demand required.
This model can also help store associates make personalized recommendations for products and access the customer's preferences, buying history and recommendations.
Ultimately, these setups offer a new way to improve the customer experience and close the sale on the spot. As department stores are working to keep relevant in the world of unified commerce, tablets and mobile POS systems are an essential tool.
To draw in new customers and make the most of their visits, many stores are turning toward mobile technologies, which employ devices to change the way customers shop and work for the modern era.
To draw in new customers, many stores are turning toward experiential retail, which relies on technology like mirror displays and digital signage to attract shoppers.