Move over, single-app tablets. Restaurants that are embracing the food delivery trend are leveraging tablets in a new way — as dashboards and delivery companions to manage orders, dispatch tasks and deliveries in one place.
Thanks to an array of new order management apps and POS integrations, restaurant managers can integrate incoming orders from partners like GrubHub, DoorDash and Uber Eats with their point of sale (POS) applications, offering a slew of advantages, including removing the need to re-key orders, granting control of how orders hit the kitchen, and better management of dispatch and delivery. These apps can even leverage this new food delivery technology to manage their own in-house delivery staff to ensure high customer service levels and efficient operations.
That's important because delivery is accounting for an ever-larger portion of restaurant sales. According to the NPD Group, revenue from restaurant deliveries increased 20 percent in the past five years, totaling $16.5 billion in the year ending June 2017. The overall number of deliveries increased 10 percent. Many restaurants are rethinking operations and even remodeling to accommodate the surge.
Restaurants and Tablets Fit Together
Food delivery apps can run on a variety of devices, but tablets quickly proved to offer just the right fit for restaurant operations. It's not cost-effective to repurpose a POS device that could be used to process on-site orders and transactions just for delivery business. Meanwhile, most laptops are too delicate, too costly and too unwieldy for other restaurant management applications to set aside just for delivery.
21 Tests the Galaxy Tab Active2 Survived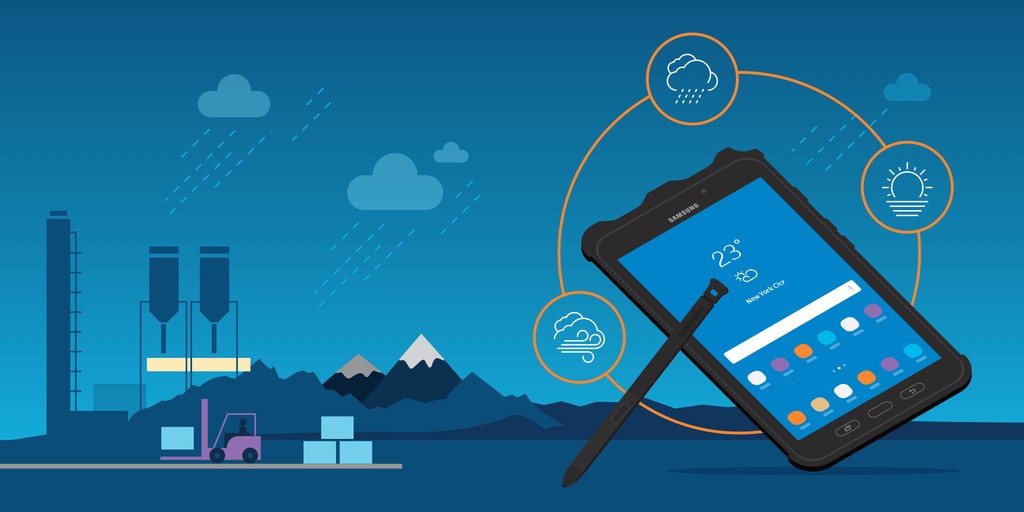 See a full rundown of the MIL-STD-810G testing the Tab Active2 passed in this infographic. Download Now
The tablet form factor enables busy restaurant workers to see all food delivery-related data on one screen, allowing them to easily drill down for more info via the familiar touch interface. Dashboards enable users to see and interact with incoming orders, delivery locations, driver locations, route mapping and KPIs all on one touchscreen. And thanks to rugged design, tablets such as the Samsung Galaxy Tab Active2 can stand up to the rigors of kitchens, backroom offices or busy counters. These devices are designed to resist the heat, humidity, dust and other conditions that put wear and tear on restaurant technology. In addition, the device can be used in Glove mode, for workers with protective handwear, or with the included S Pen stylus.
On the Road
That durability also makes rugged tablets an ideal companion for drivers. At the restaurant, drivers can grab a tablet with an integrated barcode scanner and sled. By scanning the barcode label affixed to an order on site and again at the delivery address, the driver can ensure the right food gets to the right customer, every time.
Then, mounted on the car's dash, the tablet can display not only GPS-enabled route mapping, but also an easy-to-see rundown of upcoming orders and special delivery instructions from the customer, which will improve speed and service levels. According to McKinsey, the speed of delivery is the biggest variable in customer satisfaction, with an average of 60 percent of consumers across markets citing it as a key factor.
Once at the address, the driver can grab the tablet to collect payment and tips on the spot, if needed. Even if the delivery worker is gloved and booted on a motorcycle, or working in wintry conditions, the rugged tablet is still completely usable with gloves. From the other side, customers appreciate a larger display that's easier to read. Through every step, ruggedized design protects the tablet from vibration, drops and other rigors of the road.
The restaurant business is, by its very nature, fast-moving and physically demanding. Tablets like the Tab Active2 are an ideal match, offering the lightweight design, rugged form factor and vivid, user-friendly touch interface that help keep restaurants' fast-growing dispatching and delivery operations humming.
Learn more about how the Galaxy Tab Active2 can help solve your toughest business challenges.