A great team functions in the same way in business as it does on the sports field — with each player in sync, performing their own role, all supporting the same goal. Without communication, your team is uncoordinated and inaccurate, frequently dropping the ball at critical moments. And, in today's mobile economy, the tempo of the game has been raised, with greater expectations for speed of execution, information sharing and personalization.
This is why I'm so excited about the potential of wearables in the enterprise; smart wrist-worn devices, like our new Galaxy Watch, are at the leading edge of team communication, collaboration, safety and digital transformation.
Smartwatches are unique from other mobile devices in several ways: they are hands-free and instantly accessible, they have built-in sensors that can monitor the wearer's vitals and movements at all times, and they can deliver discreet alerts or updates using haptic feedback. In work settings where safety or speed of communication is important, smartwatches can deliver tremendous value.
Refining Wearables for the Enterprise
Our new Galaxy Watch pushes enterprise smartwatch tech to the limits, with its battery life, advanced sensors, security and manageability, and standalone LTE capabilities. It's one of the most intelligent wrist companions on the market, and a game changer for dispersed teams.
Available in two sizes – 46mm or 42mm – they both feature brilliant, outdoor-ready displays, a rotating bezel that makes it easy to operate (even with gloves on), and are tested to MIL-STD-810G standards for those working in rugged, tough environments.
Businesses can choose from models with a built-in LTE cell radio for standalone use, or Bluetooth phone-tethered options. Long battery life is key requirement for enterprises, and we've been able to extend this to up to five days for the larger, 46mm model.
To configure, secure and manage your fleet of wearables, enterprises can make use of Samsung's Knox Configure solution (licensed separately) and Knox security, which is built in at the chip level and accessed through Knox APIs. We've been refining our enterprise wearables for several generations and have a solution in the Galaxy Watch that is truly business-ready.
So, in which industries are we seeing the greatest difference made through adoption of smartwatches? While there are a diverse range of industry use cases, there are few that stand out, where wearables make an extraordinary difference.
Elevating the Customer Experience in Retail and Hospitality
In the hospitality and retail industries, customer experience is paramount. Wearable devices make it easier and faster for hotel staff, retail associates and restaurant servers to send alerts and notifications regarding issues that impact the customer experience. Wearables work better than other mobile devices in these use cases because they're worn rather than carried, and therefore always on, always available and responses can be virtually instantaneous.
Busy staff members are often forced to set aside tablets or smartphones while they focus on getting rooms cleaned or keeping shelves stocked, so they don't always get the most important alerts in time to respond to customer issues. But with notifications always received instantly on a smartwatch — even when staff have their hands busy — hotels and stores can better triage the importance of tasks and keep customer experience at the highest priority.
Customizing Wearables in the Workplace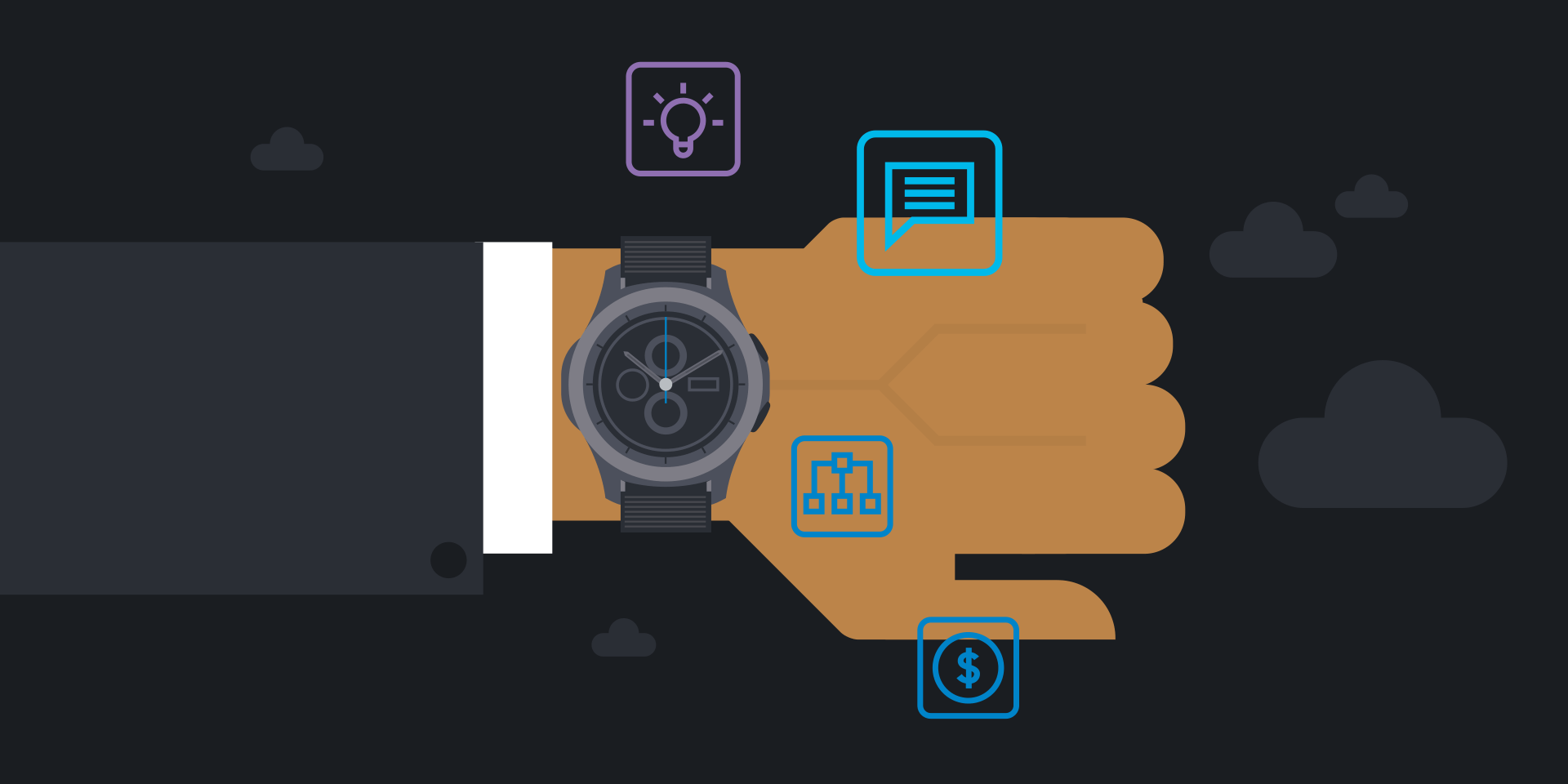 Learn how to develop new and innovative wearable apps tailored precisely to your business needs. Download Now
Additionally, because the new Galaxy Watch looks like a typical wristwatch, customers don't perceive that the staff is distracted with messages on a device. This allows team members to maintain focus on the customer while also ensuring they get all necessary notifications on time.
Keep Workers Safe and Secure
Another innovative use of wearables is to protect and monitor workers in dangerous environments. With a GPS, heart rate and gyro sensors, and LTE connectivity, the Galaxy Watch can be used to monitor worker safety and respond automatically to certain behaviors.
For example, police dispatch can continuously monitor the vital signs, physical location and movements of officers in the field. Alert notifications can be programmed to trigger when an officer's heart rate changes rapidly, they exit their vehicle, or perform specific movements, allowing dispatch to make real-time decisions about the officer's safety and send backup when and where needed. Using a combination of sensors, the smartwatch can even be used to detect when an officer starts a foot pursuit and use that information to automatically alert dispatch and trigger the body camera to activate. In such cases, having standalone LTE connectivity is critical, as it ensures that the officer remains connected and in communication at all times with dispatch.
Remote workers or those in dangerous work environments can also be located and monitored in a similar manner to ensure their safety on the job. With the ability of the device to send alerts or notifications based on a variety of physical data, workers can get help when needed, even if they can't use their hands to request it.
Gain More Insights Into Health and Wellness
From corporate health and wellness programs to healthcare clinicians, staff, insurers and payers, the smartwatch is becoming an important tool in helping people improve their health outcomes and lower the cost of healthcare. The Galaxy Watch further aids this goal with sensors that can continuously monitor a person's heart rate, and deliver better insights about both the length and quality of sleep they're getting, as well as additional health data. During the day, the watch is tracking and recording, giving you an accurate read of how stressed you are and at what times, in addition to all of the fitness tracking information that's now standard with the Galaxy Watch.
And because it's built on the Knox security platform, the Galaxy Watch can securely share data with compliant cloud systems and partners, giving healthcare entities peace of mind about the security of the devices and the data.
The bottom line? Don't make your patients inconvenience and encumber themselves for medical help — make their care a positive addition to their life.
At the end of the day, wearables are intended to improve the productivity, safety and well-being of your employees and customers. But let's be honest: it doesn't hurt if they look cool while doing it. The Galaxy Watch's sleek yet traditional design and manifold options for personalization make it a desirable accessory on almost anyone's wrist.
Who'd have thought that the best leg up in your industry would be worn on your wrist?
From healthcare to hospitality, learn more about how wearables are transforming the modern workplace.