Business keeps getting faster every day. You and your team need to be able to work anywhere. And as you work more flexibly and collaboratively, it's critical that you keep your business and customer data safe. But can your current phone keep up?
In 2019, it's time the smartphone did more work. Whether you're a business owner or CIO looking to outfit an entire workforce, or a professional looking for an upgrade for yourself, the new Galaxy S10 range delivers the mobile productivity, intelligent performance and trusted security you need.
Here are 10 reasons to make the Galaxy S10 your next work smartphone.
1. More Space, More Productivity
With the Galaxy S10 you can see and do more than ever before, thanks to its stunning Infinity display. The flawless glass screen has no margins at the top or bottom, and no home button or notch. This makes it perfect for viewing and editing documents on the go, or easily multitasking across different apps. Sure to turn heads in any environment, the S10's display gives you a better view of presentations, photos or anything you need for work.
With the 10th iteration of the Galaxy S series, you also have more choice. The compact S10e features a stunning 5.8-in. Full HD+ display and conveniently placed fingerprint scanner on the side power button. The S10 packs a 6.1-in. Quad HD+ display, a larger battery and introduces an innovative ultrasonic fingerprint sensor that reads through the display. For power users, the S10+ provides an expansive 6.4-in. screen, even more battery and a second front-facing camera.
2. Lose the Laptop
Nearly two-thirds of mobile workers say they'd be willing to give up a traditional PC if they could connect their phones to peripherals like a monitor, keyboard and mouse. With Samsung's DeX platform, they can. It's desktop computing that is mobile-powered.
Go Mobile-Only With DeX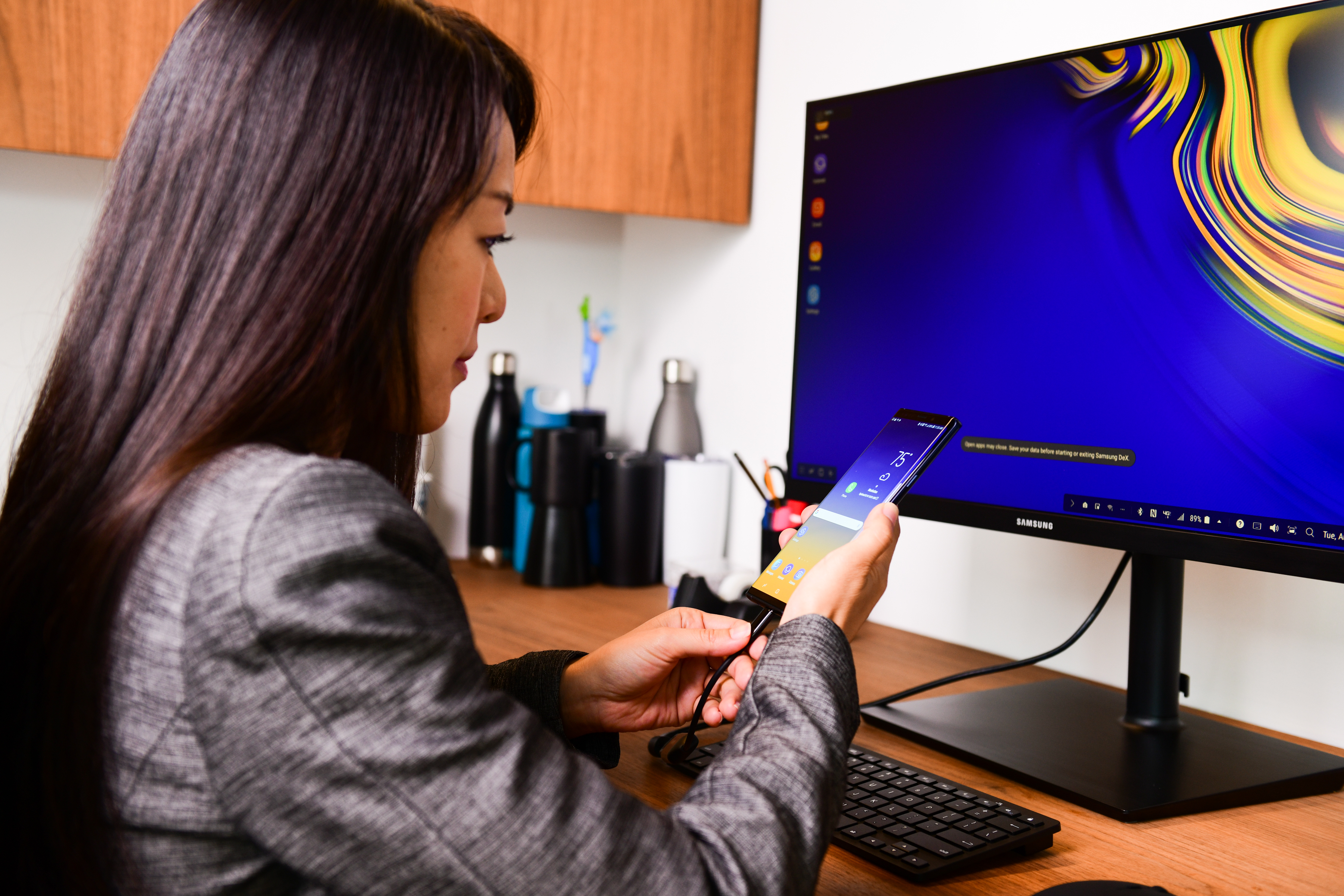 Your comprehensive guide to refocusing your IT around mobile with Samsung DeX. Download Now
DeX is even faster and more seamless with the Galaxy S10 range. Those who opt for the top-of-the-range S10+ with 12GB of memory and 1TB of storage will enjoy a desktop experience that's more powerful than most laptops on the market today.
3. All-Day Intelligent Battery
Whether you're dialing into a call or sending an urgent report, there's never a good time lose power. Each device in the S10 range comes equipped with a powerful battery — 3,100mAh for the S10e, 3,400mAh for the S10 and a whopping 4,100mAh for the S10+. But when it comes to battery life, the Galaxy S10 line is not just bigger — it's smarter. Intelligent battery management, using machine learning techniques, discovers which energy-guzzling apps you don't use often and automatically put them to sleep.
Another new innovation: Wireless PowerShare. Now you can give colleagues or clients a boost when they're low on power by sharing yours. Simply place your Galaxy S10 back-to-back with their phone and you'll start to transfer your battery's charge. Wireless PowerShare works with Samsung devices supporting Qi wireless charging, including the Samsung Galaxy Watch.
4. Ultrasonic Unlock
Both the Galaxy S10 and S10+ introduce another much-anticipated innovation: in-display, ultrasonic fingerprint ID. The ultrasonic sensor technology was developed as a solution to competing customer demands for a top-to-bottom display and a fingerprint sensor that is comfortably within reach of the thumb.
Just press your thumb or finger to the screen, and the sensor uses ultrasonic waves to map the unique ridges and valleys of your print in three dimensions. Users can unlock the S10 with one hand in almost any light, rain or shine. Anti-spoofing technology keeps would-be hackers out.
5. World-Class Defense
The Galaxy S10 is built with the same defense-grade security you've come to expect from Samsung devices, with protection incorporated from the chip up. The S10 range features the latest version of the Samsung Knox platform, which means it is manufactured with a trusted execution environment to secure encryption keys and underpin the platform's integrity.
Additionally, Knox integrates seamlessly with all major enterprise mobility management (EMM) solutions, which means easy deployment, maintenance and updating for your IT team, so they can focus on strategic innovation projects.
6. The Truly Intelligent Smartphone
The Galaxy S10 has machine learning built into the user interface, optimizing your experience based on behavior and preference. It loads your most frequently used business apps quicker, helping you work more efficiently. It also anticipates your next actions and suggests services and solutions when you need them — like news updates in the morning or launching your favorite music streaming app on your commute home.
Bixby Routines also lets you create custom automations, using "if this, then that" conditional rules. For example, if you forget to place your phone on the charger at night, it can turn off unneeded functions like Bluetooth until you pick up the device in the morning.
7. Keep It All
If you're running out of space on your current smartphone and having to make tough choices about which apps and photos to delete, switching to the Galaxy S10 is sure to relieve your storage pressure. The standard S10 comes with 128GB of built-in storage, but 512GB and 1TB versions are also available for those with really big storage needs. What's more, you can expand storage via the microSD slot.
8. Take the Bigger Picture
Capture every detail as you see it. The Galaxy S10+ has five cameras, helping you take true-to-life pictures, even in low-light environments. With the ultra-wide angle, 123-degree lens, you can capture images just as your eyes see them — whether you're in the field or a meeting room. Snap documents or a whiteboard full of notes and instantly share them with colleagues. And if you're zooming in on presentation slides, you won't miss any details.
9. Smart Switch
Maybe you like the sound of all the features mentioned so far, but still feel hesitant about switching or upgrading to the Galaxy S10. Change can be scary, and migrating your apps and data time-consuming. Lost time is lost productivity.
Have no fear: Samsung Smart Switch makes it safe and simple to transfer contacts, photos, messages and other data from your old work phone. Whatever your device, there are three easy ways to transfer your data: wirelessly, with a USB cable or from a PC or Mac to your new device.
Finally, to smooth the switch for IT, Samsung offers a variety of business solutions and services to aid in the switch to the Galaxy S10. They include Knox Configure, Pro Care and Quick Start — perfect for organizations whose core competency is not managing mobile devices.
10. The Future Is 5G
5G, the next generation of mobile broadband, will take data speeds to a whole new level. It represents not just an evolution, but a full-fledged transformation of the user experience for mobile users. After small-scale experiments in 2018, carriers this year are starting to roll out 5G services in earnest. You can future-proof yourself or your business with the Galaxy S10 5G, Samsung's first smartphone to incorporate a 5G-ready antenna.
Accelerate your mobile productivity to the limit with the Samsung Galaxy S10.