Digital technology has disrupted the insurance industry, increasing competition and raising expectations for customer service. Claims adjusters, in particular, are looking for new tools to speed their work, improve their processes and support superior customer experiences.
McKinsey & Company reported that digital native competitors are peeling away market share and driving traditional insurers to explore technological innovations to compete with these startups, who market themselves as technology companies. Insurers who embrace a switch to digital technologies can reduce claims expenses by 25 to 30 percent, according to the report.
Mobile technology can be an important enabler of process improvement and customer experience innovation. The Samsung Galaxy S10 is uniquely suited to support claims adjusters, because it packs every capability they need in one compact mobile device that eliminates friction, protects the data they collect and helps them deliver innovative customer experiences.
Here are 10 reasons why the next-gen Samsung Galaxy S10 is the perfect device for claims adjusters.
1. A larger space for working
The Galaxy S10's Infinity display maximizes your screen real estate for easier on-the-go multitasking. With no margins at the top or bottom, and no home button or notch, the S10 gives adjusters more screen space to view documents, complete reports and even work in multiple apps at once. The S10e, S10 and S10+ offer a choice of three screen sizes ranging from 5.8-in. to 6.4-in.
2. Power, performance, storage
The Galaxy S10 line offers enough RAM to keep any app set running smoothly. The S10e offers a choice of 6GB or 8GB of RAM, the S10 model provides 8GB, and the S10+ offers 8GB or 12GB. All three come with 128GB of storage onboard their base models, with upgrade options all the way up to 1TB for the top-of-the-range S10+. With these options, an adjuster never has to worry about running out of space for photos or video, even in their busiest months. They can also run cloud-based applications more quickly to deliver a fast, fluid claims experience.
3. All-day intelligent battery life
All Galaxy S10 devices feature intelligent battery technology called Adaptive Power Saving. This feature adapts to how and when the owner uses their device, optimizing power usage to extend battery life during long days spent moving from site to site assessing property and casualty claims in the field. On those hectic days when adjusters can't pause to charge, the S10 will keep them connected and fully capable. All the S10 phones have large, all-day batteries, and Samsung intelligent power management further optimizes battery life.


4. Samsung DeX can replace your laptop
The Galaxy S10 line includes Samsung DeX, which enables the phone to power a complete desktop experience simply by connecting to a monitor, keyboard and mouse using a DeX HDMI adapter or multiport adapter. With DeX, it's possible for the smartphone to replace every insurance adjuster's laptop.
Go Mobile-Only With DeX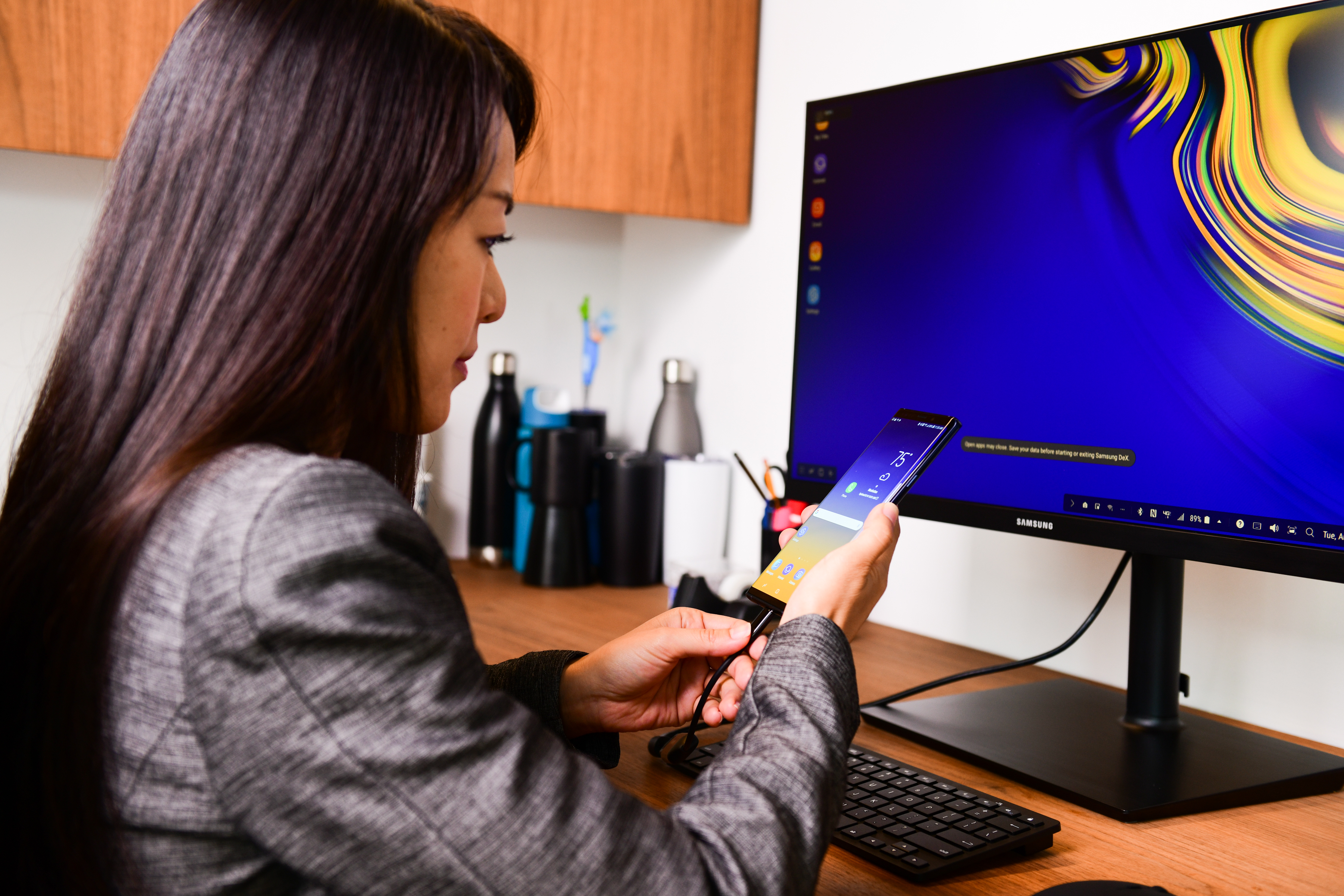 Your comprehensive guide to rolling out a mobile-only solution for your workers. Download Now
Adjusters can use their S10 as a mobile device in the field and then bring it back to a home or work office and connect it to a monitor for instant access to the same apps, documents, data and other assets they collected and used out in the field. This provides convenience and versatility when going between the office and the field to evaluate claims, and it saves adjusters the hassle of transferring forms, documents and other data between devices every time they change locations.
5. Access VDI through DeX
Through Samsung DeX, claims adjusters can also access a company's virtual desktop infrastructure (VDI), eliminating the need for thin clients to access enterprise desktop applications. Running virtual desktops via DeX ensures that all your old productivity tools remain viable as you adjust to your new mobile-powered workflow. VDI access can also accelerate the deployment of new desktop applications and tools that support claims processing and reduce the functional constraints of working remotely.
6. Defense-grade security
Like all flagship Galaxy phones, the S10 is built on the Samsung Knox platform, which uses a comprehensive set of overlapping mechanisms to provide end-to-end security for an entire network of company-owned devices. Knox offers particular value to insurance companies managing a staff of claims adjusters working in the field. Even when employees are remote, Knox's endpoint security ensures that company and client information is never at risk. Insurers can further strengthen security with Knox Manage, an optional mobile device management (MDM) solution that enables IT to configure and manage mobile devices, push apps and set policies such as application whitelisting and blocklisting.
7. Ultrasonic fingerprint ID
With the Galaxy S10 and S10+, an ultrasonic fingerprint sensor is built directly into the display, providing easy-to-use biometric security while alowing for maximum screen real estate. Ultrasonic fingerprint ID is ideal for adjusters, because they can save time during customer interactions by authenticating themselves quickly, easily and with this convenient and highly secure technology. The combination of Knox and ultrasonic fingerprint ID will thwart even the most persistent threats, protecting sensitive customer information in the event an adjuster's phone is lost or stolen.
8. Encrypted storage
For another layer of data protection, the S10 provides an encrypted storage solution called Secure Folder. Secure Folder lets users segregate personal items such as photos and apps from their work data and apps in an encrypted folder. This means a claims adjuster can take photos at claims scenes without mingling them with personal photos. Secure Folder can be used to protect work data, but insurers might be better served by Knox Platform for Enterprise, a managed data separation solution.
9. Maximize your workday with Bixby Routines
Bixby Routines is a new feature in the S10 that learns from the way you work, monitors apps in the background and optimizes how they serve you. As a claims adjuster moves from home to office to incident scene, the phone learns the different settings they use for network, screen brightness, power usage and more. For example, Bixby might offer to automatically switch the phone's ringer to vibrate when they arrive at the office or connect the phone to Bluetooth in the car and launch Google Maps. It could also read text messages aloud over a vehicle's speakers, so you can stay updated on incoming information while in transit to an event site.
10. Switch from your old phone with ease
Even if your claims adjusters aren't currently using Samsung devices, the transition from any current device to the Galaxy S10 is made seamless by Samsung Smart Switch. With this service, a user can easily transfer contracts, claims data or even music and contacts from their old phone using a USB cable, computer or via wireless.
When it comes to greater information gathering and claims-processing efficiency, even the best claims adjusters can't overcome the limitations of inflexible technology. By empowering adjusters with powerful, high-performance tools in the field, insurance organizations can help claims adjusters reach new levels of efficiency and productivity.
Stay in tune with the latest digital financial services trends by browsing more finance technology solutions.