Our natural field of view comes with a gentle curve, so there's a sound argument to be made that screens should also be slightly concave.
The physical design of the typical large, extra-wide flatscreen monitors in today's marketplace puts the far right and left edges of the screen further away from the user's eyes than the center of the screen. This setup can increase eye strain for employees who spend most or all of their workdays in front of computer screens.
Our eyeballs are round, so we see the world through the gentle curve of our corneas. But the monitors we've been using for work have been either curved the opposite way or flat, like almost all LCD screens.
That's now changed, and a new generation of professional monitors for workspaces — like the Samsung CJ791 curved widescreen monitor — build a gentle, inward curve to the screen. That simple curve optimizes productivity and respects the ergonomic inclinations of people who need to spend their workday hours behind a monitor.
The side benefit of using curved displays for their ergonomic benefits is that they also look amazing on desktops — adding a wow factor to workplaces that sends the right message to employees and customers. Curved displays make sense everywhere from creative agencies and production studios to medical offices and software engineering labs.
Testing Assumptions
Researchers have already validated a difference with curved displays. Certification testing by TUV Rheinland found 87 percent of the people who tested a curved monitor said it was a more comfortable experience. And research from the Seoul National University Hospital found that curved displays work to reduce eye strain from continuous viewing, helping to create a healthier work environment.
A Harvard Medical School study tested flat and curved monitors and found fewer test subjects reported eye strain, difficulty to focus and blurred vision symptoms with a curved monitor than with a flat monitor. Blurred vision was four times more prevalent on flat monitors than on the curved test displays.
The Complete Guide to USB Type-C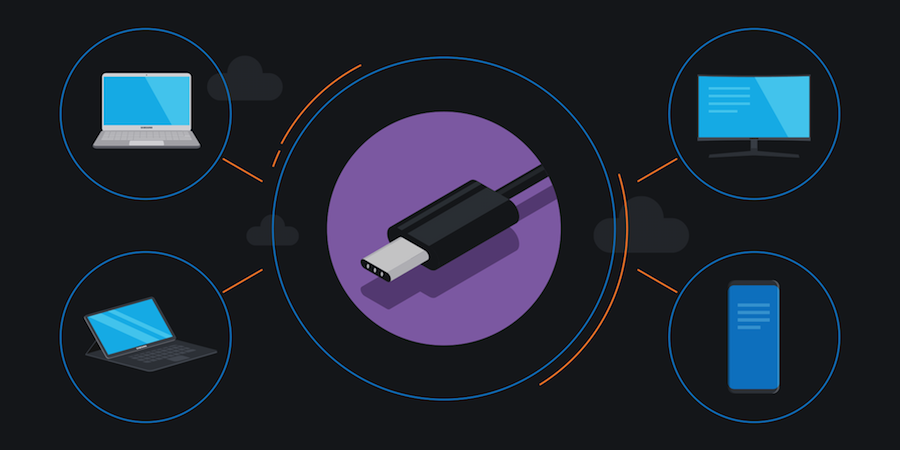 White Paper
Learn how to clear desk space, streamline workflow and save time and money with USB-C connectors. Download Now
The benefits apply across the variety of curved monitors, from conventional widescreen to the ultra-wides that can fully replace a pair of single displays.
Viewers perceive the middle and side edges of the screen on a horizontal line, which makes the experience easier for visibility, according to the Harvard study. You'll notice workers who use three monitors display them in a linear, curved configuration, as the natural instinct is to bring out optimal images through the retina.
Immersed in Work
Beyond reduced eye strain and a more sustainable workflow, there are productivity benefits to curved displays. A primary perk is providing an immersive canvas for projects.
This setup can be particularly helpful for people working in creative fields like motion graphics and video production, where a wide field of view is important and, because of the curve, the colors and granularity of the work don't visually drop off at the edges. On a flat screen, the edges are viewed at considerable angles, which may cause creative elements to become inaccurately displayed or skewed.
Multitasking Nirvana
User evaluation research from the National Research Foundation of Korea confirmed the productivity benefits of curved monitors. "When the usability of a curved monitor display was examined, it was found that people read text contents faster when viewing these on a curved display. The results of this study provide evidence that the curved display has the potential to open a new monitor market with its increased usability and the consumer preference for it."
This is a huge benefit for today's workforce, especially for employees with multidimensional, multitasking-heavy jobs. Traditionally, users manage multiple applications and browser windows with a very crisp command of keyboard shortcuts to open and close things in one window or have two or even three monitors side by side on a workstation desktop.
However, widescreen displays have the real estate in available pixels to enable users to have multiple applications visible at once, without pinching or shrinking windows. It's a dream for multitaskers, whether they're doing creative production or managing a construction project timeline, staffing and orders.
Setting Employees Up for Success
Not all curved displays are equal in specs and capabilities. First, ensure the display fully supports WQHD and not a lower, less pixel-dense resolution. Lower resolutions are not going to deliver the same high density of pixels, and therefore won't be as crisp.
Pay attention as well to the actual measures for the curves marketed by display panel makers, as they can vary by maker and model, and may not offer all the proper benefits of a curve. Samsung's curved models offer the greatest curvature on the market: 1500R and 1800R. The R in the measure refers to the radius of the curve.
Furthermore, look for which additional features are available. Some monitors, like the Samsung CJ791, support a super-fast monitor refresh rate that's important for creative pros, High Dynamic Response (HDR) color and contrast, and handy multitasking tools like Picture-in-Picture. Some models also offer ultra-high resolution (WQHD enables 3440 x 1440 pixels, for example), which can be particularly valuable for creative workers and in areas such as medical and seismic imaging.
For companies looking to boost productivity and improve the user experience for employees, curved screens offer an excellent solution that's easy on the eyes — not only ergonomically, but with its sleek, attention-grabbing aesthetics.
This combination is ideal for all sorts of business applications, making the technology an excellent investment for any organization.
Discover the best monitor for your enterprise within Samsung's full line of enterprise-ready displays.