When you're working from home — full time or in a hybrid model — a permanent office setup is better for both productivity and for your body. A laptop might work temporarily, but it's not a realistic long-term solution.
The hub of any work-from-home (WFH) setup is the monitor. Most busy professionals would relish widescreen and curved monitors for work, but these larger canvases may require more desk and wall space than what's available to them at home.
Equipping a home workstation starts with two simple questions:
Where will I put it?
What do I need to be productive and comfortable?
Finding, fitting and furnishing
Rather than doing hours of work on a small laptop screen and keyboard, using a full-size keyboard, mouse and larger external monitor allows you to be more productive — and helps prevent the neuromuscular issues associated with all-day laptop use.
Ideally, a WFH setup is in a well-defined, designated space, where it's out of the way of the household's daily bustle and doesn't have to be moved around or rearranged.
Which monitor is best for your workstation?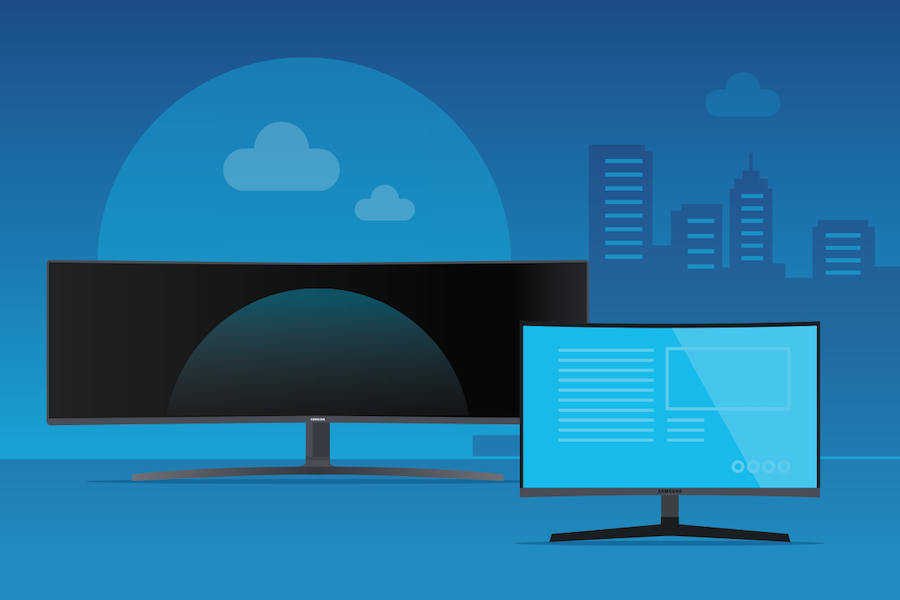 Get personalized recommendations on the optimal monitor setup for your space. Download Now
Before you buy an ultra-wide display, remember that your desk also needs to fit a PC and its peripherals, like a keyboard, mouse, headset, cables and possibly a USB hub or docking stations. All that gear can lead to clutter, but new monitor technologies like USB-C streamline your desktop monitor into a central hub. USB-C support replaces expensive, unreliable docking stations with built-in connectors that can communicate directly with your PC and also power a laptop.
The right monitor for the job
Today's WFH monitors are super slim and lightweight and come in a huge range of dimensions, both flat and curved.
Samsung's S65UA series curved monitor features a 34-inch screen with an ultra-wide 21:9 aspect ratio and a bezel-less frame for true immersive visuals. Flexible USB-C connectivity makes the S65UA one of the best curved monitors for the office or an at-home workspace.
If your work demands even more screen real estate, the 49-inch S95UA monitor is a dual quad high-definition (QHD) display with a 32:9 aspect ratio. Cutting-edge quantum LED (QLED) technology creates deep hues and contrast, and its advanced eye comfort technology protects against eye strain during long workdays.
Why go wide?
Few jobs these days require people to work with a single app all day long. They may use a primary app, like a management or planning platform, but most teams also require people to stay on top of emails and participate in ongoing discussions through collaboration software. Not to mention social media, like Twitter, which often needs to be monitored as well — for work and leisure.
That's a lot of windows and tabs to keep opening and closing on a small screen. A widescreen monitor allows for productive multitasking, with all your key apps open and visible on a larger canvas. Two screens can be tiled side by side, but that comes with yet more cables and a big, distracting vertical bar in the middle.
Widescreen is also important for a variety of specialized tasks — like detailed financial spreadsheets, engineering project plans or frame-by-frame motion graphics. And on a widescreen monitor, you spend less time navigating with annoying scroll bars.
Are curved monitors good for work?
In practical terms, a curved screen may fit better than a flat screen in a corner workstation. But beyond the desk real estate, curved displays have huge ergonomic benefits.
Samsung's newest curved widescreens match the natural curvature of the human eye, for easier viewing. The middle of the screen and the edges sit at the same focal distance, so users aren't focusing and refocusing their eyes as they move around the display.
Wrapping the screen inward also allows you to see the edges in your peripheral vision, requiring less head movement, which is healthier for your neck and back muscles.
This curve's for you
A curved widescreen monitor is the optimal choice for most WFH setups — blending sleek design with productivity and health benefits. As these monitors gain popularity, there's now wider range of size options, so you can find a curved screen that fits your particular WFH environment.
Find the desktop monitor that makes the most sense for your workstation with this free assessment. Or explore all the curved monitor options available from Samsung — so you can work more comfortably, with less tired eyes.