The annual InfoComm trade show in June is always a tremendous opportunity for Samsung to connect with its North American professional audio/visual partners to show off what's new and celebrate the work they've done.
Every year, we put together a great evening event at InfoComm to celebrate our partners who are optimizing Samsung's digital signage technology in their businesses, and use that time to hand out the Samsung Smart Signage Awards. The awards recognize achievements in display implementation over the previous year.
Award Winning Partners
At InfoComm 2019 in Orlando, we welcomed a large crowd at Howl at the Moon on International Drive to highlight tremendous work and achievements across 10 different categories, by integrators and other solutions partners in key industries.
Samsung also used the event to recognize the business achievements, commitment to excellence and overall body of work of four partners:
Diamond Partner of the Year
AVI-SPL — Tampa, Florida's AVI-SPL designs, builds, manages and supports collaboration solutions.
Platinum Partner of the Year
Avidex — Based in the Seattle area, Avidex delivers solutions that use A/V to collaborate, create and share ideas.
Optimize Your Outdoor Signage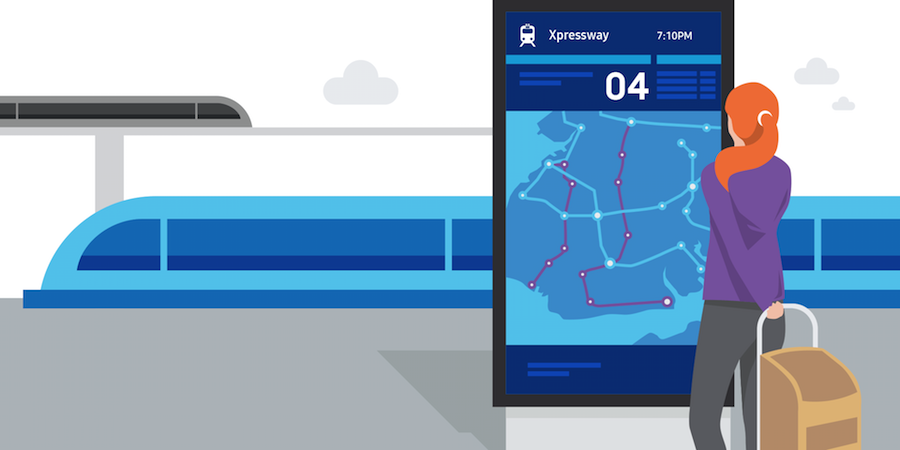 Learn how to leverage high-brightness displays to deliver clear, compelling communications in any weather. Download Now
Gold Partner of the Year
Avinext — Headquartered in College Station, Texas, Avinext is a leading provider of IT and Audio/Visual solutions serving corporate and public sector clients throughout Texas.
Breakout Partner of the Year
Acordis — Located in South Florida, Acordis delivers IT and A/V solutions across multiple industries, and in the past year has supplied multiple high profile digital signage solutions at American Airlines Arena, home of the NBA's Miami Heat.
Emerging Technology Solution of the Year
KniTec — The San Clemente, California-based integrator/dealer supplied and helped deliver a massive LED screen for the Peppermill Casino in Reno, Nevada.
Project Excellence
Samsung also recognized partners for specific digital signage implementations — celebrating projects that addressed and helped solve business challenges by effectively using digital signage technologies and creative content. Those included:
Installation of the Year 2018: Collaborative Space
Level 3 Audiovisual of Mesa, Arizona, was cited for the collaborative workplace solution developed and delivered for the investment bank JP Morgan Chase.
Installation of the Year 2018: Food & Beverage
The Chicago-based U.S. arm of Australia's The Coates Group was recognized for its drive-thru display solutions delivered for quick-service restaurant giant McDonalds.
Installation of the Year 2018: Public Information Signage
The Salt Lake City-area solutions provider Revel Media Group delivered a full digital signage solution, inside and outside, for the renovated Hale Centre Theatre performing arts center in Sandy, Utah.
Installation of the Year 2018: Retail
The New Jersey-based Digital Media Group within Diversified, one of the world's largest technology solutions providers, was cited for its work with longtime digital signage customer Bank of America.
Installation of the Year 2018: K-12/Education
Education-focused South Florida integrator United Data Technologies delivered a solution for the School District of Manatee County that used more than 500 large displays and tablets to boost classroom engagement in middle schools and high schools.
Celebrating Innovation
The Samsung Smart Signage Awards program is our way of recognizing the powerful contributions that our dealers make to the visual display industry, and celebrating the partnerships we've developed through the years.
As the signage industry has grown and matured, it's been amazing to see how our partners have been using smart display and software technologies to drive product innovation, creativity and business results.
Congratulations to all the winners, and based on what we heard from our partners during InfoComm, we'll have even more great work to celebrate in 2020!
Looking to streamline communications with digital signage? Get a free introduction to smart display basics — or watch a special roundtable edition of SBTV on the future of conference room technology.