When deploying mobile devices in the enterprise, IT leaders have to strike a delicate balance between ensuring data security and enabling productivity across their workforce. Too often, I've seen the desire to take a conservative security stance lead organizations to adopt a "walled garden" approach to device management, one that leans on strict policies and hampers productivity in the process.
What we need is an alternative approach — one that puts more of the burden on the device, supported by sensible device management policies, and open communication with team members about new cybersecurity threats. After all, the value of mobile to the enterprise is its ability to accelerate decision-making and collaboration; blocking access to data and apps undermines this core objective.
That's why, at Samsung, we've invested significant resources into continuously evolving our Knox security platform and services. Rather than building walls, our enterprise customers can say "yes" to their employees and focus on driving business forward with the latest devices like the Galaxy S10.
Built-in Protection
This philosophy starts with a security platform built on hardware-level protections. With new threats and data breaches in the news daily, peace of mind is a prized commodity. With Knox, you can depend on the fact that the platform is protecting your business and personal data from the chip up. The moment the device is booted up, Knox is making sure of the integrity of the operating system that is loading, monitoring the OS for potential threats and looking for malware.
We believe it is this strong foundation that contributed to Knox 3.2 receiving "strong" ratings across 27 of 30 categories in Gartner's May 2019 report, "Mobile OSs and Device Security: A Comparison of Platforms."
The Knox platform continues to evolve to meet the rigorous security requirements set by governments and major enterprises around the world, providing business users with a defense-grade solution they can count on.
A Defense-Grade Mobile Workspace
The protections afforded by Knox extend all the way up to the application layer, integrating closely with enterprise mobility management (EMM) solutions. For highly regulated organizations in government and finance, Knox Platform for Enterprise provides an encrypted container to isolate business applications and data.
Get Your Ultimate Guide to Knox Customization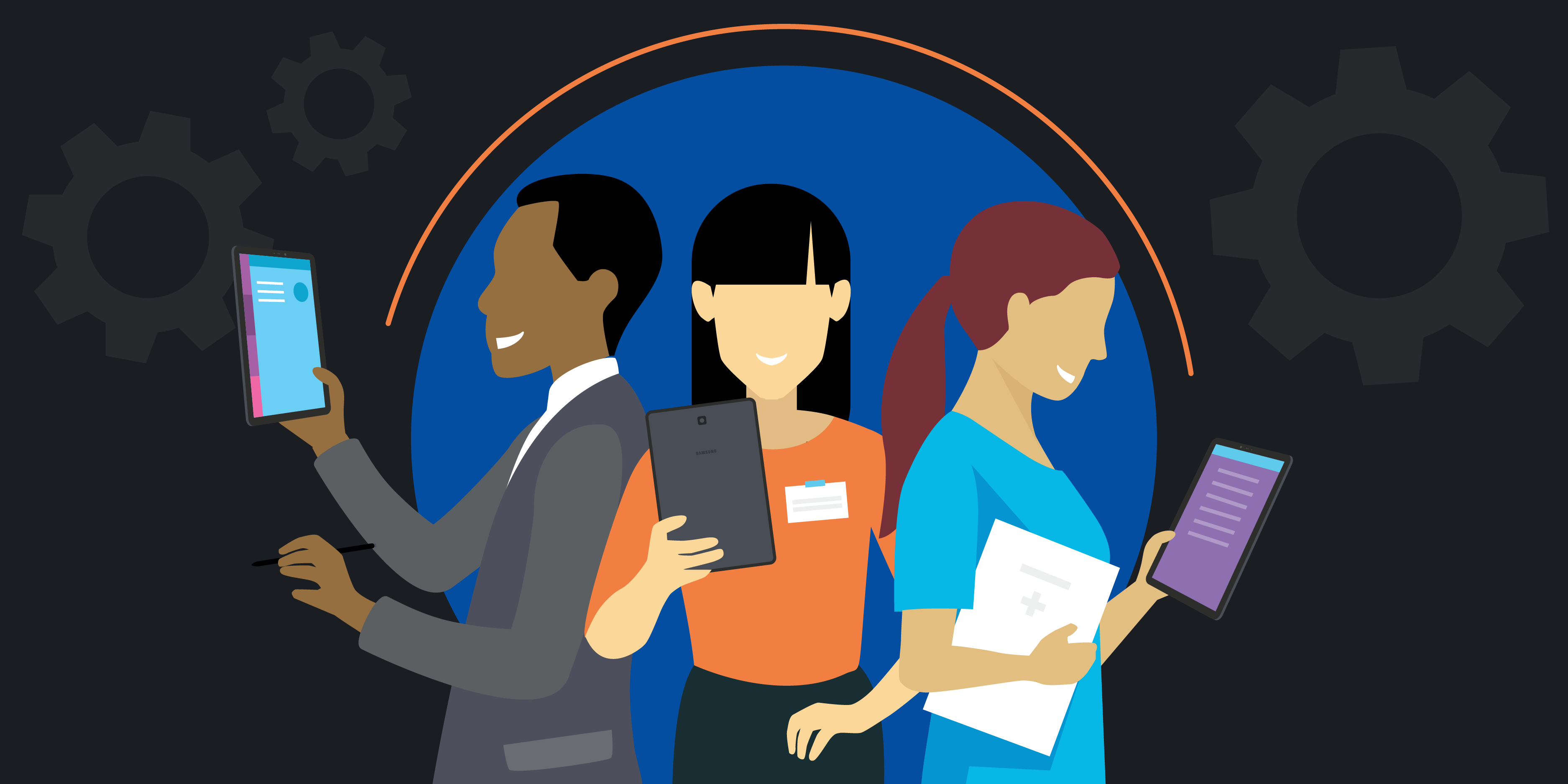 White Paper
Learn how to optimize tablets for your unique business needs using Samsung Knox Configure. Download Now
One exciting change introduced recently with Knox is the alignment of Samsung Knox and Android Enterprise. Where in the past there were overlapping capabilities between Knox and Android Work Profile, we have partnered with Google to align our APIs to provide business customers the best of both frameworks.
To be clear, Knox isn't going anywhere. Now, instead of having to choose, Knox customers get all the benefits of Android Enterprise included within the broader set of features that Knox brings. The new unified approach provides different tiers of features available to customers depending on their needs.
Ever-Evolving Threats
As threats evolve, it's essential that businesses continuously bridge security gaps. That's why we've committed to constantly enhancing the Knox platform and services to protect users from the latest threats, while adding new capabilities for enterprise customers with every release. We take feedback and roll it directly into each and every Knox platform update. These include responses to specific security incidents as well as added capabilities and even tighter device controls.
Securing the Mobile-Powered Desktop
A perfect example of this are the security updates for Samsung DeX. As the world of computing becomes increasingly mobile and companies look to leverage the processing capabilities of smartphones in more ways, solutions like Samsung DeX — which transforms your smartphone into a desktop computing experience — are going to become even more critical to scaling operations.
But you don't have to sacrifice security to tap into the power of the mobile economy. Recent updates give you the added assurance that Knox protections are extended automatically from the smartphone to the DeX experience. There's no additional login or steps required to ensure your or your enterprise's data is protected.
Knox gives IT full control over the DeX experience, and the ability to further customize it for business needs. For example, enterprises can easily whitelist or blocklist various apps, check when devices are docked and choose which apps populate the home screen when DeX is enabled.
Security for the Future
Smartphones have come a long way since Knox was launched six years ago. They are more powerful, intelligent and capable of storing and managing huge swathes of work and personal data.
A static, unchanging solution won't cut it in today's rapidly evolving threat landscape. That's why Knox continues to be the market leader when it comes to offering best-in-class protection, combined with powerful capabilities to easily and efficiently manage devices.
As you consider your enterprise security needs, I encourage you to seek solutions that break down barriers to innovation and work flexibility in order to realize the full potential that devices like the Galaxy S10 place in the hands of employees.
Learn more about how the Galaxy S10e, S10, S10+ and S10 5G can drive your business. Not sure which one to pick? Take our quick assessment to see which phone is the best fit for your business needs.