In today's work environment, we are constantly connected — and usually on more than one device.
With the Samsung Galaxy Note10, you get more than a phone. You get a PC killer with defense-grade security and virtually unlimited storage. You're always on the go, always crunched for time and you want to deliver the best work. Now you can do it all on one device.
To show you how, here are my tips for upping your mobile game. Let's walk through a day in the life with the Galaxy Note10.
6 a.m.: The Morning Multitask
I like to start my day with a cup of coffee and a quick multitask: email and the news. With the Note10's expansive display and the convenient App Pair feature, I can access both on the same screen before heading to work. Microsoft Outlook shows an email from my team with last-minute updates on today's presentation, while the Google News app gives me the latest headlines at a glance.

9 a.m.: DeX It
Upon arriving at the office, I connect my Note10 to my monitor using Samsung DeX, extending my smartphone to the big screen. DeX lets me get straight to work, editing my presentation for later in the day. If an important text or call comes in on my Note10 while I'm finalizing my deck, I can see it right on the screen where I'm already working, without having to look at my smartphone.
With Samsung DeX, the Note10 is a killer PC. It lets me forget the laptop and take advantage of a desktop productivity experience powered by just my phone. Using Samsung DeX is simple and easy: just connect your phone to the monitor via the HDMI cable and pair a keyboard and mouse.

11 a.m.: The Power of the Pen
While meeting with my team, I jot down action items with my S Pen in Samsung Notes. The S Pen allows me to convert my handwriting to text on the fly. Once the check-in is over, I can immediately share the takeaways with my colleagues via Outlook or export my action items to Microsoft Word, Samsung Notes or a text file.
Go Mobile-Only With DeX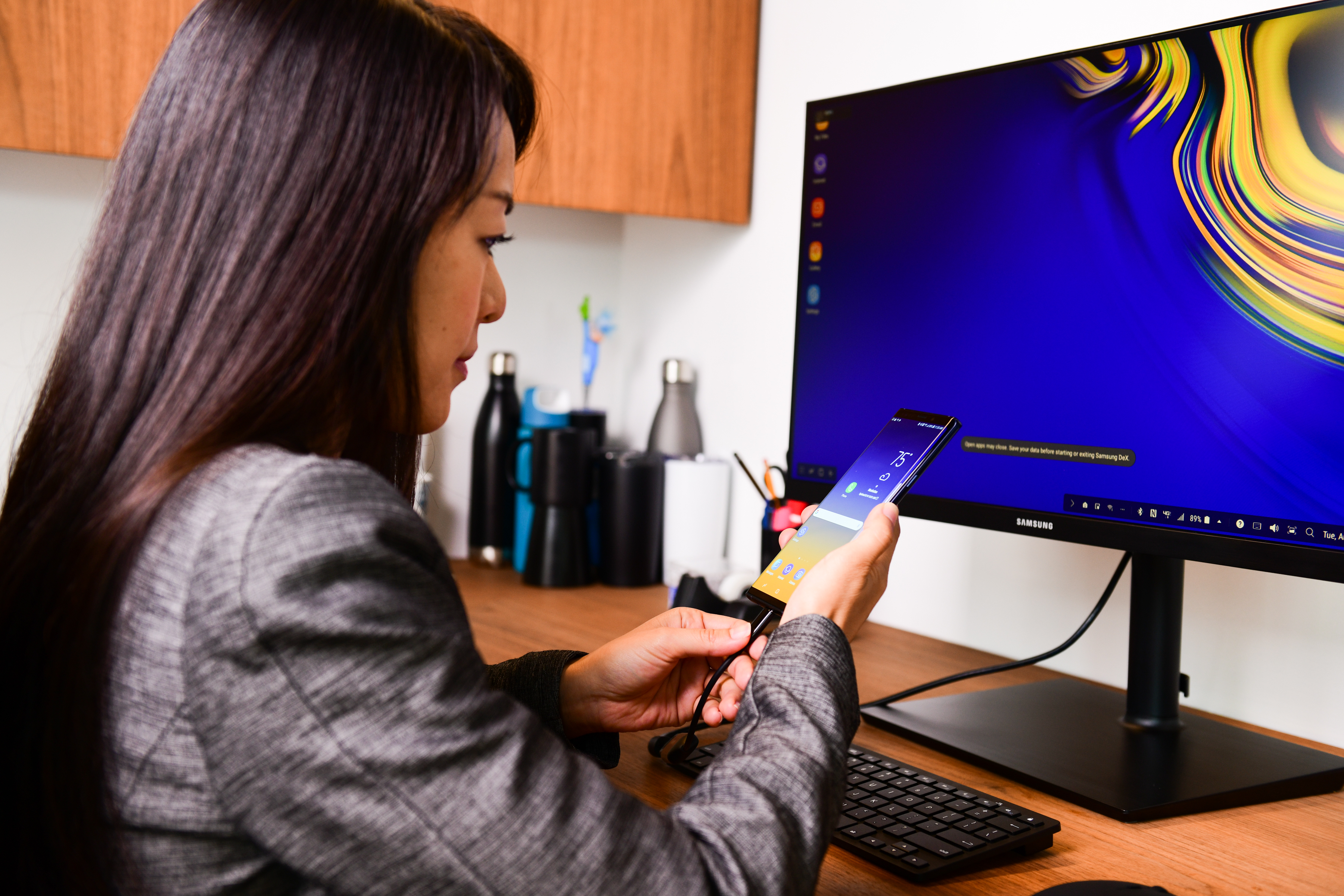 Your comprehensive guide to rolling out a mobile-only solution for your workers. Download Now
A few minutes just opened up after my team meeting, giving me an opportunity to review the updated presentation. I can make quick annotations right on the PowerPoint slides using my S Pen and the Screen Write feature. Before leaving the conference room, I capture the team brainstorming session on the whiteboard by snapping a photo, thanks to the Note10's ultra-wide angle camera.
2 p.m.: Final_FINAL.pptx
On my way to the client's office, I make a couple of final tweaks to my presentation on my laptop. Voilà, it's done — time to move the PowerPoint deck over to my Note10 so I'm fully prepared for the meeting. To do this, I connect my Note10 to my laptop using DeX for PC, dragging and dropping the presentation onto my mobile device. Now I'm ready to make my pitch.
3 p.m.: Presentation Time
It's go time. I plug my Note10 into the conference room display and bring my presentation up on the screen. I can progress my slides from up to 30 feet away with a flick of my S Pen while I move around the room, fully engaging my audience. The presentation is a home run: I get the customer's signature right on the dotted line of my Note10 using the S Pen.
6 p.m.: Time to Unwind
I'm on my way to the airport and it's time to unwind before boarding my flight.
How's my battery life looking? By tapping the option to optimize my battery life, I can make sure I have plenty of power to last me through the evening journey home. Dealing with a low battery is a thing of the past thanks to the Note10's adaptive battery life management features that automatically optimize power usage to support the way I work and live. And, if I ever need a quick charge at the office, super-fast charging gives me hours of productivity in just a few minutes.
Nice work today! There you have it. That's my day with the Galaxy Note10: built for the new way business is done.
Learn more about next-level Galaxy Note10, and take advantage of our special business offers on the latest devices. Or get a free guide to rolling out a mobile-only solution for your workers using Samsung DeX.